North Korea fires sixth round of projectiles in less than a month, rejects Moon's appeal for talks
by
Yoo Kyong Chang Kim Gamel
August 16, 2019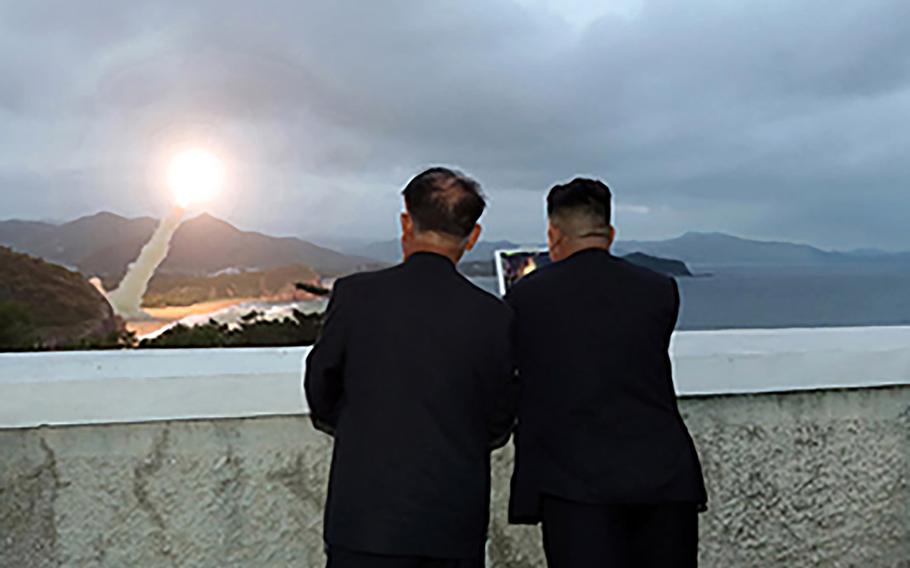 SEOUL, South Korea — North Korea conducted its sixth missile test in less than a month on Friday as it stepped up criticism of South Korea's President Moon Jae-in for joint military exercises with the United States and bluntly rejected his pleas for diplomacy.
The North launched two projectiles presumed to be short-range missiles from an area north of Tongcheon, according to South Korea's Joint Chiefs of Staff. They flew about 143 miles and reached an altitude of nearly 20 miles at a speed of Mach 6.9 – more than 5,000 mph – before landing in the sea off the country's eastern coast, a JCS official told reporters.
The official said they appeared to be short-range missiles based on the distance, altitude and speed detected, but he stressed that South Korean and U.S. officials were still analyzing the details. The North also has tested a guided multiple rocket launcher system since the recent spate of tests began on July 25.
South Korea's National Security Committee held an emergency meeting during which it urged the North to stop the launches, saying they could raise military tensions as the joint military drills are ongoing.
North Korea has said previous missile launches were meant to protest joint U.S.-South Korean military exercises being held this month. The unrelenting salvos also raise pressure on the United States as Pyongyang seeks to raise the price for concessions amid stalled talks over its nuclear weapons program.
Eager to restart the negotiations, President Donald Trump has played down concerns about the weapons, as the North has not violated its promise to suspend long-range missile and nuclear tests.
But experts say the launches are helping the North Koreans perfect weapons that could target the South and some 28,500 U.S. troops stationed there.
On Thursday, Moon urged the North to return to dialogue as he vowed to "solidify denuclearization and peace" on the Korean Peninsula before his term ends in 2022. He also predicted that unification could be achieved by 2045 with the two countries maintaining two political systems.
The North mocked his appeal, calling Moon "an impudent guy rare to be found," and said it had no intention of returning to talks with South Korea.
Moon and North Korean leader Kim Jong Un held three summits last year and agreed to a series of inter-Korean initiatives, but the North has since largely ignored the South in what is seen as a bid to pressure Seoul to take its side in stalled nuclear talks with the United States.
South Korea, a staunch U.S. ally since the 1950-53 Korean War, is eager to improve relations but also has pledged to enforce U.S.-led international sanctions aimed at punishing the North Korean regime for its nuclear program.
A report on the North's state-run Korean Central News Agency didn't use Moon's name but called him "South Korea's chief executive" while quoting from his speech that was made to mark the 74th anniversary of the peninsula's liberation from Japan after World War II.
It criticized Moon for calling for peace even as the joint military exercises were taking place.
"The South Korean authorities are snooping about to fish in troubled waters in the future [North Korean]-U.S. dialogue, dreaming that the phase of dialogue would naturally arrive after the joint military exercises just as the natural change of the time of year," quoted a spokesperson for the committee for the peaceful reunification of the country as saying.
"They can clearly see what we feel now, i.e. we have nothing to talk any more with the South Korean authorities nor have any idea to sit with them again," it added.
South Korea insisted that the "combined command post exercise" is necessary as part of its efforts to assume operational control of troops should war break out – a position currently held by the top U.S. general in South Korea.
The government also expressed "deep regret" over the North's criticism of Moon but insisted it will continue efforts to resume working-level talks between Washington and Pyongyang as well as inter-Korean dialogue.
gamel.kim@stripes.com Twitter: @kimgamel