North Korea fires projectiles into the sea for second week in a row
By
Yoo Kyong Chang Kim Gamel
March 8, 2020
---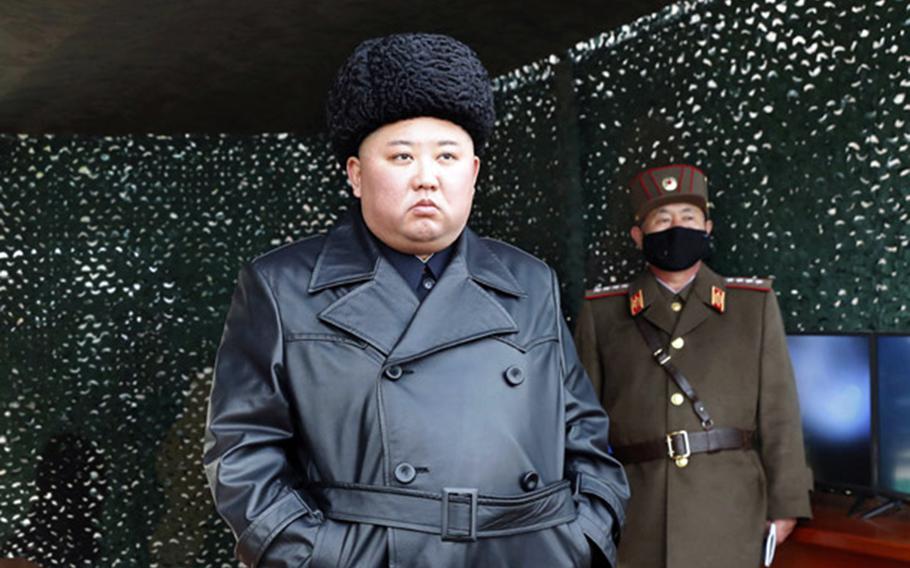 SEOUL, South Korea — North Korea fired three projectiles into the sea off its eastern coast on Monday, South Korea's military said, the second such weapons test in a week.
The launches were a fiery reminder that the North still poses a threat as nuclear talks with the United States have been deadlocked for more than a year.
They occurred as both Koreas and the U.S. military are battling the deadly coronavirus, which has rapidly spread after first appearing in China in late December.
The projectiles were fired in a northeasterly direction from an area near Sondok in Hamgyong province, according to the Joint Chiefs of Staff in Seoul.
"The military is monitoring the situation and maintaining a readiness posture in case of additional launches," the JCS said.
It didn't immediately provide more details, such as the type of weapons launched or how far they flew.
"We are aware of a North Korean missile launch this morning into the East Sea, will continue to monitor the situation and are consulting closely with our South Korean and Japanese allies," U.S. Forces Korea said on Monday.
The launch occurred a week after military officials said the North fired two short-range ballistic missiles as part of its annual winter training.
Experts said that was likely aimed at showing strength after the United States and South Korea canceled plans for joint military exercises this month due to fears of the coronavirus.
North Korea's state-run media published photos last week showing the country's leader, Kim Jong Un, observing an artillery drill through binoculars while an officer wearing a mask typically used to protect against the virus stood behind him.
North Korea claims it has not had a confirmed COVID-19 case after imposing stringent measures to control its borders and quarantining thousands of people.
"I think he's putting a good face on things," Thomas Spoehr, a defense analyst with the Heritage Foundation, said of Kim Jong Un's renewed military activity. "He's obviously trying to keep attention on the status of the unresolved agreement with the United States."
North Korea conducted 13 missile tests last year after a February 2019 summit between Kim and President Donald Trump collapsed without an agreement in Vietnam.
The North has called on Washington to offer a reciprocal approach that includes sanctions relief and other rewards for steps already taken. But the Trump administration has insisted on clear signs of denuclearization first.
Expressing frustration with the lack of progress, Kim lifted a self-imposed moratorium on nuclear and long-range missile tests last year. He also threatened in his New Year's message to unveil a "new strategic weapon" soon.
Trump has expressed little concern about the short-range missile tests, although experts say they show the North is taking advantage of the stalled talks to advance its weapons capabilities.
"No, I have no reaction," Trump said in response to a question about the North's launch last week. He called them short-range missiles.
Despite the saber rattling, Kim sent a personal letter to South Korean President Moon Jae-in last week expressing condolences over the coronavirus crisis.
More than 7,300 South Koreans have been infected with the respiratory virus since an outbreak began in the southeastern city of Daegu in mid-February.
"Chairman Kim said he was worried about President Moon's health and expressed his frustration that there isn't much that he can do to help at this moment," Moon's office said on Thursday, adding that Moon had replied with a thank you letter.
gamel.kim@stripes.com Twitter: @kimgamel
---
---
---
---