North Korea fires missiles on eve of late founder's birthday, South Korean vote
by
Yoo Kyong Chang Kim Gamel
April 14, 2020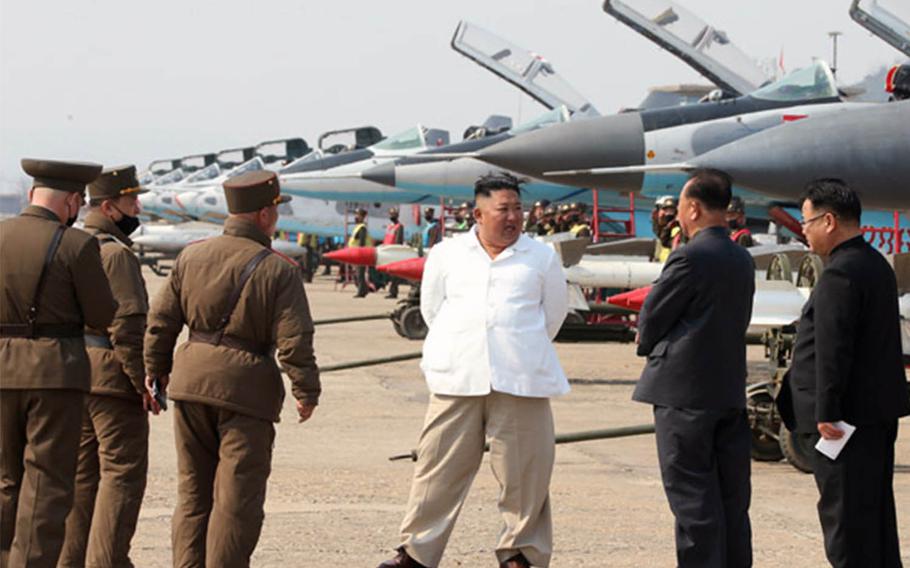 SEOUL, South Korea — North Korean fighter jets fired missiles into the sea off the country's eastern coast while units launched a salvo of cruise missiles from the ground on Tuesday, South Korea's military said.
The maneuvers were a show of strength on the eve of the 108th birthday of the North's late founder, Kim Il Sung, as the communist state persists with military activity despite global concerns about the coronavirus pandemic.
They also might have been aimed at trying to influence South Korea's election of its 300-seat parliament on Wednesday, experts said.
The cruise missiles were launched about 7 a.m. and flew about 93 miles before splashing into the sea in a salvo that lasted about 40 minutes, according to the Joint Chiefs of Staff in Seoul.
North Korean fighter jets also flew over the eastern city of Wonsan, then fired multiple missiles into the nearby sea, a military official said in a briefing, speaking on condition of anonymity, in line with department rules.
U.S. and South Korean intelligence officials still were analyzing the situation, according to the JCS.
"Our military is paying sharp attention to the possibility of additional military launches in North Korea and is maintaining a firm readiness posture," it said.
It was the latest in a series of launches as the North has pressed forward with its weapons programs since nuclear talks with the U.S. stalled last year.
North Korea frequently conducts missile tests in connection with high-profile events.
It refrained from such military activity in 2018 after North Korean leader Kim Jong Un declared a moratorium on nuclear and long-range-missile tests to facilitate diplomatic efforts with the U.S. and South Korea.
However, the North resumed short-range-missile tests last year after nuclear negotiations with the U.S. collapsed following a failed summit between Kim and President Donald Trump.
The previous launches involved large-caliber multiple rocket launcher systems, ballistic missiles and artillery fire. It's unusual for the North to launch cruise missiles and to conduct air drills.
Kim likely is trying to show his regime is continuing to function normally while the rest of the world is focused on fighting the coronavirus, analysts said.
North Korea insists it hasn't had a single case of the virus, although many U.S. and South Korean officials have expressed skepticism about that claim, considering the country shares a border with China, where the virus first appeared late last year.
South Korea also has reported more than 10,500 coronavirus cases, although the pace of infection has begun to slow in recent days.
Kim Jong Un called for stricter enforcement of measures aimed at preventing the spread of the virus during a meeting of the political bureau of his ruling Workers' Party on Saturday in Pyongyang, according to the state-run Korean Central News Agency.
He also inspected fighter jets and observed a drill in an unspecified western area, KCNA reported Sunday.
Duyeon Kim, a Seoul-based adviser with the International Crisis Group, said the timing of Tuesday's launches suggested the North was focused on shoring up domestic support ahead of the revered founder's birthday, as well as trying to influence the South Korean vote.
"The political messaging is to show their domestic constituents, the North Korean people and the elites that their country is functioning normally despite what appears to be their own outbreak, too," she said.
"It's likely that they're also trying to further divide South Korean conservatives and progressives as they always do ahead of every South Korean election," she added.
Trump, meanwhile, has overlooked the short-range missile launches but suggested an intercontinental ballistic missile or a nuclear device would be a red line.
The North also likely was demonstrating its commitment to building weapons capabilities as a way to to gain leverage if negotiations with the U.S. resume, according to David Maxwell, a retired Army officer who is now with the Washington-based Foundation for Defense of Democracies.
"These are enhanced warfighting capabilities that will both support war fighting but also support blackmail diplomacy — the use of provocations and increased tensions to gain political and economic concessions," Maxwell said Tuesday during a panel organized by the United States Institute of Peace.
gamel.kim@stripes.com Twitter: @kimgamelchang.kyong@stripes.com