North Korea fires 3 ballistic missiles, US says, breaking lull
by
Kim Gamel
August 25, 2017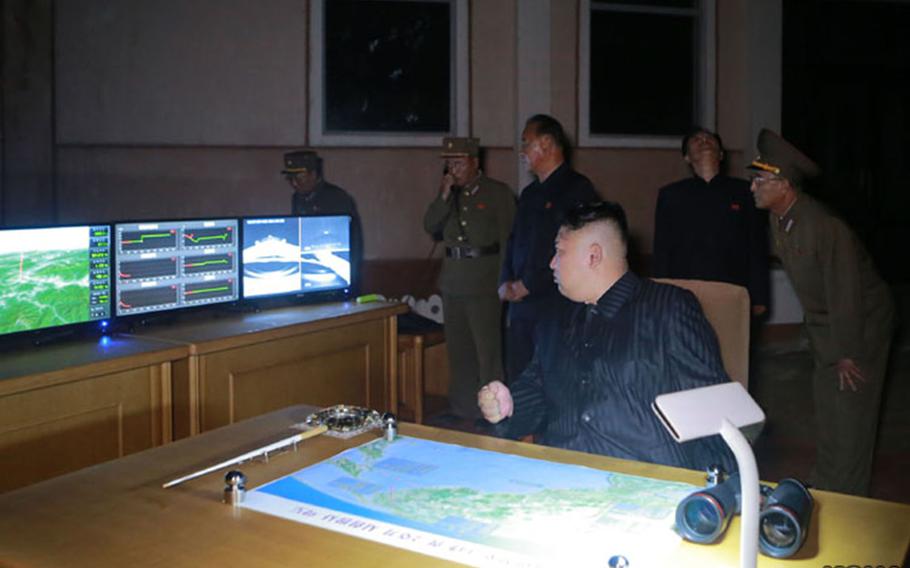 SEOUL, South Korea — North Korea fired three short-range missiles early Saturday U.S. officials said, breaking a relative lull in testing activity.
The ballistic missiles were launched within a half-hour timespan, U.S. Pacific Command said.
PACOM's first news release cited initial assessments indicating that the first and third missiles failed in flight while the second appeared to have blown up almost immediately.
But a spokesman later issued updated information saying the first and third missiles did not fail in flight but flew about 160 miles in a northeastern direction.
Cmdr. Dave Benham said the launches occurred near Kittaeryong, which is in a southeastern part of the country.
"The U.S. Pacific Command determined the three ballistic missile launches from North Korea did not pose a threat to Guam," he said. "We continue to monitor North Korea's actions closely."
The launch site is home to North Korea's Scud and Nodong missiles base, according to the Yonhap News Agency.
South Korea's military said three "unidentified projectiles" were fired and some flew more than 155 miles before landing in the sea between North Korea and Japan.
The presidential office later said the projectiles were believed to be from 300 mm multiple rocket launchers.
The discrepancies in the accounts could not immediately be reconciled. The allies both said they were working on more detailed assessments.
The launches came a month after the North tested its second intercontinental ballistic missile, raising fears about the rapid progress of its nuclear weapons program.
President Donald Trump and Pyongyang also engaged in a war of words earlier this month, and tensions escalated when the North threatened to fire a barrage of missiles into the waters near Guam.
The United States and South Korea also are conducting joint war games that infuriate Pyongyang. North Korea considers the drills to be a rehearsal for an invasion despite U.S. insistence that they're only defensive.
North Korea has shown steady progress in its effort to develop a nuclear-tipped missile that could reach the U.S. mainland.
It test-fired ICBMs on July 4 and July 28.
Trump later threatened to unleash "fire and fury" against the communist state if it continues to threaten the U.S., although he didn't elaborate.
Tensions subsided after North Korean leader Kim Jong Un said he would hold off on the plan to fire missiles near Guam. Secretary of State Rex Tillerson praised the country's restraint as the joint military exercises known as Ulchi Freedom Guardian began on Monday without a provocation.
South Korea convened a National Security Council meeting, although President Moon Jae-in was not in attendance, his office said.
North Korean leader Kim Jong Un also inspected a special operation forces training exercise that simulated attacks on islands along South Korea's western border, The Associated Press reported, citing state-run media.
Kim reportedly told his troops that they "should think of mercilessly wiping out the enemy with arms only and occupying Seoul at one go and the southern half of Korea," the Korean Central News Agency reported.
Stars and Stripes reporter Yoo Kyong Chang contributed to this report.
gamel.kim@stripes.com Twitter: @kimgamel