North Korea: Airmen died with 'suicidal-attack spirit' during 2009 missile launch
by
Erik Slavin
March 4, 2015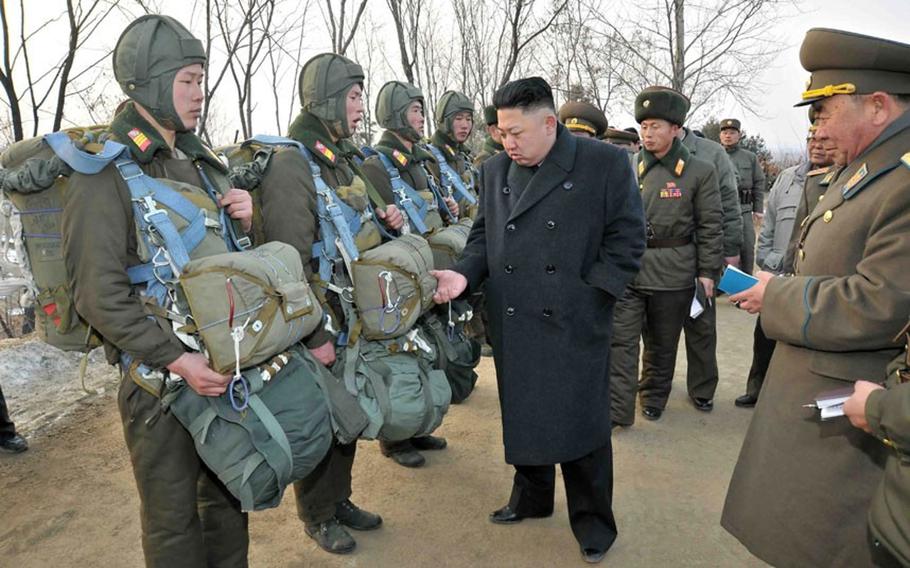 TOKYO — North Korea lost 14 airmen to an accident during the launch of a long-range missile and satellite in 2009, according to a state media report issued Tuesday.
The deaths were revealed in a Korean Central News Agency story about North Korean premier Kim Jong Un's visit to an air force unit, where he dedicated a monument.
The story said the 14 airmen died assisting the satellite Kwangmyongsong-2, which would correspond with North Korea's 2009 launch of a missile that experts considered a major weaponry upgrade at the time.
The KCNA story praised "the suicidal-attack spirit of the fighter pilots who defied death to carry out the order of the party," though it did not mention how the airmen died.
North Korea, one of the world's most isolated and economically undeveloped nations, trumpets its perceived successes in daily news reports, but rarely mentions failures and tragedies.
In 2009, North Korea announced the satellite launch as a peaceful move aimed at broadcasting patriotic songs about its ruling dynasty.
Western observers were less concerned about what might be on the satellite than they were about the Unha-2 rocket used to launch it.
"Our analysis shows that the Unha launcher represents a significant advance over North Korea's previous launchers and would have the capability to reach the continental United States with a payload of 1 ton or more if North Korea modified it for use as a ballistic missile," the Bulletin of the Atomic Scientists wrote in a 2009 opinion story.
Since that time, North Korea has continued to advance its ballistic missile and nuclear programs, despite international consternation.
Kim dedicated a monument Monday to the airmen who died during the launch by planting a tree, at which time he also taught onlookers about the "scientific and technological requirements" of tree planting, according to the story.
Kim has been photographed or written about by North Korean media during recent years instructing on several specialized fields, including factory optimization, fish farming, piloting and now forestry.
Twitter:@eslavin_stripes