No plans to shutter DODEA schools in Japan, Pacific East superintendent says
---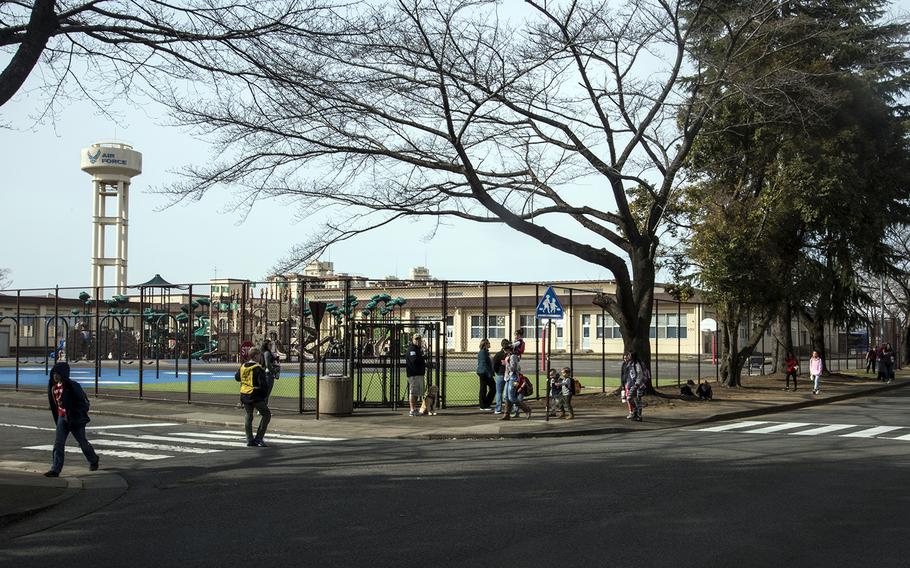 • Stars and Stripes is making this story and other coverage of the coronavirus pandemic available free of charge. See other stories here, and sign up for our daily coronavirus newsletter here.
YOKOSUKA NAVAL BASE, Japan — Students at Defense Department schools in Japan continue to attend classes in person despite widespread closures to combat the spread of the coronavirus.
The Department of Defense Education Activity on Wednesday shut down its U.S. schools, including those on Guam. DODEA schools in South Korea have been closed since Feb. 26.
Japanese public schools have had their doors closed for weeks since Prime Minister Shinzo Abe on Feb. 28 asked them to close to curb the coronavirus' spread, according to a March 10 report by Jiji Press.
However, while DODEA has plans in place in case it decides to close schools on U.S. bases in Japan, it was not planning to imminently do so, DODEA Pacific East Superintendent Judy Allen said during a virtual town hall meeting Tuesday on Facebook Live.
"Currently we have no [coronavirus] cases in our schools," she said. "If we do change and do something differently, then certainly we'd look at virtual schooling and we already have plans in place in case we do close the schools."
Allen explained that U.S. Forces Japan and DODEA officials review recommendations daily based on Centers for Disease Control and Prevention guidelines and use a USFJ "decision matrix" to determine "if schools should stay open or close."
Allen did not provide details about the matrix, which she said is not available to the public.
"The primary tool being used previously was CDC guidelines," she said. "Everyone can access those and see why schools may be open or closed depending on the area."
Decision makers must consider a multitude of factors before making the call, Allen said.
"There are second- and third-order consequences that we have to look at as well," she said. "That's why we partner with our military partners, because if schools are closed, children are home and then we have to look at what situation may develop."
A confirmed case of coronavirus wouldn't necessarily mean closing schools, especially for the long term, Dr. Allen Fisher, an Air Force major and the Yokota Air Base public health emergency officer, said during the town hall.
"One positive case might prompt us to recommend closure for a short period of time, but it would be one piece of the puzzle that would contribute to decision making overall as the situation changes," he said.
Navy spouse Elaine Abel, who has a daughter and son who attend DODEA schools at Yokosuka, called Fisher's "might" comment alarming.
"I was shocked," Abel said. "I'd hope the schools would be closed before that happened."
Abel took her children out of school Tuesday to keep them from possible exposure.
"School is such an easy place for viruses and germs to spread and it seems like too much of a risk," she said. "Closing schools seems to be the first step every community is taking, even our own host country, but not our bases. It makes no sense to me."
During the town hall, Allen said absences are excused for students whose parents keep them home from school.
"They need to work also with their teachers … (who) can provide the assignments that they would" if the students were in class, she said.
For other parents of DODEA students in Japan, keeping students in school is a welcome decision as coronavirus precautions close other options. For example, DODEA last month canceled all activities involving travel, such as sports and field trips.
"These kids have already given up so much to be here; we've taken every sport every activity from them," said Barbie McCabe, who has two children attending DODEA schools at Sasebo Naval Base. "Keeping them on a routine is the best thing we can do for them as a parent."
"If a case (of coronavirus) became present in the school, that would be a different conversation," she said.
As of Wednesday, Japan has reported 829 confirmed cases of coronavirus, not including the 712 cases associated with the Diamond Princess cruise ship that quarantined passengers in Yokohama Bay last month, according to the World Health Organization.
---
---
---
---