No new coronavirus cases for Okinawa Marines; service relaxes some off-base restrictions
by
Matthew M. Burke
July 27, 2020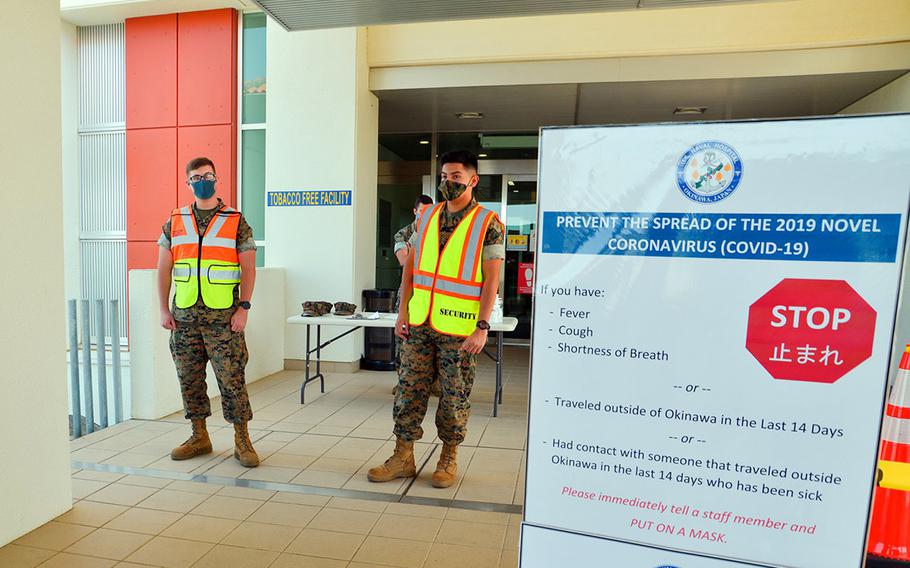 Stars and Stripes is making stories on the coronavirus pandemic available free of charge. See other free reports here. Sign up for our daily coronavirus newsletter here. Please support our journalism with a subscription.
The Marine Corps on Okinawa announced Monday that it had no new coronavirus cases to report within the last 24 hours and it was relaxing certain off-base restrictions for essential services.
That's a respite for the Marines, which this month has reported, directly or through Okinawa prefecture, 232 infections, most stemming from a pair of clusters at Marine Corps Air Station Futenma and Camp Hansen. The outbreaks began at MCAS Futenma with cases reported there July 7.
Monday's announcement follows a three-day period in which Marine Corps Installations Pacific reported 72 new infections. The Marines maintain that while the number of cases at its Okinawa bases remain high, they have the outbreak under control through aggressive contact tracing and testing.
"We continue to test large groups of individuals and have been re-testing many already placed in [restriction of movement] before they return to work," said a post Monday on the Marine Corps installations official Facebook page. "We are also phasing in a new policy to test all inbound personnel and will notify those who will be tested."
Beginning Tuesday, Marines in Japan may once again participate in off-base outdoor fitness activities and make medical and veterinary appointments, visit banks and grocers, pay bills, visit auto mechanics and use other essential off-base services, including schools and child day-care centers, said a III Marine Expeditionary Force statement released Monday evening.
III MEF personnel are still barred from participating in off-base liberty and recreational activities.
"After rigorous contact tracing and conducting more than 4,500 COVID-19 tests in the past month, [Marine Forces Japan] had been able to identify two localized clusters," the III MEF statement said. COVID-19 is the respiratory disease caused by the coronavirus.
Marine officials said they would continue to test personnel and "utilize shelter-in-place orders, contact tracing teams, and cleaning teams" to further discourage the virus' spread.
The Marines also announced Monday that another 30 people exposed to the coronavirus during the cluster outbreaks have recovered and have been released from quarantine. This brings the total released to date to 139, according to Marine statements.
Marine Corps officials said they are reviewing enhanced protective measures every 72 hours and updates will be announced by the III MEF, Monday's statement said.
"Please continue to diligently adhere to strict hygiene recommendations, maintain social distance and ALWAYS wear your mask," it added.
New cases on mainland Japan Elsewhere in the country, U.S. Army Japan announced it had discovered one new case of the coronavirus on Monday. The infected individual, who is stationed somewhere in western Japan, developed symptoms Thursday after returning from travel "within the surrounding area," a statement said.
The patient, whose movements were restricted after symptoms developed, was moved into isolation after testing positive Sunday, the statement said. The individual will require two negative tests before release.
"At this point there is no increased risk to the community at large and [U.S. Army Japan] is working closely with the Government of Japan," the statement added.
New infections were also announced Monday at Yokosuka Naval Base, south of Tokyo, and at Yokota Air Base in the city's western suburbs. The naval base now has seven active cases and the air base has five.
The Yokosuka patient tested positive Friday during the required 14-day isolation period required of anyone returning from overseas, according to a post on the base's official Facebook page.
Yokota's 374th Airlift Wing said a member of its community received positive results Sunday from a test taken recently at Haneda International Airport.
"The patient followed USFJ ROM policy and went directly into ROM status once the individual arrived to Japan," said a statement issued Monday evening. "The patient is currently in isolation under medical supervision by US military medical providers."
burke.matt@stripes.com Twitter: @MatthewMBurke1