No kisses, no hugs: With shore leave canceled, homecoming looks different for Yokosuka sailors and their families
---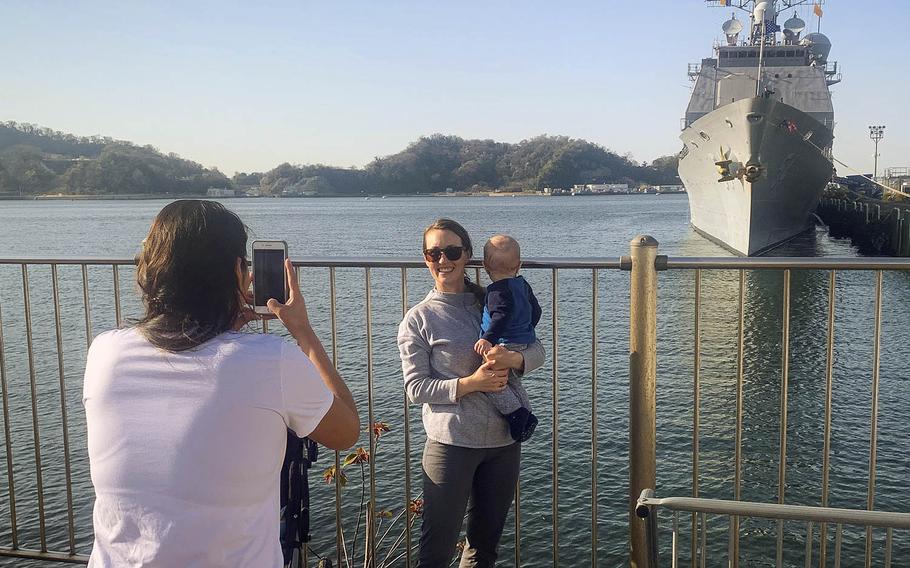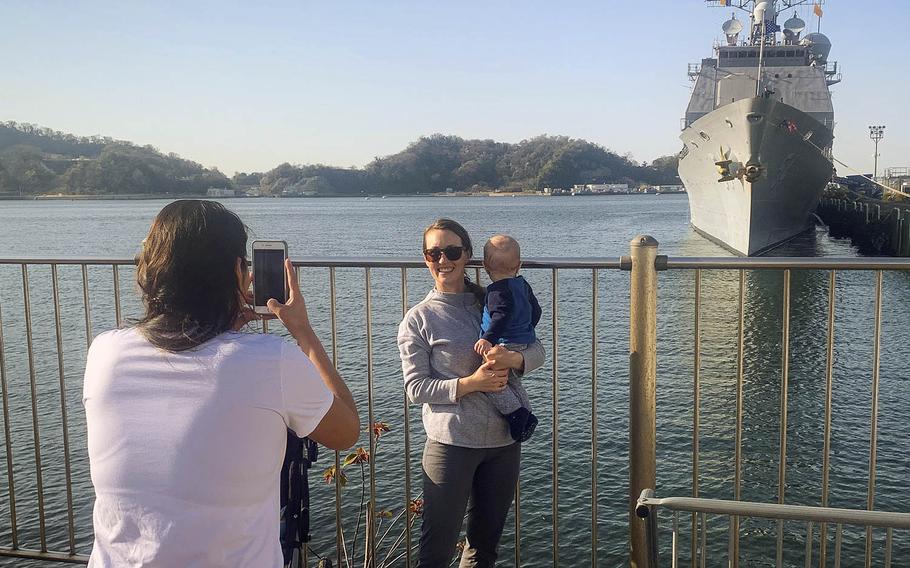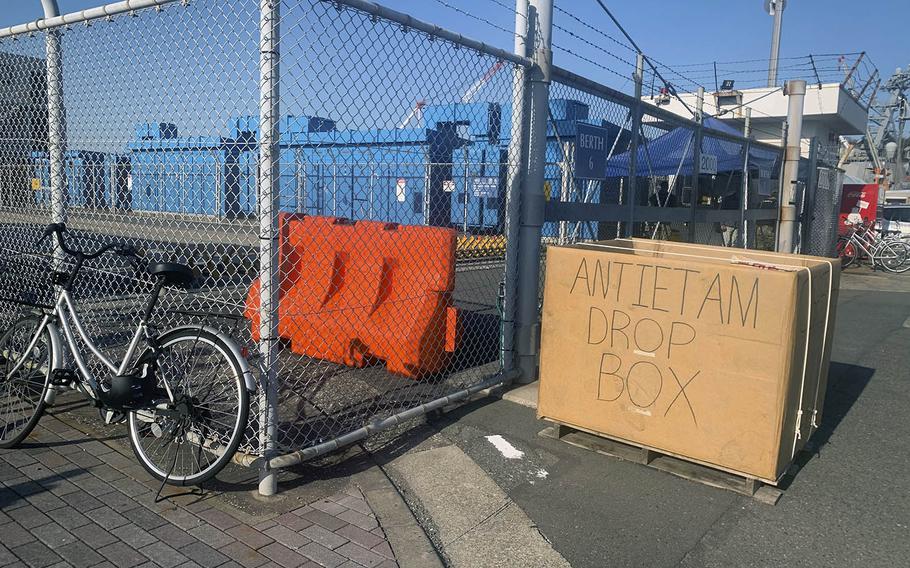 Stars and Stripes is making stories on the coronavirus pandemic available free of charge. See other free reports here. Sign up for our daily coronavirus newsletter here. Please support our journalism with a subscription.
YOKOSUKA NAVAL BASE, Japan — Daisy Morales was heartbroken Thursday when her husband, Ensign Matthew Morales, finally arrived back in port aboard the guided-missile cruiser USS Antietam after weeks at sea.
Morales, like other Navy spouses, discovered there would be no welcoming kisses. No hugs. No holding hands or hoisting children and babies.
The U.S. military at home and abroad over the past two days has heightened restrictions on the movements of service members and their families, access to bases and warships and other measures, to curb the spread of coronavirus, now a global pandemic.
Nonetheless, Morales and other spouses came to the pier Thursday afternoon to sneak a peek at their loved ones aboard the Antietam. Sailors came out to the bow to wave to their families and talk to them via cellphone.
"The whole virus thing is hard enough without family out here," Morales said.
Restricting sailors to their vessels puts a "bubble" around incoming ships to halt the virus' spread, base commander Capt. Rich Jarrett said Thursday during a virtual town hall on the official base Facebook page. It was unclear Thursday whether other ships at Yokosuka were given similar orders.
Morales said she had stocked up on snacks and groceries at the base commissary the night before in anticipation of her husband's arrival.
"I have enough food for the whole ship," she said, smiling through tears after waving goodbye to her husband from afar.
Looking for a silver lining, she and other members of the ship's family readiness group took shopping lists from sailors on board who were looking forward to visiting the Navy Exchange after weeks at sea.
Throughout the afternoon, families dropped off grocery bags and packages for the sailors in a large container at the gate where the ship is berthed. The words "ANTIETAM DROP BOX" were handwritten in large letters on the side.
"Everyone is sending lists. A lot don't have spouses who can go to the NEX (for them)," said Ashton Andrews, whose husband, Lt. Cmdr. Ryan Andrews, is an operations officer aboard the Antietam.
Andrews said that though she was disappointed her husband could not come home, the Antietam's "family readiness group and the community are so supportive."
---
---
---
---