'No Fly Zone:' Okinawa town's rooftop warning aims to decrease US military aircraft noise
---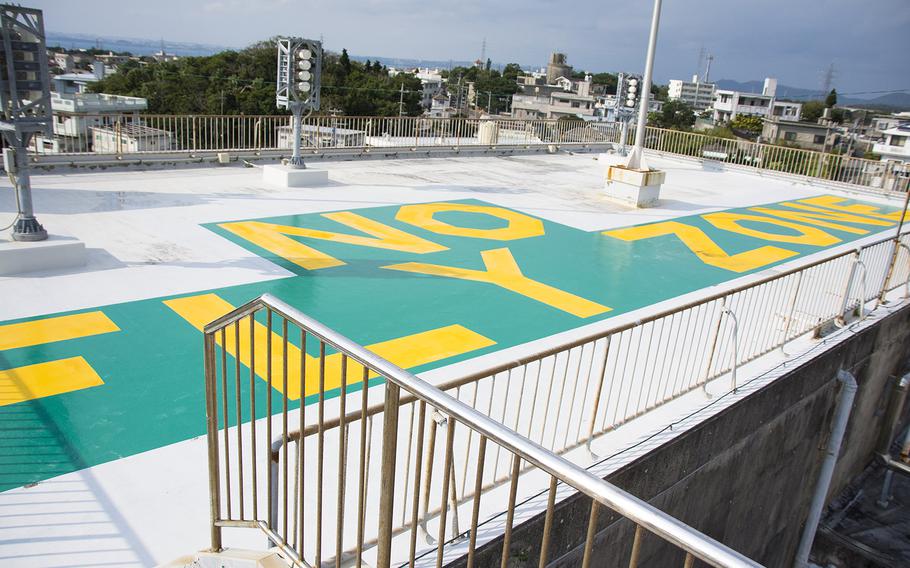 CAMP FOSTER, Okinawa — Kin town, home to Camp Hansen and close to Camp Schwab, both Marine Corps bases, has launched a message campaign to the U.S. military on the island.
In vivid, yellow letters 5 feet high and 66 feet long, the words "No Fly Zone" appear on the rooftop of Kin Town Hall, a plea to U.S. military pilots to steer wide of the community below. The words are visible at night.
"This is permanent signage and we had allocated the budget to paint five locations, including the town hall," a Kin town official told Stars and Stripes on Dec. 2. The official said the messages will also be painted at Kin Chuo Community Center, Nakagawa Elementary School, Kin Elementary School and Kin Middle School.
Some government officials in Japan customarily speak to the media on condition of anonymity.
"Our residents constantly asked us to do something about the noise" from U.S. helicopters, the Kin official said. "We had asked numerous times to the U.S. officials, but nothing has changed, so we had to do something within our ability."
The Ryukyu Shinpo newspaper reported Dec. 1 that noise levels attributed to military aircraft and measured after 10 p.m. near Camp Hansen in 2017 and 2018 frequently exceeded limits.
However, the newspaper did not specify what limit the aircraft noise exceeded and did not respond Tuesday to requests for further information. According to the Japan Ministry of the Environment website, 40-50 decibels is the limit for nighttime noise in residential areas.
The bureau and the Kin town official declined comment on how frequently U.S. aircraft exceeded the nighttime residential noise level.
The Okinawa Defense Bureau installed six meters to measure noise in Kin at the town's request. Four meters were installed in August 2013 and two in March 2018. The bureau gives a monthly noise report to Kin officials and the media.
A spokesman for III Marine Expeditionary Force said the Marines on Okinawa try to keep the noise down.
"III MEF operates within all bilateral agreements between the United States and the Government of Japan," 1st Lt. Ryan Bruce said in an email Dec. 3. "When executing training, III MEF makes every effort to accomplish our vital mission for Japan's defense while minimizing our impacts on the local communities where we operate."
Noise is not the only issue Kin town has with the Marines. On Dec. 5 and 6, several 60 mm mortar flare rounds were found in a Kin neighborhood. The Marine Corps suspended its use of illumination flares on Okinawa after the incident. No injuries or damage were reported.
aya.ichihashi@stripes.com Twitter: @AyaIchihashi
---
---
---
---