Nimitz sailors pay tribute to those who fought in WWII's Battle of Leyte Gulf
---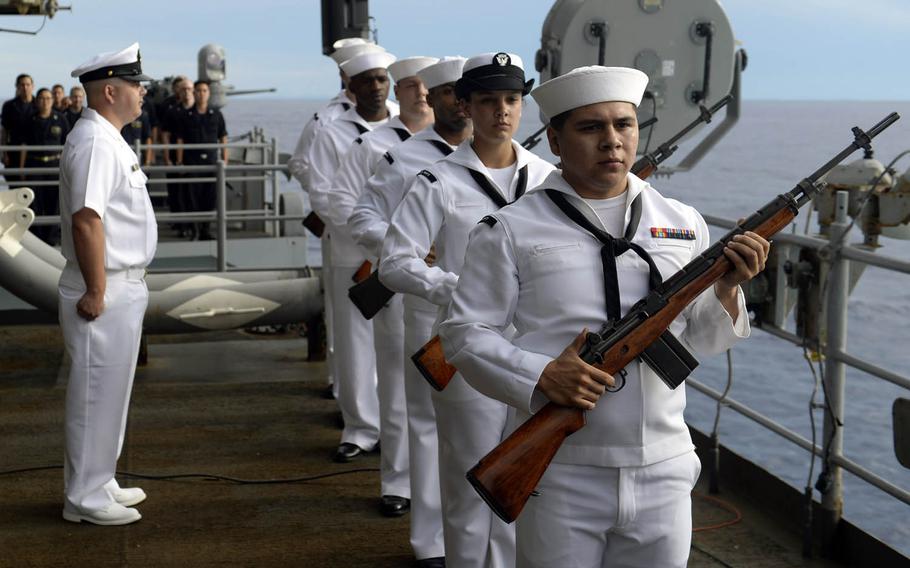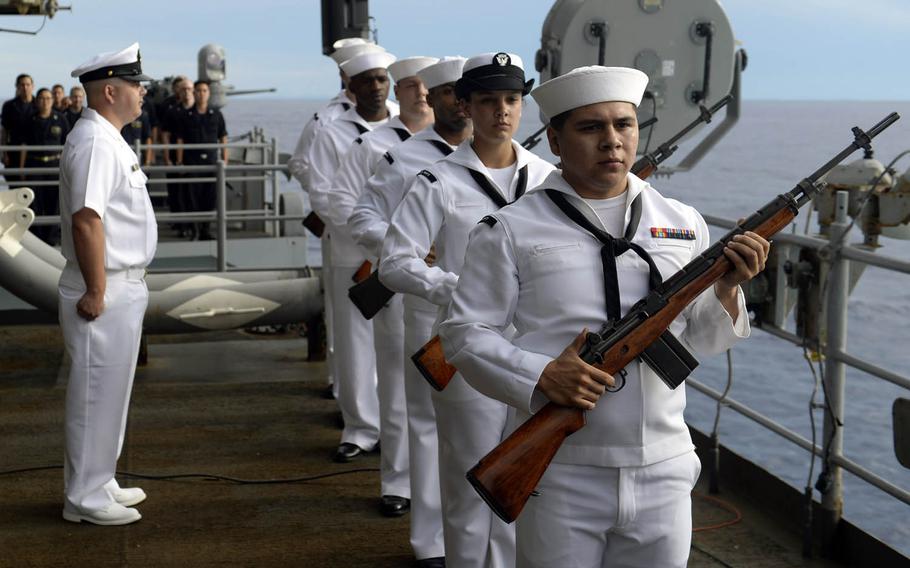 The USS Nimitz aircraft carrier held a ceremony at sea Monday to remember the sailors who fought in the Battle of Leyte Gulf, which is considered to be the largest naval contest of World War II.
The morning ceremony took place as the carrier passed through the Surigao Strait near the Philippines, a Navy statement said. There was a moment of silence followed by a 21-gun salute and the playing of taps.
"Today we sail the same waters as those sailors did 73 years ago," said Cmdr. J.W. David Kurtz, the ship's executive officer, according to the statement.
"While the immediate dangers may not be the same, the outcome of combat at sea has not changed."
The Battle of Leyte Gulf, which took place in late October 1944, included several naval engagements involving ships from the 7th and 3rd fleets. The battle crippled the Japanese Imperial Navy, which lost four aircraft carriers, three battleships, six heavy and four light cruisers, 11 destroyers, several hundred aircraft and more than 10,500 sailors, according to History.com. U.S. and Allied forces lost one light carrier, two escort carriers, two destroyers and one destroyer-escort.
Japan's losses allowed the U.S. to conduct a ground invasion of the Philippines. Roughly 3,000 sailors and Marines were killed in the battle, which some historians consider to be not only the largest naval battle of WWII, but the largest naval battle in history.
"I'm proud to be here at the ceremony because they didn't have to give their lives for us, but they did," said Chief Religious Program Specialist Kimberly Bell, according to the statement. "This ceremony was emotional for me because every time they play taps I want to cry when I think about all that those service members sacrificed for us."
The Nimitz departed its homeport of Bremerton, Wash., June 1 and has been patrolling the Pacific while temporarily assigned to the 7th Fleet.
---
---
---
---