Newest Japan-US alliance could get early test from North Korea
by
Charlie Reed
March 26, 2012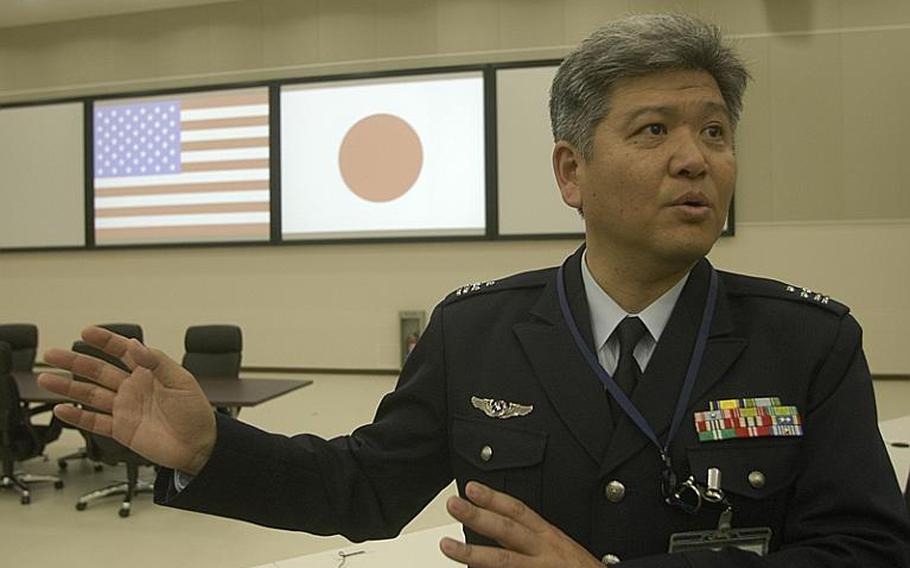 YOKOTA AIR BASE, Japan — Japan might not have to wait long to test its new Air Defense Command if neighboring North Korea goes ahead with plans to launch a satellite-toting rocket in the coming weeks.
Tokyo says it is prepared to shoot down the North Korean rocket using land- and sea-based missile interceptors developed in conjunction with the United States. The North Korean launch has been condemned by the international community as a pretext for a long-range missile test.
But unlike previous North Korean launches, Japan and U.S. experts now will be sitting side-by-side while tracking the rocket. The Air Defense Command began operating from Yokota on Monday, signifying what U.S. and Japanese officials called a "new era" in the bilateral security alliance.
U.S. and Japanese military officials are expected to break in the bilateral operations room in the ADC headquarters in the coming weeks, hashing out missile-defense plans related to the latest threat by North Korea, Col. Kourta Tanaka, the ADC's chief of defense plans, said Monday during opening ceremonies for the facility.
The U.S. and Japan agreed in 2006 to move the ADC from nearby Fuchu Air Base to Yokota to enhance missile-defense operations, on which the two began collaborating in 1998 following North KoreaTaepodong-1 ballistic missile test. The main benefit of the relocation is the proximity it creates between the Japan Air Self-Defense Force and U.S. Forces Japan and 5th Air Force.
"These headquarters buildings, standing side-by-side, are a tangible result of our efforts to strengthen defense cooperation between our two countries," said the USFJ commander, U.S. Air Force Lt. Gen. Burton Field. "It's a visible symbol that reflects the nature of our alliance."
The project was delayed a year because of the March 11, 2011, earthquake and other construction delays.
Along with a 1.3 million-square-foot operations center, the Japanese also have built a dormitory for about 200 single enlisted airmen, a dining facility, a Japanese military exchange store, an auditorium and other support facilities.
The ADC commander and vice commander also will live on Yokota, though most of the 800 ADC troops and personnel will live in Japanese government housing off-base.
Security officials are still making the necessary adjustments to handle the incoming Japanese workers. And details of how Yokota's new residents will share facilities with the 11,000 Japanese nationals and Americans already there — including troops, Defense Department civilians and their dependents — are still being worked out, said Lt. Col. Peter Kelley, the special assistant for the ADC project. While some facilities will be open to both Americans and Japanese, others will not, he said.
Despite their 60-year alliance, the U.S. and Japan have never worked in an integrated setting.
"What lies ahead is the real challenge," Field said.
if(typeof(dstb)!= "undefined"){ dstb();}if(typeof(dstb)!= "undefined"){ dstb();}
if(typeof(dstb)!= "undefined"){ dstb();}
---
---
---