New III MEF sergeant major brings his combat experience, optimism to Okinawa
by
Matthew M. Burke
September 16, 2020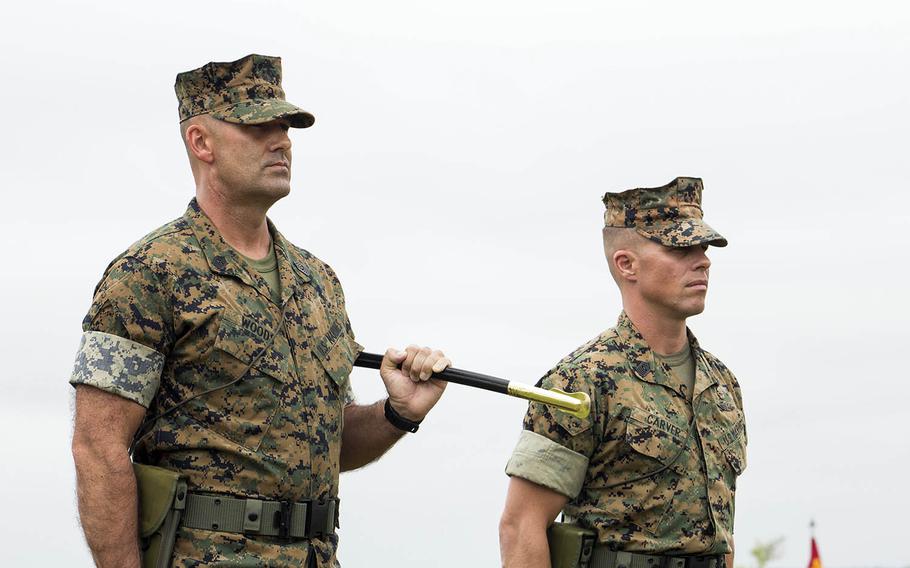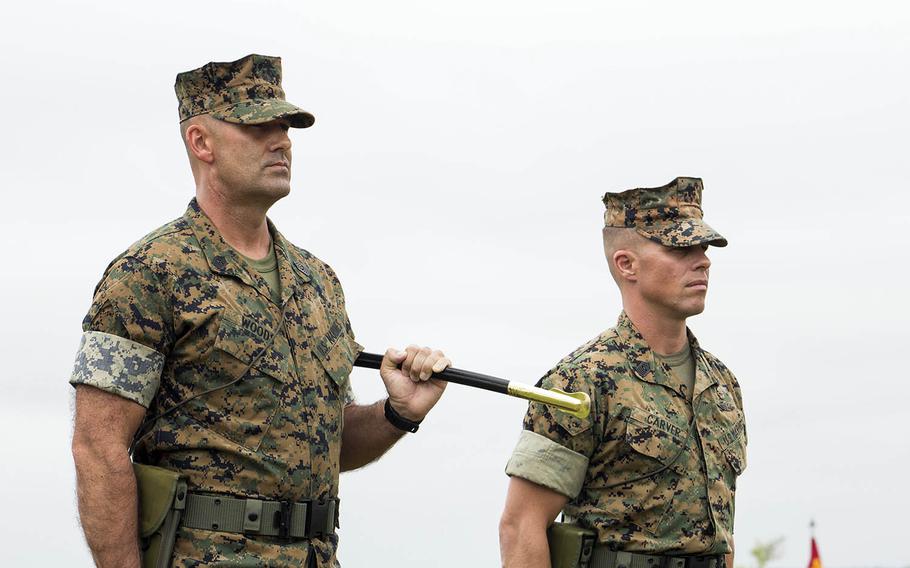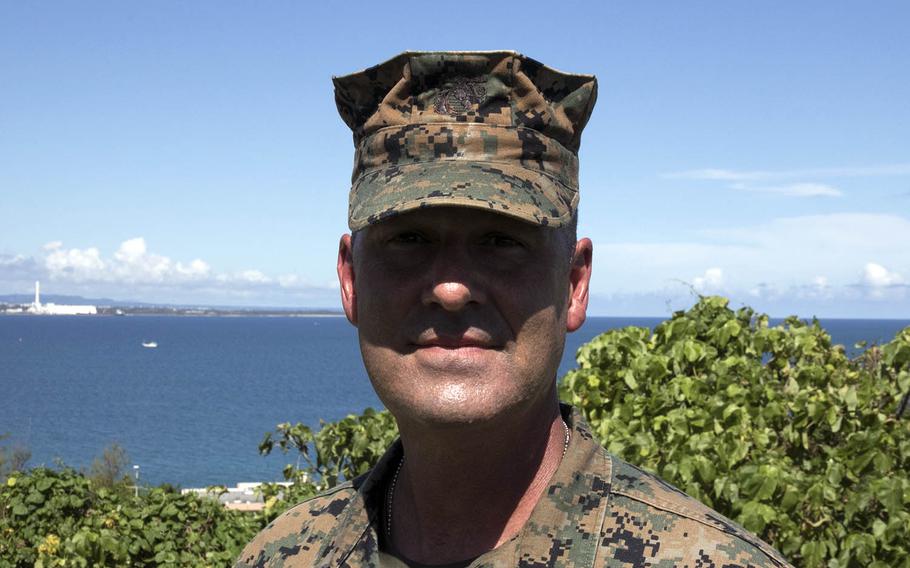 CAMP COURTNEY, Okinawa — The coronavirus pandemic curtailed Sgt. Maj. Michael P. Woods' plans to meet his fellow Marines and sailors in Australia, Hawaii and Guam after he joined III Marine Expeditionary Force this summer.
But the decorated combat veteran said he likes to look on the bright side of things: He's had more time to get to know his peers on Okinawa, which he now calls home. He recently took over as III MEF's top enlisted leader from retiring Sgt. Maj. Mario Marquez.
Woods wants to see the good in any situation "and capitalize on the positivity at every turn, no matter how dire the situation is," he told Stars and Stripes during an interview on Friday.
"I would much rather, as I'm sure most leaders would, have face-to-face interaction with [my] fellow Marines and sailors, but virtual is as good as we're going to get, and throwing a temper tantrum about it isn't going to change the reality on the ground," he said.
"So the best I can do is manage my expectations, modify my behavior the way that we're asking everyone else to, and I don't know if I said this before, but set the example, set the example and do the best you can, given the situation you're in."
Woods said he knows that anxiety among service members and their families is high following recent coronavirus-related lockdowns on Okinawa, but discipline must be maintained as things begin to open back up and liberty is restored.
A steady hand, and a dedication to standards, customs and tactical expertise has become his trademark, Woods said. He saw his infantry unit, the 2nd Battalion, 7th Marines, through an especially challenging deployment to the volatile Helmand province in Afghanistan in 2012-2013, he said.
They were able to do "some phenomenal things on the battlefield" while avoiding major pitfalls like having no battlefield casualties, serious injuries or Marines running afoul of the Uniform Code of Military Justice.
"I learned a lot of good lessons in that battalion, and those lessons I've tried to impart on fellow sergeants major as I became a regimental, a division, a [Marine Air-Ground Task Force] sergeant major and a Marine Forces sergeant major," he said. "My mantra has always been to listen, to feel, more than we speak in the first 60 to 90 days, and what I feel and what I hear [in Okinawa], what I see, makes me proud to be a Marine."
Woods arrives on Okinawa from Germany and U.S. Marine Corps Forces Europe and Africa, according to his official Marine Corps biography. A native of Kansas City, Mo., he joined the Marines at age 17, straight out of high school in 1992. He began his career as a tank driver and loader. As a tank gunner and later as a commander, he participated in operations across Europe, Africa and the Middle East.
As a tank platoon sergeant, he deployed to Iraq twice and rose from private first class to sergeant major while serving in the 2nd Marine Division.
He deployed to Afghanistan as a first sergeant and a sergeant major and to Okinawa under the Unit Deployment Program in 2011 with the 31st Marine Expeditionary Unit.
Woods has also served as sergeant major for the Special Purpose Marine Air-Ground Task Force Crisis Response-Africa 15-2, 3rd Assault Amphibian Battalion, 6th Marine Regiment and 2nd Marine Division.
Woods said his current job is that of a generalist in making sure the force is ready, putting attention wherever it is needed. His leadership style is rooted in empowering and building trust with other enlisted leaders through training, education and a mutual understanding of expectations.
"We've got to keep the relationship between the leader and the led warm and engaged," Woods said. "We need to exercise our equipment as much as possible, and when conditions allow, be willing to take some risks in order to reinforce operational readiness."
He also hopes to address racial issues within the force head on.
"I can tell you that I've been sitting in the front row seat and engaged in discussions about race, diversity and equality since I was in boot camp," he said. "My plan is to keep those discussions going and to make sure they happen to every extent possible at the lowest levels, frankly, at all levels, in order to get better, because we're not as good as we can be, or we will be, when it comes to this subject. So, my objective is to do all in my power to make sure conditions exist to do exactly that."
Woods spoke highly of the latest generation of Marines and said he embraces all of the service's modernization efforts, including a decision to shed tank battalions over the next decade.
"This is a great time to serve in III MEF," he said in a message to his Marines during the interview Friday. "There's no doubt in my mind that you'll exceed expectations no matter the mission you're given, so long as you take care of one another, and that's something that you'll always do."
burke.matt@stripes.com Twitter: @MatthewMBurke1