New high-voltage power plant in Japan can support Navy's electric stealth destroyers
by
Seth Robson
January 30, 2020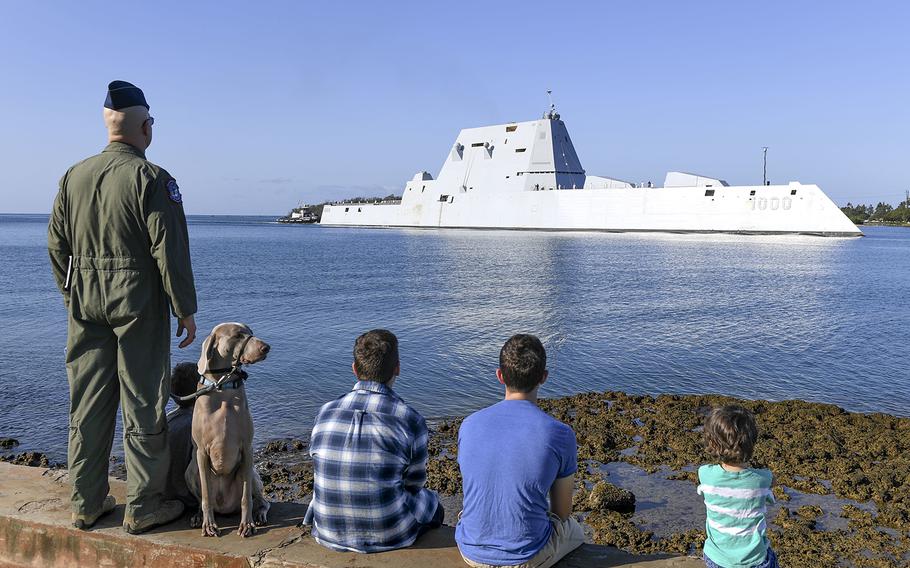 A 4,160-volt power plant providing dockside energy to the newly arrived amphibious assault ship USS America at Sasebo Naval Base in Japan can also support the Zumwalt class of electric stealth destroyers, according to the U.S. Army Corps of Engineers.
The $14.5 million Nippo Corp.-built plant, which underwent a series of tests last year, was officially opened Dec. 19 on Sasebo's Juliet Wharf by the Navy, shortly after the 844-foot America dropped anchor in its new homeport, according to Sasebo resident engineer Donald George.
In port, most Navy warships receive electricity from 480-volt dockside power plants that require sailors to connect up to a dozen cables, George said in a telephone interview Tuesday.
The America, along with newer Wasp-class amphibious ships, aircraft carriers and Zumwalt-class destroyers can hook up to 4,160-volt power, which requires half the number of cables, he said.
The Navy commissioned the USS Lyndon B. Johnson, the last of three Zumwalt-class destroyers, last April. The service had planned to put 32 of the electric stealth destroyers to sea but trimmed the number after the cost of each vessel blew up to $7.8 billion, according to Popular Mechanics magazine.
The ships have a stealth design, state-of-the-art electric propulsion systems and wave-piercing hulls, according to the Navy.
The U.S. military has sent many of its most modern weapons systems to Japan to include the America, Marine Corps F-35B stealth fighters and Air Force CV-22 Osprey aircraft but hasn't deployed the new destroyers there yet.
"The U.S. Navy continually monitors force readiness and capabilities to provide the most robust, capable maritime force possible," Pacific Fleet spokesman Lt. James Adams said in an email Thursday. "Long range planners constantly evaluate whether ships, aircraft, facilities, and equipment are being used effectively and efficiently."
He said the Japanese government and public are informed about any significant changes to U.S. military force structure in Japan.
Whatever happens to the Zumwalt-class warships, the Navy will likely rely more on electric propulsion systems over time, Arizona State University engineering professor Braden Allenby said in an email Friday.
The ships use gas turbines to produce electricity, which is then used to power electric motors for propulsion, as well as provide substantial power for other shipboard functions, Allenby said.
"This means that many of the components required by mechanical drive systems, such as complex gearboxes and clutches, are no longer required," he said.
The electricity generated can also be used to power weapons systems, including those that might be installed on warships in future, he said.
"The Navy is building in power and weight margins into its newest platforms so that they can more readily accommodate new sensors and weapons as they become available," Colleen O'Rourke, a Naval Sea Systems Command spokesperson, said in an email Friday.
If the electric warships arrive in Japan, they will have plenty of power available at Sasebo.
The high voltage flowing through cables attached to the new Sasebo plant mean sailors take extra precautions when they're hooking up ships, George said.
The plant encompasses three quarters of an acre of wharf space and houses a pair of 7.5-megawatt transformers that convert electricity from off base, he said.
Similar power plants operate at Yokosuka Naval Base in Japan as well as San Diego and Norfolk, he said.
robson.seth@stripes.com
Twitter: @SethRobson1