New commander takes over Air Force's largest combat wing
---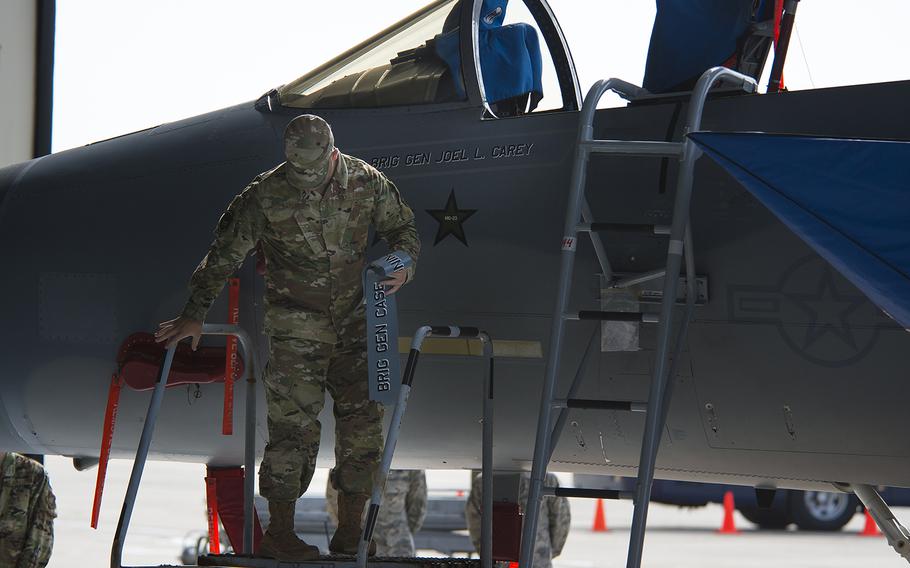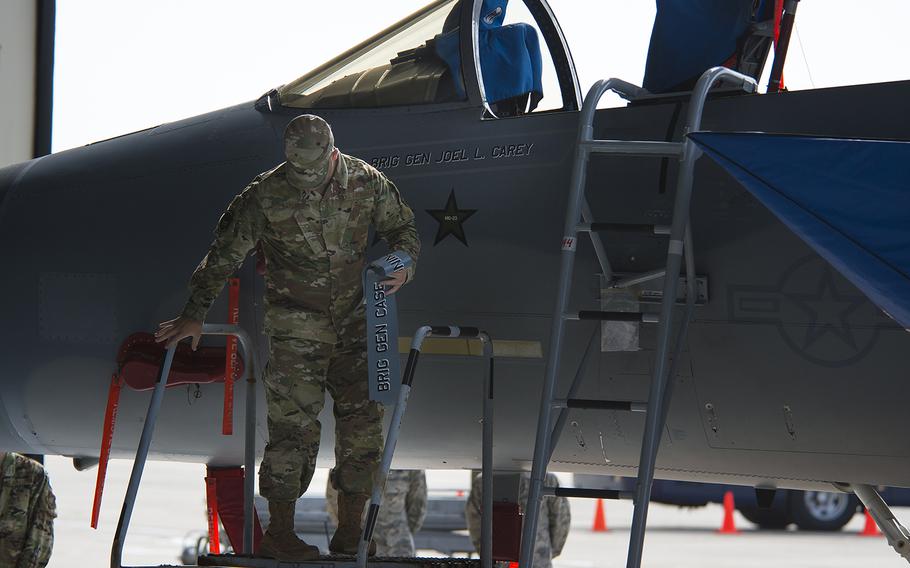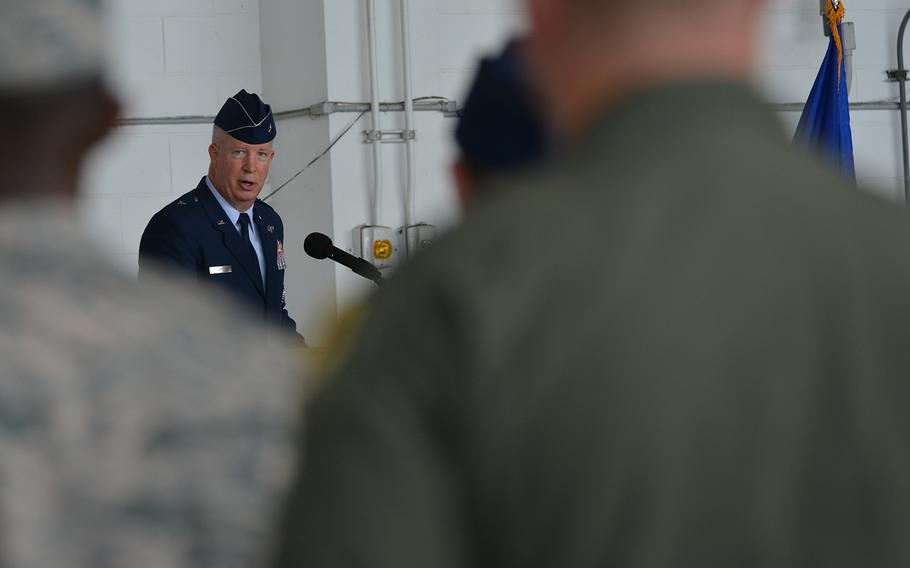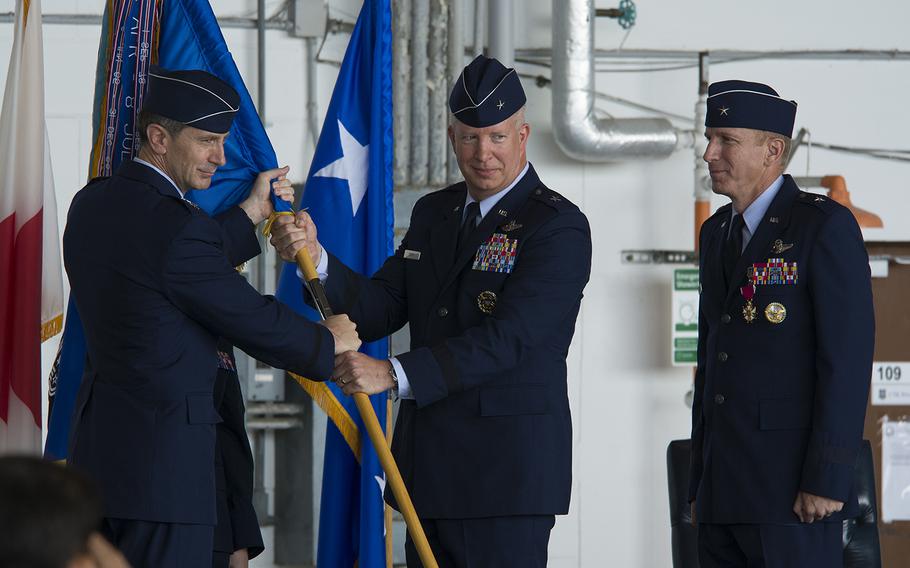 KADENA AIR BASE, Okinawa — Brig. Gen. Joel Carey assumed responsibility of the 18th Wing, the Air Force's largest combat air wing, on Monday from Brig. Gen. Case Cunningham, the outgoing commander.
Six years ago, Carey replaced Cunningham as vice commander of the 451st Air Expeditionary Wing at Kandahar, Afghanistan.
"From Kandahar to the Pacific, I've had the honor and, frankly, the challenge of trying to fill your shoes more than once over the last few years, and your fingerprints on this mission, this organization are extremely clear to me," Carey said during a change-of-command ceremony inside a hangar.
The 18th Wing provides combat and aeromedical evacuation capability for U.S. Indo-Pacific Command. Its pilots fly F-15C fighter jets, KC-135 refueling tankers, HH-60 helicopters and E-3 Sentry Airborne Warning and Control Systems aircraft.
Cunningham, the wing commander at Kadena since July 2017, turned over to Carey the largest Air Force installation in the Pacific — home to more than 23,000 servicemembers and their families, contractors and Japanese employees, according to Kadena's website.
"Two years ago, when I took command, I said the challenge will be about giving time that is required both in courageous and exemplary leadership in every single level," Cunningham told servicemembers and local dignitaries at the ceremony. "You delivered in an absolute and huge way in that challenge."
Kadena has experienced highs and lows over the past two years.
On one hand, The Associated Press highlighted a case from Kadena in a June investigative report on child sexual abuse on American military bases worldwide.
And four Kadena airmen — some assigned to the same squadron — were found dead in their residences over the past 11 months, with causes either not released or still under investigation.
On the other hand, Cunningham credited his team with playing a key part in events on the global stage.
The wing's combat readiness contributed to U.S. diplomacy that resulted in reduced tensions with North Korea over the past two years, he said.
The base also hosted multiple cultural events, Japanese national and military exchanges, and supported the most recent exercises Cobra Gold in Thailand, Cope North in Guam and Northern Edge in Alaska.
New challenges will present themselves every year in the region, Carey said, adding he will remain committed "to continue a peaceful, secure, free and open Indo-Pacific."
U.S. Forces Japan commander Lt. Gen. Kevin Schneider presided over the ceremony and passed the unit flags from the outgoing to the incoming commander.
Prior to taking the helm at Kadena, Carey led the Train, Advise, Assist Command-Air and the 438th Air Expeditionary Wing at Kabul, Afghanistan. He also previously commanded the 44th Fighter Squadron at Kadena and served as vice commander of the 438th Air Expeditionary Wing in Afghanistan, in addition to the 451st Wing.
Carey first served at Kadena in the early 2000s as flight commander, also with 44th Fighter Squadron, 18th Wing.
Cunningham is headed to Hawaii to serve as deputy director for operations at Indo-Pacific Command. In that role, he will monitor U.S. and allied forces and recommend military options in the event of a crisis or contingency.
vazquez.carlos@stripes.com Twitter: @StripesCarlos
---
---
---
---