Navy warships conduct back-to-back freedom-of-navigation operations in South China Sea
by
Caitlin Doornbos
April 30, 2020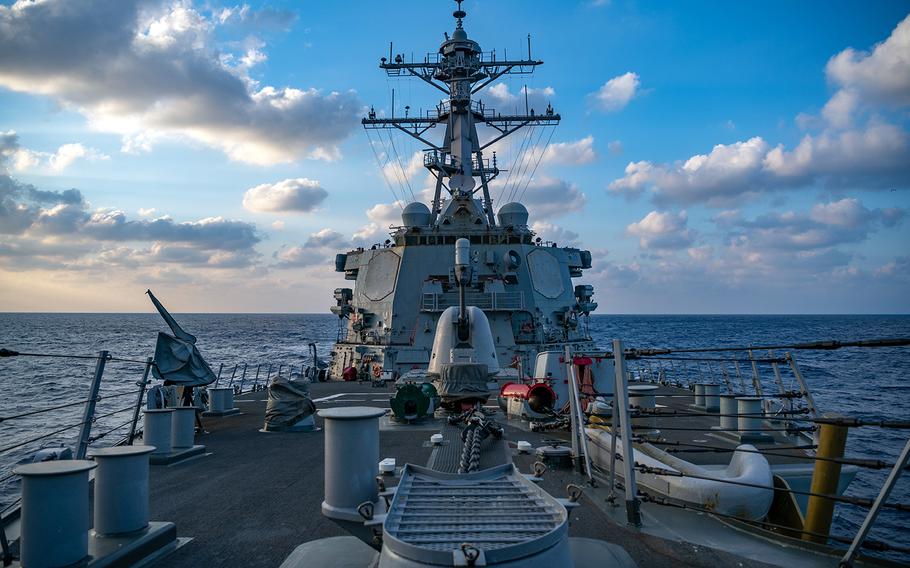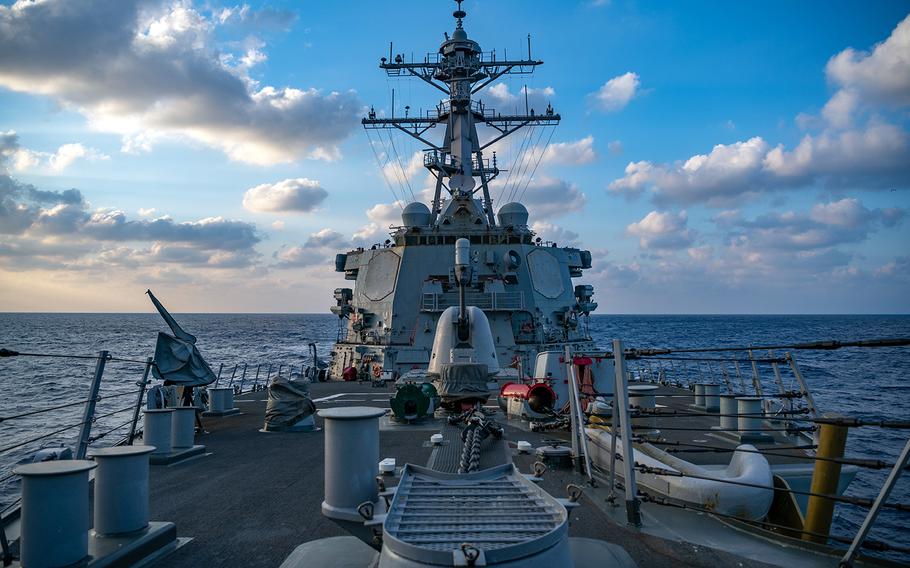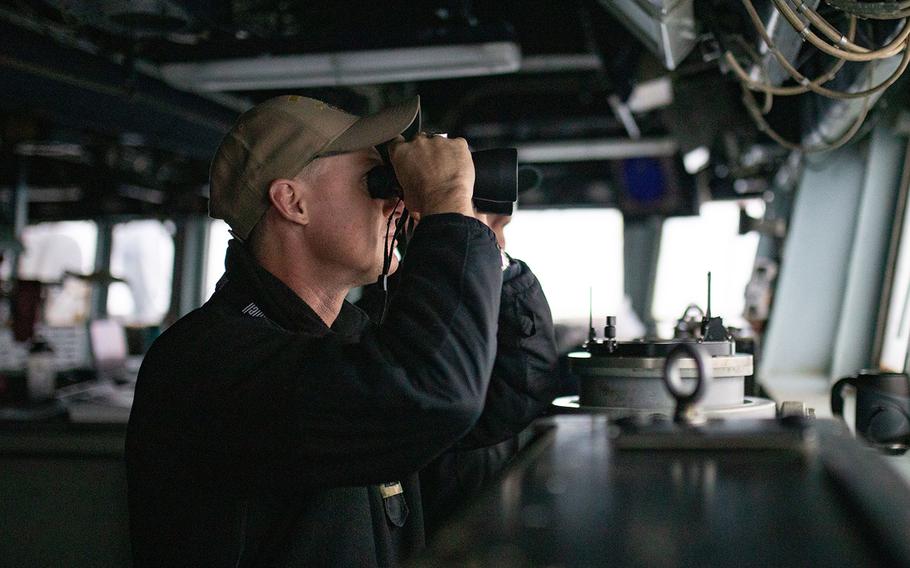 YOKOSUKA NAVAL BASE, Japan — The guided-missile cruiser USS Bunker Hill steamed near the disputed Spratly Islands on Wednesday, marking the second time the U.S. has sent a warship on a freedom-of-navigation operation in the South China Sea this week, according to the Navy.
The mission challenged restrictions by China, Vietnam and Taiwan, which dispute sovereignty over the Spratly Islands, 7th Fleet spokeswoman Cmdr. Reann Mommsen said in a statement to Stars and Stripes on Thursday. The Philippines, Malaysia and Brunei also lay claim to portions of the islands.
"China, Vietnam, and Taiwan purport to require either permission or advance notification before a military vessel or warship engages in 'innocent passage' through the territorial sea," she said. "The unilateral imposition of any authorization or advance-notification requirement for innocent passage is not permitted by international law, so the United States challenged those requirements."
The day before, the guided-missile destroyer USS Barry conducted a similar operation through the Paracel Islands, another chain in the region over which China, Vietnam and Taiwan have overlapping claims.
The U.S. does not recognize any country's claim over either island chain.
"Unlawful and sweeping maritime claims in the South China Sea pose a serious threat to the freedom of the seas," Mommsen said in her statement. "The international community has an enduring role in preserving the freedom of the seas, which is critical to global security, stability, and prosperity."
Li Huamin, a spokesman for the Chinese southern theatre command, criticized the Barry's presence on the command's WeChat social media account, according to a Tuesday report by the South China Morning Post.
"These provocative acts by the US side … have seriously violated China's sovereignty and security interests, deliberately increased regional security risks and could easily trigger an unexpected incident," Li said.
The Barry, based at Yokosuka, also transited the Taiwan Strait on April 24, a move that typically draws criticism from China, according to the Navy. The communist country views the 110-mile-wide strait as its territorial waters, but the U.S. considers it an international waterway.
The Bunker Hill, based at San Diego, and the Barry also recently completed exercises with the amphibious assault ship USS America and vessels from the Royal Australian Navy in the South China Sea, according to the Navy.
The operations took place as the 7th Fleet prepares the aircraft carrier USS Ronald Reagan and its strike group to leave for a patrol of the region.
The 7th Fleet is taking added steps to ensure the carrier group deploys without sailors infected by the coronavirus, which has sidelined the carrier USS Theodore Roosevelt in Guam for over a month.
However, the Barry, Bunker Hill and other vessels have been at sea several months, setting out before the pandemic struck Navy crews, Task Force 70 commander Rear Adm. George Wikoff said in an April 24 interview with Stars and Stripes. Task Force 70 is the battle arm of the 7th Fleet.
"They are out there on point right now on mission. Our Navy has not shut down out here," he said. "I continue to be impressed by the entire community here in the forward-deployed naval force and the work that they're doing to maintain that mission focus while we're working our way through the unknowns of this pandemic."
doornbos.caitlin@stripes.com Twitter: @CaitlinDoornbos