Navy to lease land on Guam for 40-megawatt solar power array
---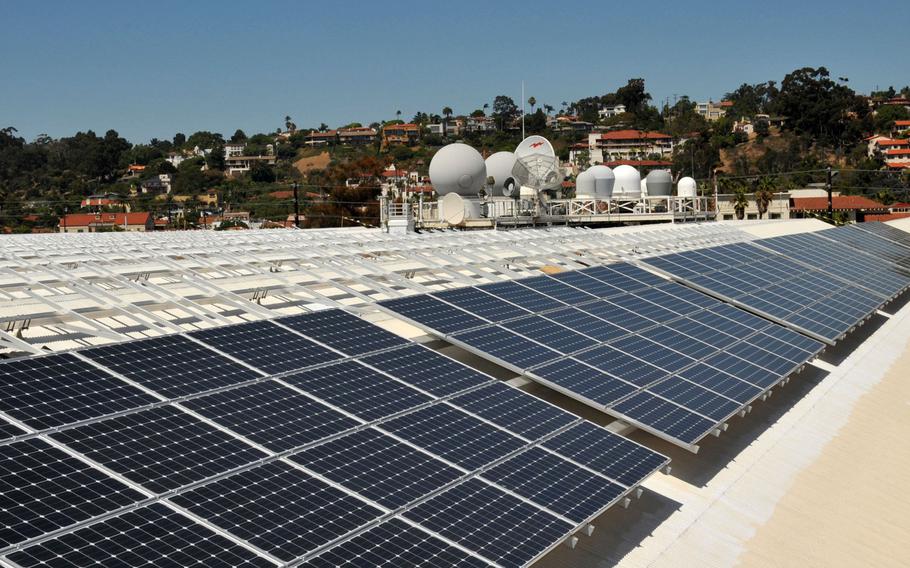 The U.S. Navy is planning to lease about 192 acres of land on Guam to the local electric company for construction of a system of photovoltaic solar panels in eight locations to generate about 40 megawatts of power.
The Navy released an environmental impact study on the project Friday and is seeking public comment on the proposal through May 27.
The Commander, Joint Region Marianas would provide a 37-year lease of the land to the Guam Power Authority, which would then select a contractor to build the network. At the end of the leasing period, it could be renewed, or the system could be decommissioned.
Photovoltaic cells convert solar rays into direct current, which is then transformed into alternating current, or AC, electricity. The power would be available to both military and civilian users.
Four of the PV arrays would be located in northern Guam at South Finegayan, Harmon Annex, Harmon Booster Station and the former Tumon Tank Farm. The other four would in the south at the wastewater treatment site, confined disposal facility, commissary and an existing PV site.
"We approached the Navy several years ago with a request to possibly utilize their properties, and today we believe we've reached a major milestone in our process with the publishing of this draft EA for public comments," said John Benavente, general manager of Guam Power Authority, in a Navy news release.
The Department of Defense is in the process of increasing energy efficiency and security at its military bases, both domestic and abroad.
Six years ago, the Secretary of the Navy established renewable energy goals for the Navy's shore-based installations to be met by 2015. Those goals include producing or procuring at least half the total electricity consumed by those facilities each year from alternative energy sources, as well as making half of all Navy installations "net zero" consumers of electricity, meaning they would match or exceed energy consumed with energy produced from alternative sources.
The Navy established the Renewable Energy Program Office to work with local utilities to use private-sector funding for constructing renewable-energy projects on DOD land.
Two years ago, President Barack Obama ordered that federal agencies get or produce 10 percent of energy consumed from renewable sources by 2015, with the required percentage rising to 20 percent by fiscal year 2020.
Like many small Pacific islands, Guam has no natural fossil fuels, so they must be shipped in.
"These projects will bolster energy security and lessen Guam's dependency on imported fuel," said Capt. Glenn Shephard, Naval Facilities Engineering Command Marianas commanding officer, said in a Navy news release.
The island is home to Naval Base Guam and Andersen Air Force Base and is home base for the Air Force's 36th Wing, Submarine Squadron 15 and numerous other Navy units.
olson.wyatt@stripes.com Twitter: @WyattWOlson
---
---
---
---