Navy to christen destroyer named for late Hawaii senator, Medal of Honor recipient
---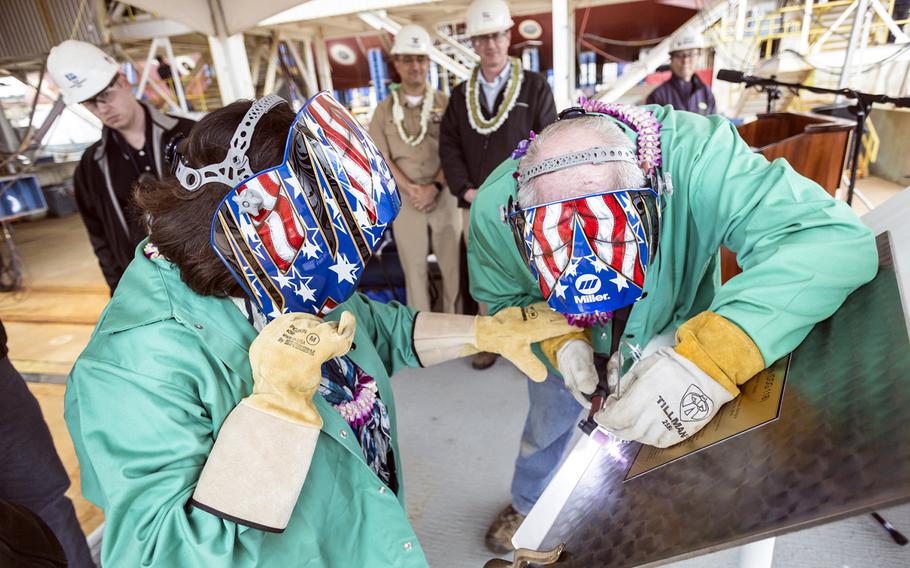 FORT SHAFTER, Hawaii — The Navy will christen on Saturday its newest Arleigh Burke-class guided-missile destroyer, a warship named for a Hawaiian hero of World War II awarded the Medal of Honor.
The future USS Daniel Inouye will be christened during a ceremony in Bath, Maine, where the ship was constructed, the Navy said.
Once it joins the fleet, the Daniel Inouye will be homeported at Joint Base Pearl Harbor-Hickam, marking the 10th destroyer of its class to call Hawaii home.
Daniel Inouye served as a U.S. senator for Hawaii from 1963 until he died in 2012 at age 87. His personal interest in America's military and his seniority on key Senate committees helped maintain a steady flow of Defense Department spending to Hawaii.
His widow, Irene Hirano Inouye, is the ship's sponsor and will christen it by breaking a bottle of sparkling wine across its bow.
Sen. Mazie Hirono, D-Hawaii, will deliver the ceremony's keynote address.
Navy Secretary Ray Mabus chose Inouye as the ship's namesake in 2013. Its formal designation will be DDG-118.
Inouye joined the Army in 1943, serving with the legendary 442nd Infantry Regimental Combat Team, composed primarily of Nisei, second-generation Japanese immigrants to America.
He first fought in Italy, after which the regiment was shipped out to France. There he was part of the effort to relieve the so-called "Lost Battalion" of the 141st Infantry Regiment, 36th Division, made up mostly of Texas Army National Guardsmen, which was surrounded by German troops, according to a bio published by the Naval History and Heritage Command.
He escaped likely death when an enemy round hit him in the chest just above the heart, but the bullet was deflected by a pair of silver dollar coins he carried in his breast pocket.
The regiment returned once again to Italy, where, as a second lieutenant, Inouye led a platoon through a hail of enemy fire as they attacked a rail junction.
Fire from three German machine guns halted the platoon's advance up a ridge, but Inouye crawled up the slope to within a few yards of one of the guns, tossed grenades and destroyed it.
He quickly destroyed a second machine gun. He continued the attack even after being wounded by a sniper, but a grenade shattered his right arm, damaged so badly that surgeons had to amputate it.
He belatedly received the Medal of Honor in June 2000 for his actions that day.
olson.wyatt@stripes.com Twitter: @WyattWOlson
---
---
---
---