Navy starts drills with Vietnam days after sailing near disputed South China Sea island
---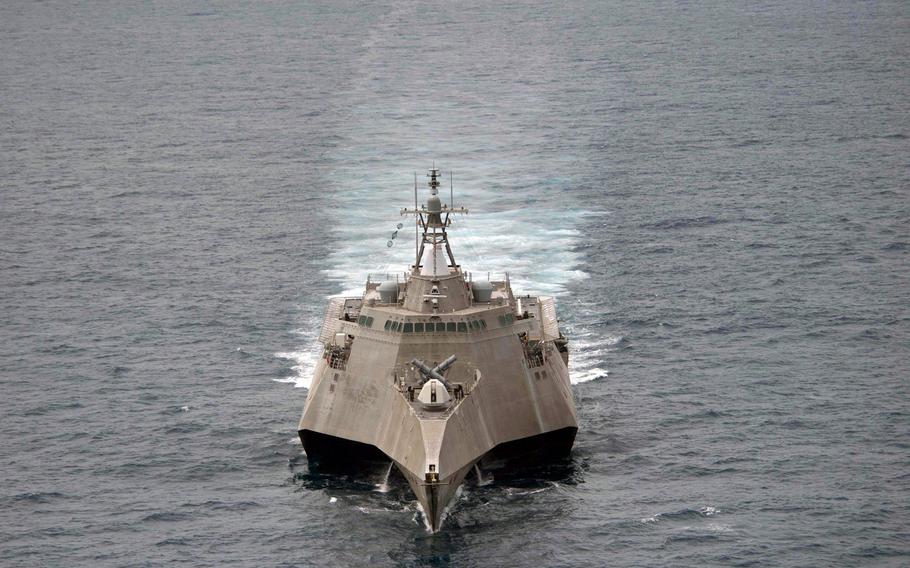 The Navy has kicked off naval drills with Vietnam, just days after sending a guided-missile destroyer near a South China Sea islet claimed by China, Taiwan and Vietnam.
The USS Coronado and USNS Salvor steamed into Vietnam's Cam Ranh International Port Wednesday for the annual five-day "Naval Engagement Activity," which will include ship handling, medical evacuations and practicing the Code for Unplanned Encounters at Sea, a Navy statement said. Skill exchanges will cover shipboard damage control, shipboard medicine and law.
"The United States values our comprehensive partnership with Vietnam and we look forward to deepening our relationship and people-to-people ties through engagements like NEA," Task Force 73 Commander Rear Adm. Don Gabrielson said in the statement.
Personnel from Task Force 73, Destroyer Squadron 7 and the 7th Fleet Band will also participate, the statement said.
"These naval activities underscore the deepening and diverse relationship between the United States and Vietnam," U.S. Ambassador to Vietnam Ted Osius said in the statement. "Our security cooperation was an important discussion point during the recent meeting between President [Donald] Trump and Prime Minister Nguyen Xuan Phuc."
The exercise, which has been held annually since 2010, is being based for the first time at recently opened Cam Ranh International Port. Previous drills took place more than 300 miles north in Da Nang.
During a 2012 visit to Cam Ranh Bay, then-Secretary of Defense Leon Panetta called Navy access to the port "a key component" of the U.S.-Vietnam relationship, according to The Diplomat.
The exercise begins just days after the guided-missile destroyer USS Stethem on Sunday sailed within 12 nautical miles of Triton, a South China Sea island in the Paracels chain claimed by China, Vietnam and Taiwan. A Chinese official called the operation "provocative" and said such actions "violate China's sovereignty and threaten China's security."
A Navy official told Bloomberg the warship was passing through those waters on the basis of innocent passage.
---
---
---
---