Navy seeks public comments on proposed replacement of submarine dry dock in Pearl Harbor
by
Wyatt Olson
September 16, 2020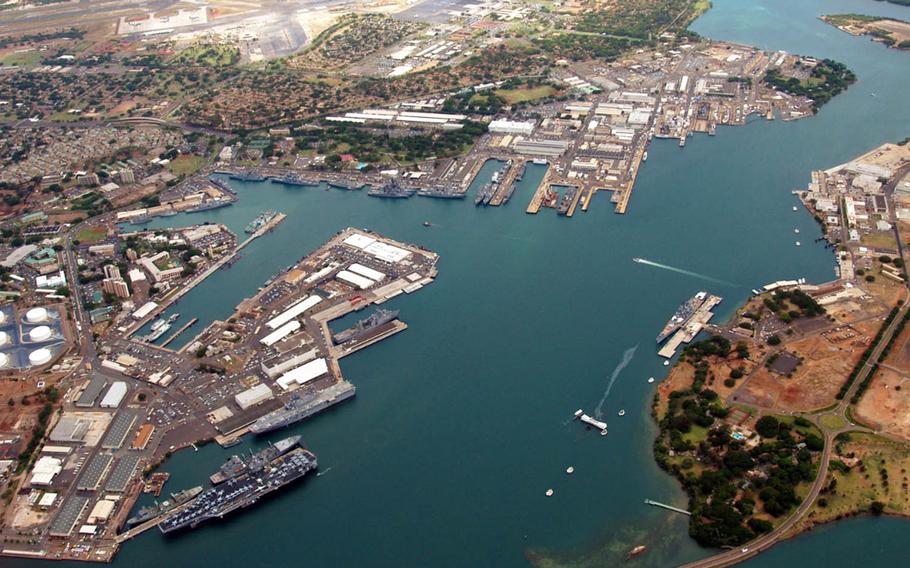 The U.S. Navy wants the public to weigh in on a proposed plan to reconstruct a submarine dry dock at Pearl Harbor Naval Shipyard intended to streamline depot maintenance and better accommodate future classes of fast-attack subs.
The Navy on Tuesday kicked off a 35-day "scoping" process that will identify interests and concerns of the community regarding the environmental impact statement the will prepare for the project, according to a statement issued Tuesday by the Navy.
Due to the coronavirus pandemic, the Navy will not hold public gatherings to explain the project and instead use two web-based platforms.
A virtual "open house" can be viewed at www.PearlHarborDryDockEISOpenHouse.org from Sept. 15 through Oct. 19. The public can submit comments on the web site.
A virtual public scoping meeting will be held Sept. 29, 4:30 to 6:00 p.m., Hawaii time, during with Navy officials will provide a live presentation and conduct an question-and-answer session.
The environmental statement will analyze effects the construction could potentially have on and around the site, including impacts on historic properties, noise levels, traffic, water quality and marine life.
The project would upgrade one of the four existing dry docks at the shipyard.
There is no estimate of the overall cost of the project at this time, according to Chuck Anthony, a spokesman for Joint Base Pearl Harbor-Hickam, which houses the Pearl Harbor Naval Shipyard and Intermediate Maintenance Facility.
The improvements aim to reduce the time spent servicing each submarine in dry dock, a change needed to improve operational readiness, the Navy statement said.
Other project components include a new waterfront production facility, new electrical substation, demolition of some existing buildings on the shipyard and dredging for turning basins and channels.
The Navy is developing a range of alternatives to be considered in the environmental impact statement, which is scheduled to be completed next summer. The Navy expects it will issue a record of decision on the project in fall 2022.
Being considered are whether the dry dock will be covered or uncovered and the location of the production facility in relation to the new dry dock.
The Navy expects the project would be completed in phases, with the construction of the concrete dry dock being completed first.
Documents and maps of the proposed project are at https://pearlharbordrydockeis.org/#!/documents.
olson.wyatt@stripes.com Twitter: @WyattWOlson