Navy Seahawk crew OK after going down in Philippine Sea
by
Caitlin Doornbos
January 25, 2020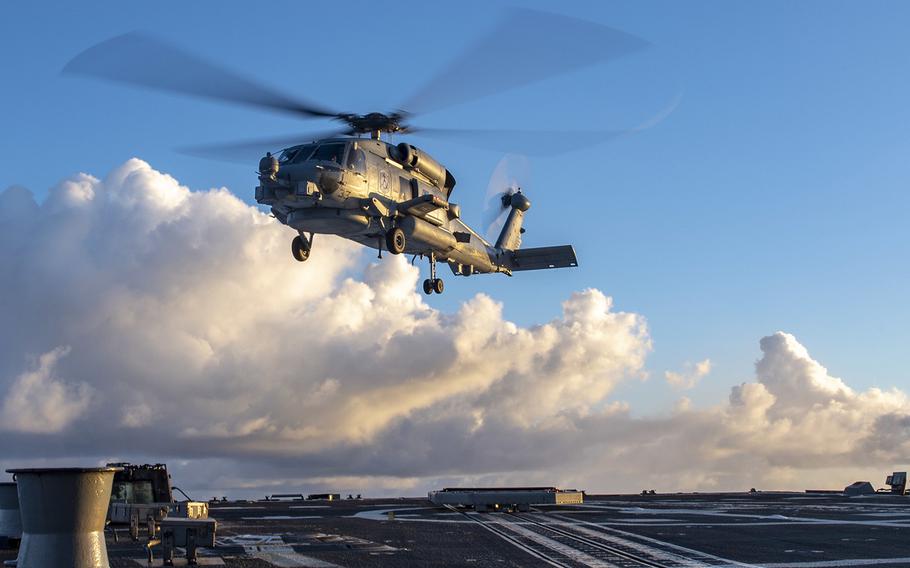 YOKOSUKA NAVAL BASE, Japan — Two naval aviators have returned to duty and three others were released from an Okinawa naval hospital after their MH-60 Seahawk helicopter went down in the Philippine Sea on Saturday, 7th Fleet spokesman Lt. Joe Keiley said Monday.
The Seahawk, assigned to the USS Blue Ridge, was conducting routine operations when it crashed at about 5:15 p.m. Saturday.
Two of the crew members were found during a search-and-rescue mission and brought back to the Blue Ridge by a Navy helicopter.
The three others were recovered by a Japan Air Self-Defense Force UH-60 and taken to Naval Hospital Okinawa for evaluation, according to the 7th Fleet.
Officials did not say whether the cause of the crash had been determined.
The USS America, the U.S. Air Force, the Japan Maritime Self-Defense Force and the Japan Coast Guard also participated in Saturday's search-and-rescue mission.
The Blue Ridge, the 7th Fleet's flagship, deployed from its Yokosuka homeport last week for the first time since May.
The amphibious command ship serves as an afloat command and control headquarters. It is the oldest deployable ship in the Navy and will mark its 50th year in operation in November.
Doornbos.Caitlin@stripes.com Twitter: @CaitlinDoornbos