Navy saviors airlift ailing cruise-ship passenger during medevac near Guam
---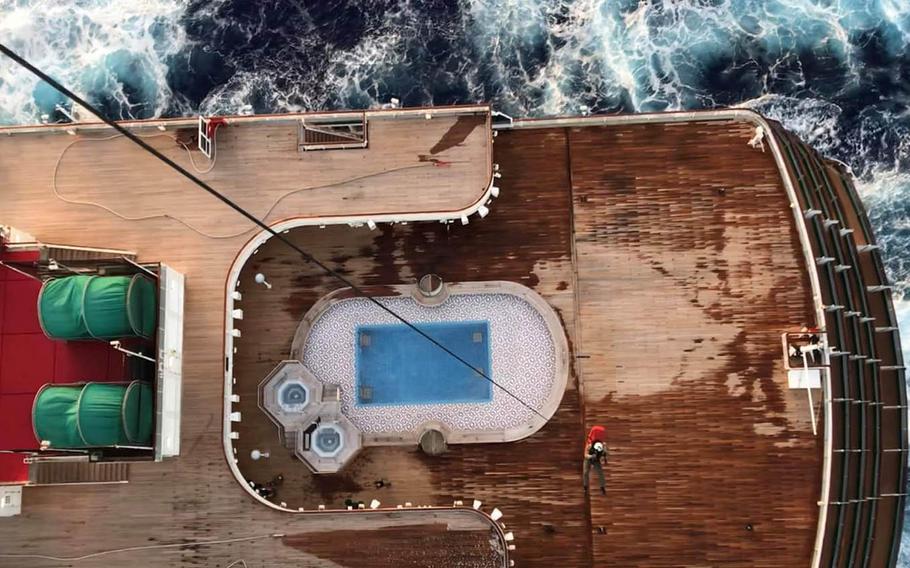 A Navy rescue helicopter hoisted a sick passenger from the deck of a cruise ship Monday morning near Guam, the mission commander told Stars and Stripes.
An MH-60S Knighthawk — the Navy's version of the Black Hawk helicopter — from Helicopter Sea Combat Squadron 25, lifted the passenger off the Arcadia, a 951-foot-long liner operated by a U.K. company called P&O Cruises.
The Arcadia was on its way to Kagoshima, Japan, from Papua New Guinea, according to the cruise-tracking website crew-center.com. The Coast Guard on Guam called the squadron at about 9:45 p.m. Sunday to retrieve a passenger who had experienced a possible heart attack, according to a Navy news release.
The Knighthawk crew waited until the ship was within the helicopter's range, according to the release. The six-man crew lifted off from Andersen Air Force Base, Guam, at 5:45 a.m. Monday. A flight surgeon — a medical doctor who is not normally a crew member — went along due to the nature of the call, Lt. Richard Schuster said.
"I had never actually flown to a cruise ship," he said. "We had to hover really high because there was nowhere to land."
That dictated hoisting the patient from the Arcadia, an 11-deck ship, onto the aircraft, Schuster said.
"It's just not that common to have to hoist," he said. "This situation may have been unique; we usually land, but with all the training we do with the equipment it was almost second nature to us."
The passenger was taken to U.S. Naval Hospital Guam in stable condition.
The mission to the Arcadia marked the fifth emergency call this year for the squadron in Guam and the second medical evacuation.
"Everyone did great," Schuster said.
godbold.theron@stripes.com Twitter: @TheronGodbold
---
---
---
---