Navy restricts movement for some sailors as Indo-Pacific Command heightens health-risk status to 'substantial'
By
Seth Robson Caitlin Doornbos
March 25, 2020
---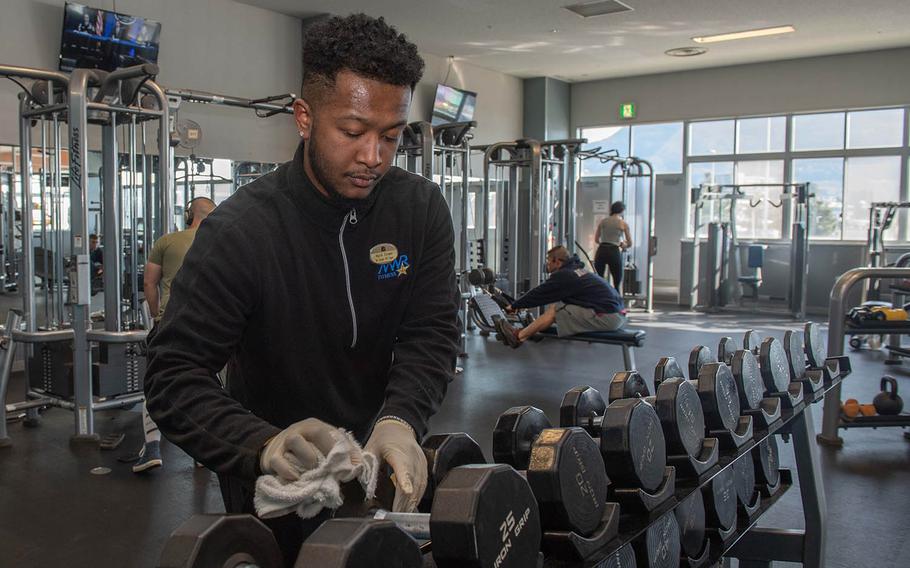 Stars and Stripes is making stories on the coronavirus pandemic available free of charge. See other free reports here. Sign up for our daily coronavirus newsletter here. Please support our journalism with a subscription.
YOKOSUKA NAVAL BASE, Japan — U.S. Navy installations in Japan moved Wednesday to restrict movements and activities in response to a state of heightened risk for coronavirus declared by the far-reaching Indo-Pacific Command.
INDOPACOM increased its health-risk status to the Defense Department's second highest level as the pandemic worsens across the globe. INDOPACOM is at Health Protection Level Charlie, which indicates a substantial risk of coronavirus, according to a message on the command's website Wednesday.
Level C indicates a disease is spreading at a high rate and calls for measures such as limiting movement and meetings, maintaining social distance, self-isolating to avoid spreading or contracting the disease and even more stringent measures, if needed, according to information from Pacific Air Forces. The highest risk level, Delta, signals a severe risk and widespread community transmission.
The same day, Naval Forces Japan issued a memorandum to sailors tightening down on liberty and travel for its service members. Those living off base may travel only between the base and their homes, according to the memo. Sailors' family members are encouraged but not required to comply with the restrictions.
"All off-base restaurants, bars, cafes, night clubs and like establishments, indoor fitness facilities, onsens and public baths are off limits," Naval Forces Japan commander Rear Adm. B. P. Fort wrote in the memo.
The restrictions apply only to Navy personnel, but "government civilian employees and contractors and their dependents are strongly encouraged to meet the intent of this order," Naval Forces Japan spokesman Lt. Cmdr. David Levy told Stars and Stripes in an email Wednesday.
"These measures, consistent with those taken in communities in the United States, are part of our commitment to protecting our people, our readiness and our alliance," Levy said.
Individual commanders have discretion to impose restrictions that mitigate the risks of sustained community transmission of the virus, INDOPACOM's message said.
At Sasebo Naval Base, Japan, commander Capt. Brad Stallings has imposed the naval forces restrictions on travel and liberty, according to a post on the base official Facebook page.
Service members and their families living off base are permitted to travel only between work and home, other than on official business such as to off-base doctors, veterinarians or post offices or for essential items such as gas, groceries and household items.
"When making an official or essential stop off-base, all are reminded to minimize risk of exposure to COVID-19 by practicing social distancing and minimizing exposure duration," Stallings wrote on the base Facebook page.
U.S. Army installations on the main islands of Japan on Wednesday had already suspended non-essential visitor passes. U.S. Army Garrison Japan spokesman Timothy Flack said the suspension would remain in effect until at least April 8.
"At that time, officials will re-evaluate to determine if a continuing suspension is still necessary," he said, adding that the move was made ahead of the upgraded Health Protection Condition to minimize potential health risks.
Yokota Air Base, home of U.S. Forces Japan in western Tokyo, imposed no new restrictions Wednesday. "The base is now in (Level C) but has been preparing for the change with the measures we have already put in place," 374th Airlift Wing spokeswoman Capt. Alicia Premo said in an email.
Likewise, Phil Molter, a spokesman for U.S. Army Garrison Okinawa, said no changes have been made to base entry procedures there.
"We haven't implemented any changes, but this is a fluid situation and changes may be made at any time," he said.
Commanders may order only mission-essential personnel to report to work, according to INDOPACOM. In that case, service members should contact their chain of command to determine status and work requirements.
Some installations may impose further movement and travel restrictions in addition to those already imposed by DOD, and the movement of people potentially exposed to the virus may also be further restricted, the command said.
"Mission essential travel means remaining at home except to leave for work in critical jobs as prescribed by unit chains of command; to buy groceries or other important goods; to receive or provide health care; to drop off or pick up children from care; and to get fresh air while observing 6-foot social distancing between non-family members," the message said.
Strict hygiene procedures should be enforced, along with home quarantine or isolation procedures as required, the message states.
"Continue to wash your hands, use hand sanitizer, cough into your sleeve, no hand shaking, and practice personal distancing (two arm's length)," according to INDOPACOM. "Do not come to work if sick. Consider the limitation or cancellation of meetings, training events, etc.; as well as implementing telework and staggered shift options at supervisors' discretion."
Such actions can dramatically decrease the risk of infection and slow the spread of the virus, the message states.
Levy said that despite the Navy reporting no positive cases of coronavirus among its personnel in Japan, "there is no time for complacency; we must remain vigilant to prevent this disease from spreading among our force."
Hawaii, where INDOPACOM is headquartered, has experienced a significant increase in coronavirus cases, the message said. The Centers for Disease Control and Prevention website reports 66 cases there as of Wednesday. On Monday, Gov. David Ige issued a stay-at-home order effective through April 30.
Additionally, the CDC has issued a level 3 travel advisory for many countries in the INDOPACOM area of operations, meaning Americans should avoid nonessential travel to those destinations. As of Wednesday, level 3 countries include Australia, China, India, Indonesia, Japan, Malaysia, the Philippines, Singapore and Thailand.
doornbos.caitlin@stripes.com Twitter: @CaitlinDoornbos
robson.seth@stripes.com Twitter: @SethRobson1
---
---
---
---