Navy planning to get its own V-22 Osprey fleet
by
Matthew M. Burke
March 24, 2015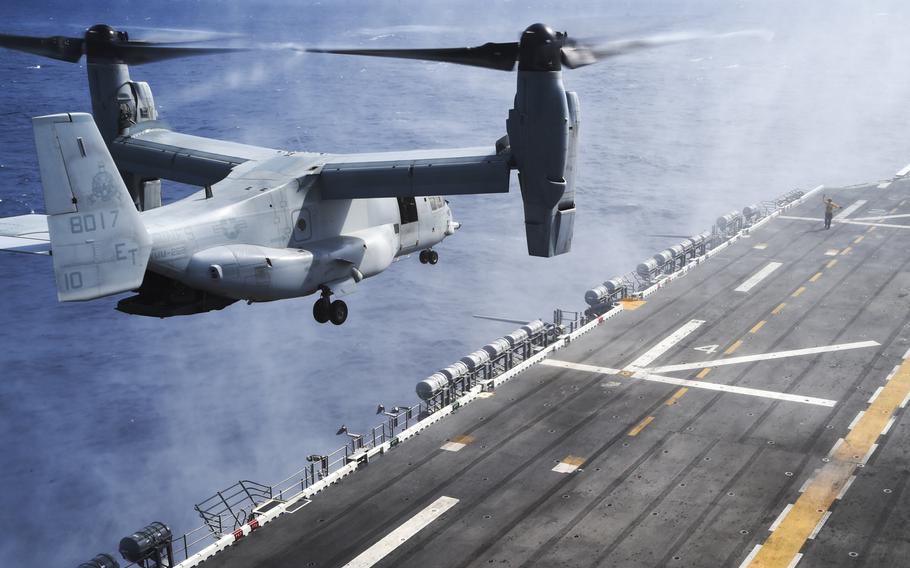 CAMP FOSTER, Okinawa — The Navy says it plans to obtain its own fleet of 44 V-22 Ospreys, taking possession of eight a year starting in 2020.
The decision to replace the aging fleet of C-2A Greyhound cargo aircraft with the tilt-rotor hybrid was made in an internal working document drafted earlier this year that laid the groundwork for funding, Navy spokesman Lt. Robert Myers wrote in a statement to Stars and Stripes.
The Navy V-22 Joint Program Office expects to issue a contract for development of a Navy variant in fiscal 2016 with production beginning in fiscal 2018.
Operating as a basic transport aircraft, the Navy variant will be virtually the same as the Marine Corps MV-22, but will add an extended-range fuel system, high-frequency radio and public-address system, Myers said.
"The Navy conducted a V-22 Military Utility Assessment to assess the viability of the V-22 to perform the [carrier-onboard-delivery] mission from the aircraft carrier and evaluate its impact on flight deck and cyclic operations," Myers said. "Within the scope of this assessment, the V-22 demonstrated an effective, flexible and safe capability."
Navy pilots currently train alongside their Marine counterparts to develop a knowledge base for the aircraft, Myers said. The Osprey already operates off Navy carriers.
The sea-service is the latest entity at home or abroad to enter the market for the Bell-Boeing helicopter-to-plane hybrid. The Marine Corps has obtained more than 200 Ospreys to replace aging CH-46E Sea Knight assault support helicopters and has a requirement for 360. Air Force Special Operations' aircrews have 33 with a requirement of 50.
The aircraft has performed admirably under fire in Iraq and Afghanistan and in humanitarian operations in the Philippines, despite safety concerns that plagued the platform early in its development.
The Japanese government plans to add as many as 17 tilt-rotor aircraft by fiscal 2018, most likely the V-22 Osprey. Israel has also expressed interest.
News of the Navy's intentions caused some grumbling, according to industry publications, as there was no competition to develop the Navy's next carrier-onboard-delivery system. However, Navy officials said they explored other options and consulted with industry insiders. They said it would be easier and cheaper to go with the V-22 than start a new program.
Secretary of the Navy Ray Mabus told members of Congress in February that the current platform requires a tail hook and needs to be arrested and catapulted while the Osprey does not. The Osprey can be used in different parts of the carrier and can also be used on other ships.
"It is a more flexible platform," he said. "And the further we got in, the clearer that that option became. It was a very affordable aircraft."
A spokeswoman for Boeing referred requests for comment to Navy officials.