Navy eyes shipyard in Philippines as repair and maintenance facility
---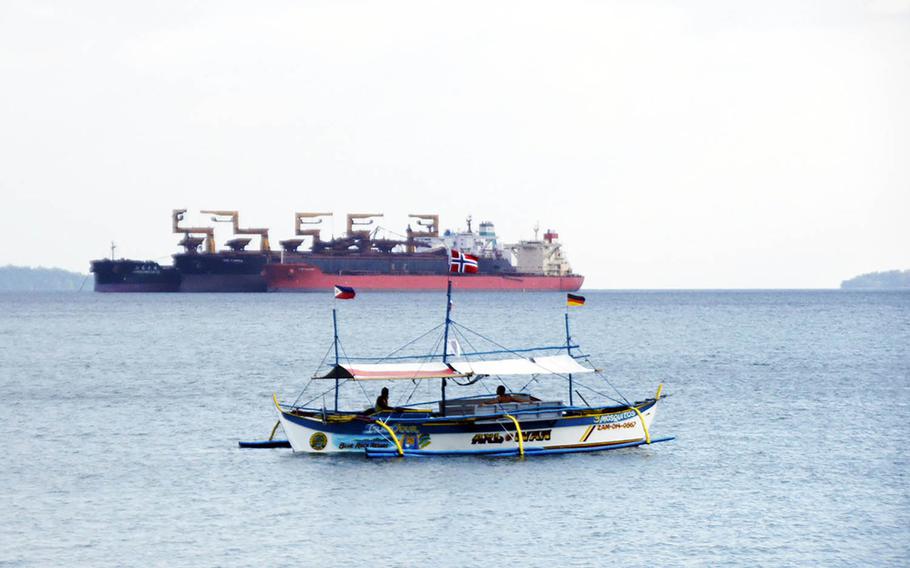 A bankrupt commercial shipyard in the Philippines may present an opportunity for the Navy to re-establish itself at a major port it vacated nearly 30 years ago.
"The U.S. Navy is exploring the viability of Subic Bay Hanjin Shipyard for use as a potential repair and maintenance facility," Cmdr. Nate Christensen, the fleet deputy public affairs officer, said in an email Wednesday.
The shipyard's owner, Hanjin Philippines, declared bankruptcy earlier this year owing $900 million to South Korean creditors. Since then, a pair of Chinese firms have expressed an interest in buying the facility sparking alarm in some quarters.
Subic Bay was once home to thousands of U.S. sailors and their families before the Navy vacated its bases there in 1992. It's still a regular port call for U.S. warships and Marines who practice beach landings nearby in Zambales province.
The strategic harbor's importance has grown amid Chinese efforts to build military facilities on artificial islands and claim sovereignty over territory to the west in the South China Sea.
"No final decisions have been made [about the shipyard]," Christensen said.
However, retired Navy Capt. Brian Buzzell, writing in the U.S. Naval Institute's "Proceedings" magazine this month, said Hanjin's financial woes represent a "golden chance to return to Subic Bay."
China wasn't a naval threat when the U.S. and the Philippines negotiated their alliance in the 1940s, he wrote.
"No one foresaw the emergence of China as a political, economic, and military juggernaut that would assert historical claims to South China Sea islands, reefs, and territory," he wrote.
Navy freedom-of-navigation operations and Air Force overflights are not deterring Beijing from using asymmetric tactics to gradually secure de facto sovereignty over the South China Sea, he wrote.
Hanjin's Subic facility was the fifth-largest shipyard in the world, with more than 30,000 Filipino employees. Before it closed in February it had built 123 large cargo container vessels, bulk carriers and carriers of crude oil, liquified petroleum gas and mineral ores since 2008, Buzzell wrote.
The shipyard could help the Navy's mission in the western Pacific by negating the need to send ships to Pearl Harbor for maintenance or repairs. It could also help the Navy grow its fleet to 355 ships after the closure of many U.S. shipyards in recent decades, he wrote.
"The confluence of all these factors gives the U.S. Navy a perfect opportunity to return to Subic Bay, except this time as an equal partner respecting the laws and sovereignty of the Philippines and benefitting the Filipino people and economy," Buzzell wrote. "It also would send a strong message to Beijing that, despite its efforts, the alliance between the United States and the Philippines is strong and unbreakable."
Patricio Abinales, a Philippines expert at the University of Hawaii said in a June 13 email that the idea of the Navy returning to Subic Bay sounded good. However, there needs to be more incentive to get the Philippine military on board, she added.
"[The U.S.] must be able to offer … something more than just refurbished Vietnam War Coast Guard cutters," he said. "The Philippines has been able to buy jets from South Korea. So it is -- financially -- in a position to purchase more recent vintage destroyers … If the US is serious about this it needs to offer the Philippines more than just official visits and assurances and excess and old surplus."
robson.seth@stripes.com Twitter: @SethRobson1
---
---
---
---