Navy exchange stores worldwide recognize Vietnam veterans for their service
---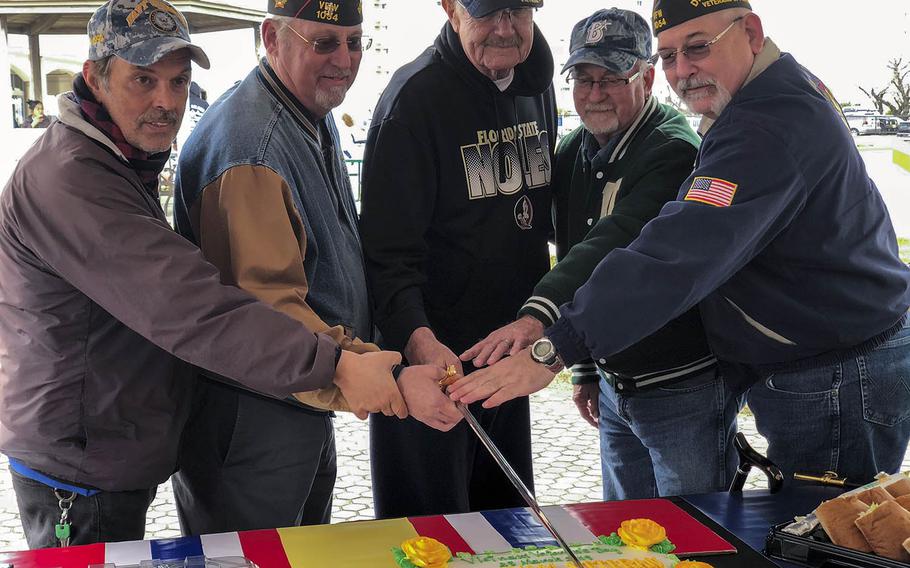 YOKOSUKA NAVAL BASE, Japan — Nearly 44 years after the last U.S. action of the Vietnam War, veterans of the era celebrated their service at exchanges around the globe, including at the home of the Navy's 7th Fleet.
The event brought Mike Williams, a retired Marine Corps colonel, close to tears.
"To me in particular — like most Vietnam veterans — I remember coming home and it wasn't the best welcome in the world," he told Stars and Stripes on Friday. "But to be recognized specifically after all these years is greatly appreciated."
The Navy Exchange Service Command and Defense Commissary Agency on Friday welcomed veterans and their families at appreciation events to recognize Vietnam veterans on their day.
President Donald Trump in 2017 signed into law the act designating March 29 as National Vietnam War Veterans Day. The date is significant as the day in 1973 when the United States deactivated its Military Assistance Command Vietnam, according to a commemoration day website.
The Defense Department considers anyone who served during the 20 years between November 1955 and May 1975 as a Vietnam veteran, whether they served in the country or not.
"All were called to serve and none could self-determine where they would serve," according to the commemoration website.
At Yokosuka, the exchange hosted an appreciation luncheon, where a cake was cut with a Mameluke sword and special lapel pins were handed out to participating veterans. The distinctive blade is carried by Marine Corps officers.
"It's important that we recognize all veterans, especially Vietnam veterans," said Sherrill Wines, event coordinator for Yokosuka's exchange.
Williams shared a story of a close call during one of his last missions as a helicopter pilot flying support missions in Vietnam. The North Vietnamese army had surrounded a South Vietnamese ranger battalion, and five times had shot down South Vietnamese aircraft attempting to evacuate their wounded.
"We got asked to do it, so we went in with a UH-1 utility helicopter from a different company and four Cobra attack helicopters," he said. "I watched my friend, Roger Nelson, enter the landing zone that was covered by a forest of explosions from NVA artillery and thought to myself he was never coming back.
"Next thing I know, he comes back out with 15 other people, greatly overloading his Huey," Williams said. "With two Cobras on each side of his helicopter, we managed to clear a path and get everyone out safely."
The Senate approved a measure last summer allowing more veterans to shop at on-base stores. Legislation that was part of the $716 billion National Defense Authorization Act granted eligibility to all Purple Heart recipients, former prisoners of war and veterans with disabilities connected to their military service, as well as veteran caregivers.
---
---
---
---