Navy deploys medical teams aboard ships at sea to batch-test for coronavirus
---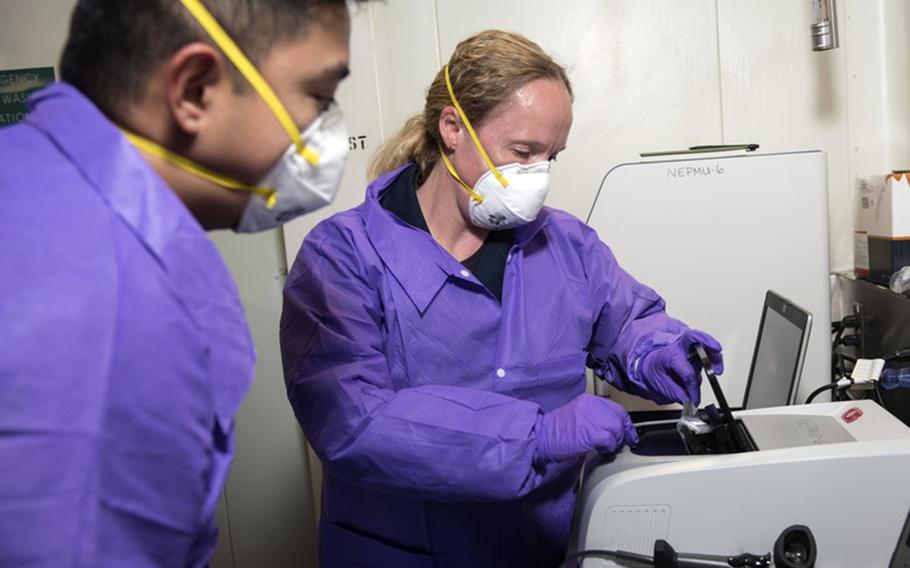 Stars and Stripes is making stories on the coronavirus pandemic available free of charge. See other free reports here. Sign up for our daily coronavirus newsletter here. Please support our journalism with a subscription.
YOKOSUKA NAVAL BASE, Japan — The Navy has taken coronavirus testing directly to ships at sea by deploying medical teams equipped with test kits to combat the spreading virus, according to the 7th Fleet.
Teams of preventive medicine and medical research specialists were sent March 14 to the amphibious assault ship USS America, stationed at Sasebo Naval Base, Japan; the USS Blue Ridge, the 7th Fleet flagship based at Yokosuka; and the aircraft carrier USS Theodore Roosevelt, according to the 7th Fleet Public Affairs Office on Saturday. The Roosevelt, homeported in California, was in the western Pacific when the teams deployed, according to navy.mil.
The teams are batch testing sailors with flu-like symptoms aboard those vessels rather than sending the samples ashore for testing, according to the 7th Fleet. Batch testing means one test is done simultaneously on multiple specimens.
So far, no one aboard a 7th Fleet vessel has tested positive for coronavirus, according to Saturday's statement.
"The team here in 7th Fleet has taken COVID-19 seriously from the beginning and has many public health measures already in place," 7th Fleet Surgeon Capt. Christine Sears said in the statement. The deployed medical teams "provide additional depth in our ability to combat this virus."
The medical teams are only looking for the presence of coronavirus on board those ships. The results they collect cannot indicate individual cases, according to the Navy statement.
If a batch sample comes back positive for the virus, the sailors in that group may be isolated or, depending on their symptoms, evacuated off the ship for further testing, according to the statement.
The embarked medical teams are composed of a preventive medicine technician, preventative medicine officer, a microbiologist and medical laboratory technician, according to the statement.
The two tests being utilized by the teams are the BioFire Film array, which tests for respiratory diseases, and the Step One RT-PCR System, which allows the team to perform more comprehensive coronavirus tests at sea.
"This capability allows us, the Navy, to protect mission readiness and protection of our sailors," Lt. Cmdr. Rebecca Pavlicek, Blue Ridge COVID-19 testing team lead, said in the statement.
---
---
---
---