Navy challenges China's claims on militarized reefs for the third time this year
by
Caitlin Doornbos
May 7, 2019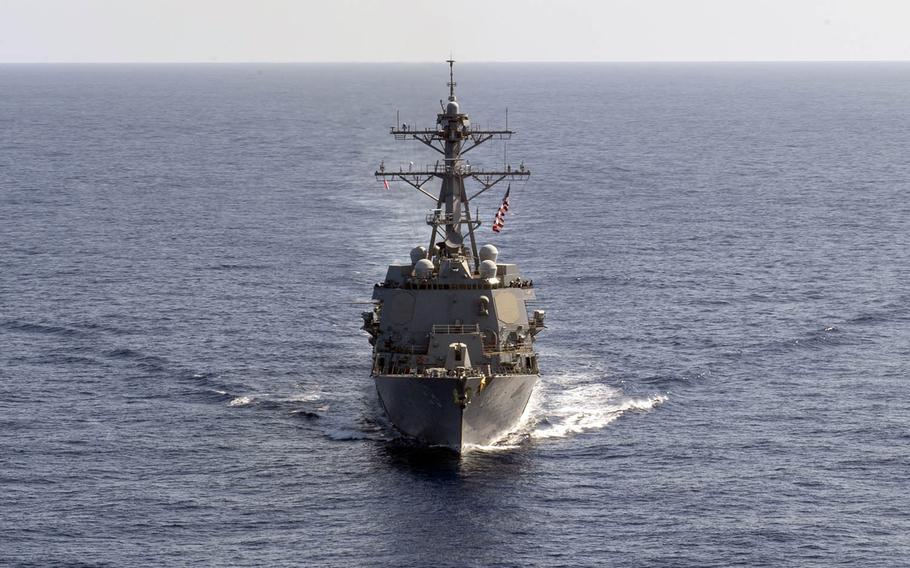 YOKOSUKA NAVAL BASE, Japan — The Navy sent two guided-missile destroyers on Monday to challenge China's claims to two reefs it has militarized without internationally recognized authority to do so, according to the Navy.
The USS Preble and the USS Chung Hoon sailed within 12 nautical miles of the Gaven and Johnson reefs in the Spratly Islands "to challenge excessive maritime claims and preserve access to the waterways as governed by international law," said Lt. Joe Keiley, a 7th Fleet spokesman.
China first took possession of the reefs in 1988 and has built military infrastructure on them since 2014, according to the Center for Strategic and International Studies Asia Maritime Transparency Initiative.
A United Nations panel in 2016, ruling in a case brought by the Philippines, rejected China's claims to sovereignty over the Spratly Islands. Parts of the same territory are also claimed by the Philippines, Malaysia, Vietnam and Taiwan.
The Spratlys, a cluster of more than 100 small islands and reefs, together measure less than 3.1 square miles. They encompass desirable fishing grounds and oil and gas deposits, according to the Council on Foreign Relations, a nonpartisan think tank.
The region has become an arena for displays of power projection.
"We conduct routine and regular freedom-of-navigation operations as we have done in the past and will continue to in the future," Keiley said in a statement Tuesday. "FONOPs are not about any one country, nor are they about making political statements."
At a news conference Monday, Geng Shuang, a spokesman for China's Foreign Ministry, said the Chinese navy "warned off" the Preble and the Chung Hoon as they sailed by the reefs, according to a transcript of the briefing.
"The trespass of U.S. warships is a violation of China's sovereignty," Shuang said. "It undermines peace, security and good order in the relevant waters. China deplores and firmly opposes such moves."
Shuang called the so-called freedom-of-navigation operations "provocations" during the news briefing, urging the U.S. to end them and to "respect China's sovereignty and security interests and regional countries' efforts to safeguard peace and stability in the South China Sea.
"China will continue to take all necessary measures to defend national sovereignty and security, and safeguard peace and stability in the South China Sea," Shuang said, according to the transcript.
The Monday mission was the third of its kind and the seventh overall freedom-of-navigation operation challenging Chinese claims this year. The guided-missile destroyer USS McCampell sailed within 12 nautical miles of the Paracel Islands in January, and the Preble and the destroyer USS Spruance passed within 12 nautical miles of the Spratlys in February.
The Navy also has sent ships on freedom-of-navigation operations through the Taiwan Strait four times this year, most recently on April 28.
doornbos.caitlin@stripes.com Twitter: @CaitlinDoornbos