Navy aircraft carrier arrives in Vietnam for historic port visit
by
Tyler Hlavac
March 5, 2018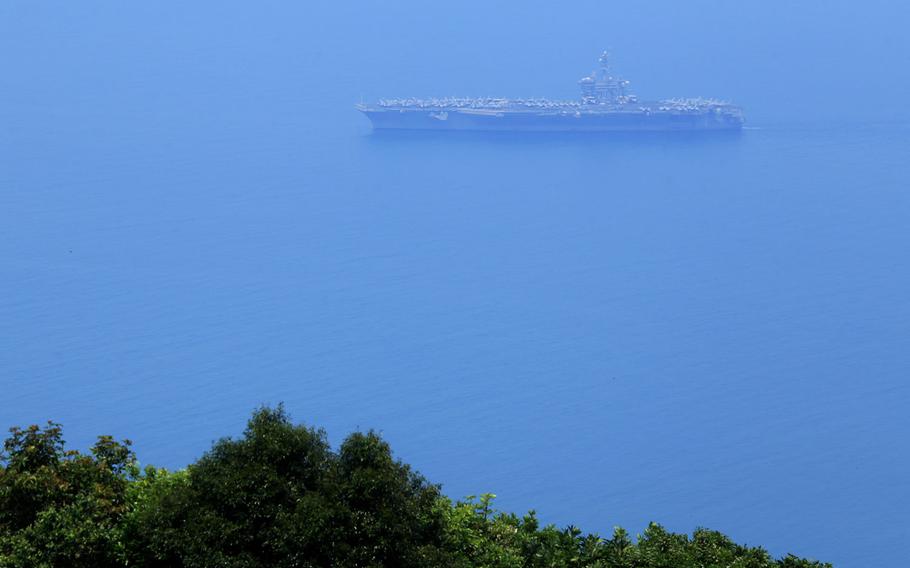 The USS Carl Vinson pulled into Danang Bay Monday, becoming the first American aircraft carrier to visit Vietnam since the war ended more than four decades ago.
The four-day port call — which U.S. Ambassador to Vietnam Dan Kriten-brink called an "enormously significant milestone" that shows "U.S. support for a strong, prosperous, and independent Vietnam" — will include more than 5,000 sailors from the Carl Vinson, the guided-missile cruiser USS Lake Champlain and the guided-missile destroyer USS Wayne E. Meyer.
Servicemembers will participate in cultural and professional exchanges during community service projects, sports competitions and receptions, a Navy statement said. The 7th Fleet band will perform free concerts.
Sailors will also visit a center for victims of Agent Orange, a defoliant used by the U.S. military during the war, according to a report in The New York Times. The chemical has caused major health problems from many individuals who were exposed.
"Through hard work, mutual respect, and by continuing to address the past while we work toward a better future, we have gone from former enemies to close partners," Kritenbrink said in the Navy statement.
The United States normalized relations with Vietnam in 1995 and lifted an arms embargo in 2016, and the two former adversaries have steadily improved bilateral relations in all areas, including trade, investment and security.
The Navy now makes regular, small-scale visits to Vietnam that the service calls "Naval Engagement Activities." These events usually involve subject-matter exchanges in topics such as diving, salvage, undersea medicine and medical evacuations. The service has also used Vietnam's Cam Ranh Bay to conduct maintenance on its ships.
The hospital ship USNS Mercy is slated to stop in Vietnam in the coming months as part of the annual Pacific Partnership exercise that focuses on humanitarian assistance and disaster-relief preparedness.
"Our nations' relationship has reached new heights the past few years, and USS Carl Vinson's port visit to Vietnam is a reflection of that," Pacific Fleet commander Adm. Scott Swift said in the statement. "I am confident that engagements like this will further expand the comprehensive partnership between the United States and Vietnam."
The visit comes as tension continue to simmer in the South China Sea, where more than $5 trillion in global trade transits annual. Vietnam challenges China's territorial claims in the sea, where Beijing has built up and militarized artificial islands that its neighbors depend on for fishing and commerce.
The former Coast Guard cutter Morgenthau was transferred to Vietnam last year, becoming the largest ship in the nation's fleet.
"We recognize that relationships never stay the same. They either get stronger or they get weaker, and America wants a stronger relationship with a stronger Vietnam," Defense Secretary Jim Mattis told his Vietnamese counterpart, Ngo Xuan Lich, during a visit to Southeast Asia earlier this year.
Separately from this week's mission, U.S. officials have said American warships would continue sailing without prior notice close to the China-occupied islands and atolls, an aggressive way of signaling to Beijing that it does not recognize its sovereignty over those areas.
Chinese Foreign Ministry spokeswoman Hua Chunying told reporters Friday that China hopes the "exchanges between [the U.S. and Vietnam] would contribute to regional peace and stability in a positive and constructive way, instead of adding any unsettling factors."
Danang, which was a major U.S. military base during the war, is now Vietnam's third-largest city and is in the midst of a construction boom as dozens of resorts and hotels pop up along its scenic coastline.
Several Danang residents said Monday that they welcomed the Navy's visit.
"During the war, I was scared when I saw American soldiers," said Tran Thi Luyen, 55, who runs a small coffee shop in the city. "Now the aircraft carrier comes with a complete different mission, a mission of peace and promoting economic and military cooperation between the two countries."
Huynh Quang Nguyen, a taxi driver, echoed the sentiment.
"I'm very happy and excited with the carrier's visit," he said. "Increased cooperation between the two countries in economic, diplomatic and military areas would serve as a counterbalance to Beijing's expansionism."
The Carl Vison, which is assigned to the Navy's 3rd Fleet, has been patrolling the Western Pacific after leaving its homeport of San Diego in January. Its strike group deployed to the region under the Third Fleet Forward initiative, which allows ships to remain in the 3rd Fleet chain of command while operating in 7th Fleet waters.
The Carl Vinson is filling in for the Japan-based USS Ronald Reagan, the Navy's only forward-deployed aircraft carrier. The Ronald Reagan began its Selected Restricted Availability maintenance period in January at Yokosuka Naval Base after completing its fall patrol late last year.
Information from The Associated Press was used in this report.hlavac.tyler@stripes.com