N. Korean missile test fails; US deploys bomber over peninsula
by
Yoo Kyong Chang Kim Gamel
March 22, 2017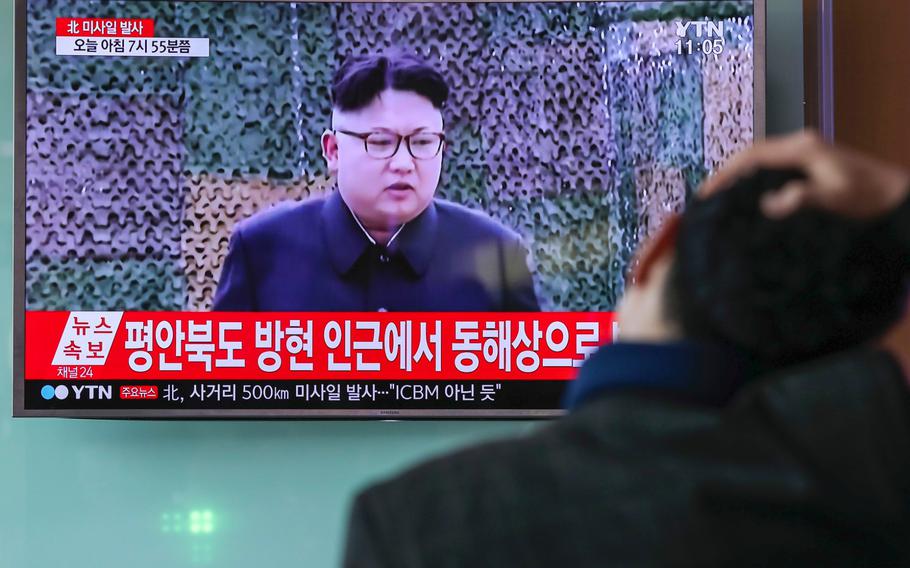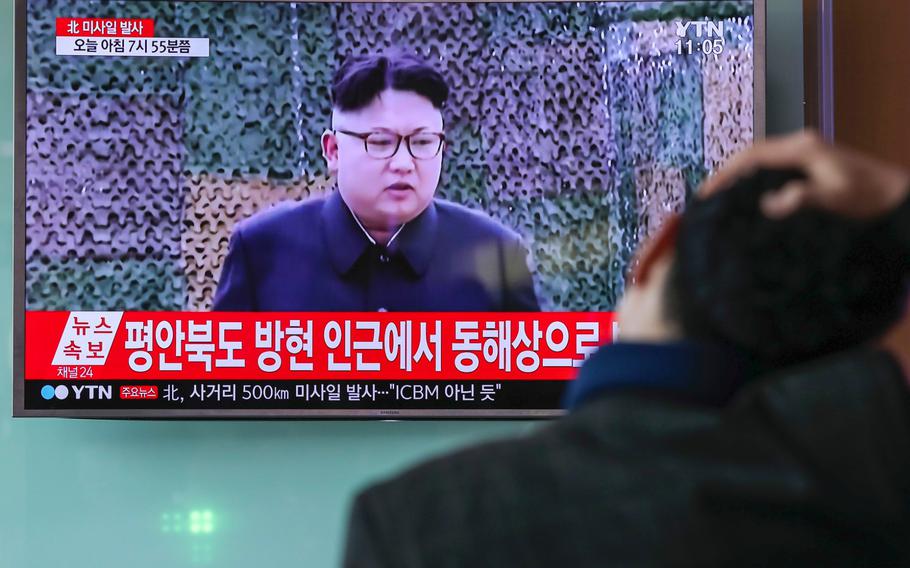 SEOUL, South Korea — North Korea tried but failed to launch a missile from its east coast on Wednesday, while a supersonic U.S. bomber made a show of force near Japan and South Korea.
The missile test was North Korea's third since President Donald Trump took office and occurred as tensions are high over U.S.-South Korean war games underway on the divided peninsula.
"North Korea fired one missile from an area near the Wonsan Air Base … but it's presumed to have failed," a South Korean military official said, reading a statement from the Ministry of National Defense on condition of anonymity. The ministry did not provide more information, saying it was still analyzing the type of missile and other details.
"Our military is prepared for the possibility of North Korea's provocation, including an additional missile launch," the official said.
U.S. Pacific Command confirmed the attempt, saying the missile "appears to have exploded within seconds of launch."
"We are working with our interagency partners on a more detailed assessment," Cmdr. Dave Benham said in a statement. "We continue to monitor North Koreans actions closely."
North Korea has warned it would retaliate if Washington and Seoul continued with annual joint military exercises taking place in South Korea.
The allies insist Key Resolve, a two-week command-post exercise that began on March 13, and Foal Eagle, a field-training exercise that began on March 1, are defensive in nature. But North Korea alleges they are a rehearsal for an invasion and frequently conducts provocations in protest.
Early Wednesday, a Guam-based B-1B Lancer conducted separate bilateral intercept and formation training missions with Japan and South Korea in both allies' airspace.
"Through this exercise the U.S. and South Korean air forces showed their strong deterrence power against North Korea's nuclear and missile threat," South Korea's Defense Ministry said in a statement.
South Korea's Yonhap news agency, quoting an unidentified source, reported that two B-1Bs had initially been scheduled to be deployed, but there was a mechanical problem with one of them.
When asked about the report, U.S. Forces Korea spokesman Christopher Bush said "sorties of this nature are complex and evolve throughout the mission profile."
Pyongyang has stepped up its nuclear-weapons program despite international condemnation and punishing economic sanctions aimed at getting it to stop.
It conducted two nuclear tests and some two-dozen ballistic missile tests last year.
North Korea fired four ballistic missiles nearly simultaneously into the sea, with three of them falling near Japan's coastline on March 6. It also fired a missile on Feb. 12.
Wednesday's failed launch also came three days after North Korea said it had successfully tested a rocket engine in what it said was a major breakthrough.
North Korean leader Kim Jong Un said in his New Year's address that his country was in the "final stages" of preparations to test an intercontinental ballistic missile.
That would be a key step toward its stated goal of developing a nuclear-tipped missile that could target the United States.
Weapons experts are divided over how close the North may be to achieving such a missile and miniaturizing the warheads to fit on it, but many say it could be a matter of years.
Trump's administration has signaled it may take a tougher approach in dealing with the North, saying that two decades of relying on diplomatic pressure and economic sanctions have failed. But it has yet to announce details other than to say that China should do more to rein in its communist ally.
Secretary of State Rex Tillerson said during a visit to Seoul last week that all options are on the table, including military force.
The Trump administration is considering sweeping sanctions aimed at cutting North Korea off from the global financial system, Reuters reported on Monday.
That would be part of a multipronged approach of increased economic and diplomatic pressure as well as beefed-up defenses by the U.S., Japan and South Korea, Reuters said, quoting a senior administration official familiar with the deliberations.
The United States maintains about 28,500 servicemembers in South Korea, which technically remains at war with the North after the 1950-53 conflict ended in an armistice instead of a peace treaty.
gamel.kim@stripes.comchang.kyong@stripes.com