N. Korea threatens Guam after Trump warns North of 'fire and fury'
by
Kim Gamel
August 9, 2017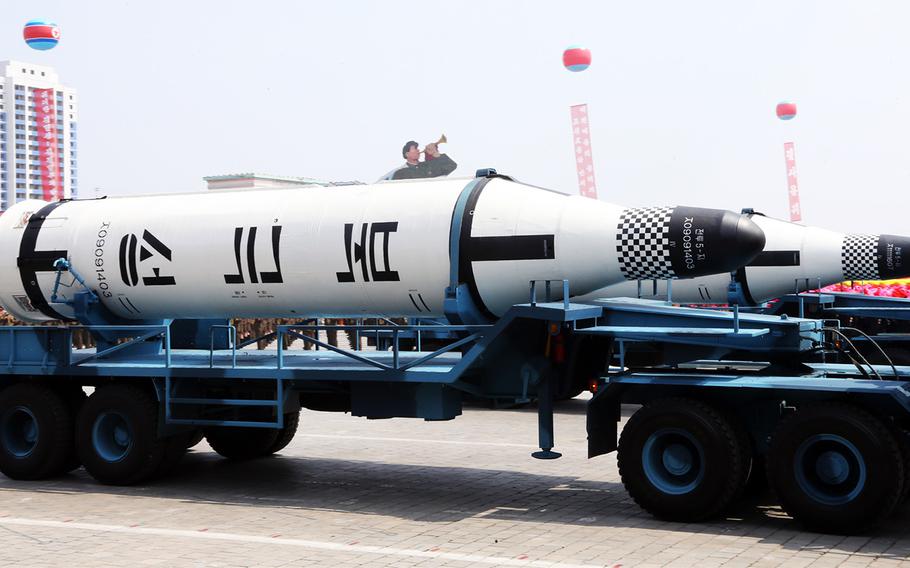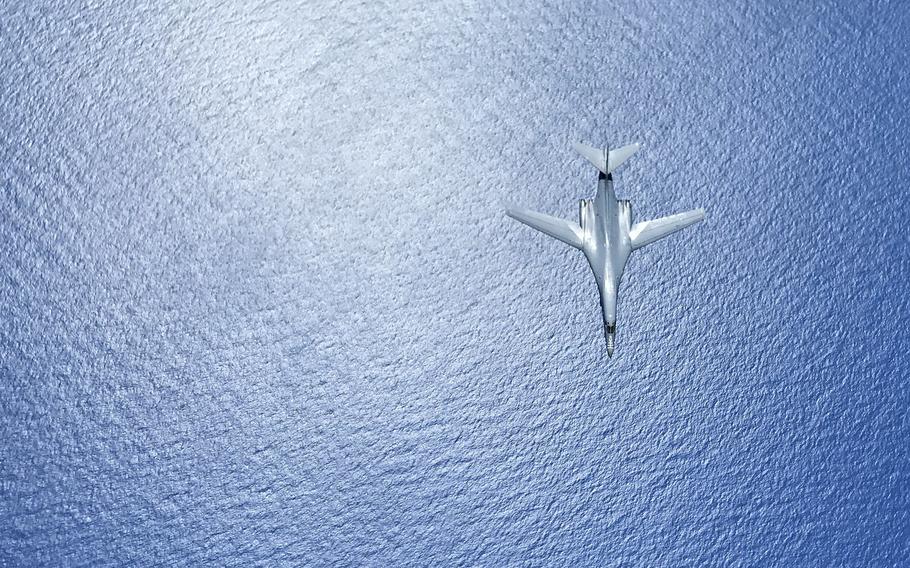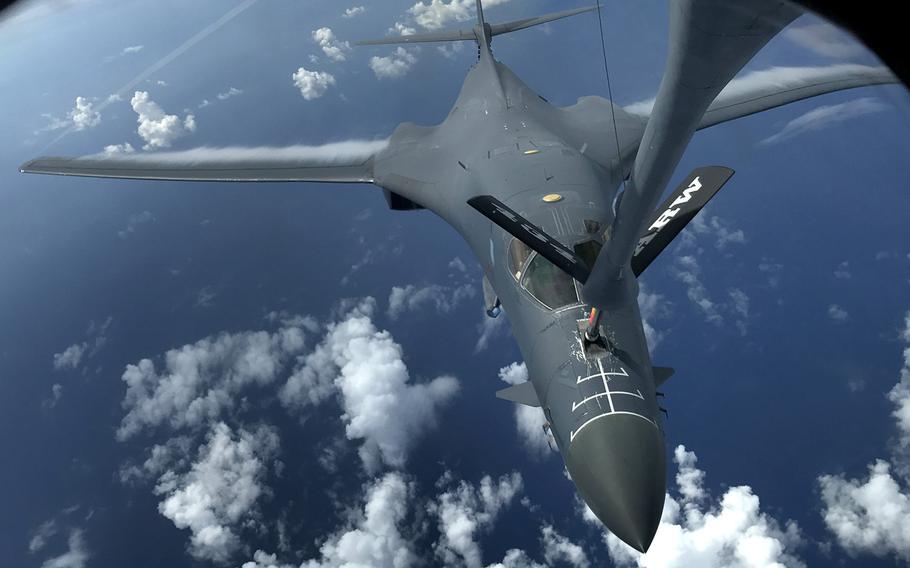 SEOUL, South Korea — North Korea threatened Wednesday to rain down missiles on the U.S. island territory of Guam after President Donald Trump warned that threats from the North "will be met with fire and fury like the world has never seen."
In Washington, Defense Secretary Jim Mattis said the State Department was "making every effort" toward a diplomatic solution to the Korean crisis.
But Mattis reminded the North that the U.S. and its allies maintain an overwhelming military advantage and that Pyongyang "would lose any arms race or conflict it initiates."
The heated rhetoric underscored a dangerous turn in the long-running standoff with Pyongyang after it test-fired two intercontinental ballistic missiles last month.
North Korea's rapid progress toward its stated goal of developing a nuclear-tipped missile that could reach the U.S. mainland has emerged as one of the new administration's top security challenges.
Reports also emerged this week that U.S. intelligence analysts believe the North has produced a miniaturized nuclear warhead, which would mark a major advance.
That appeared to be the catalyst for Trump's stern ultimatum, which was much stronger in tone than the usual cautious diplomatic language used by U.S. presidents in dealing with Pyongyang. Many observers noted it seemed to echo the bellicose language typically used by the North.
"North Korea best not make any more threats to the United States," Trump said in televised remarks at his golf course in Bedminster, N.J. "They will be met with fire and fury like the world has never seen."
"He has been very threatening beyond a normal state. And as I said they will be met with fire, fury and frankly power, the likes of which this world has never seen before," Trump said, referring to North Korean leader Kim Jong Un.
Amid mounting concern, Secretary of State Rex Tillerson tried to translate Trump's remarks, saying the president was trying to send a strong message "in language that Kim Jong Un can understand."
"Americans should sleep well at night," he told reporters aboard his plane as he returned from Malaysia to Washington. "Nothing that I have seen and nothing that I know of would indicate that the situation has dramatically changed in the last 24 hours."
However, Tillerson's appeal for calm was tempered by a series of tweets from Trump that did nothing to soften his language.
"My first order as President was to renovate and modernize our nuclear arsenal. It is now far stronger and more powerful than ever before," he wrote.
"Hopefully we will never have to use this power, but there will never be a time that we are not the most powerful nation in the world!"
Dangerous blusterAnalysts said neither side was likely looking for conflict despite the tough talk, but they noted the risk of miscalculation.
"Both Pyongyang and Trump are engaged in dangerous verbal threats and verbal escalation because they could stumble into unintended conflict because of misinterpretation and miscalculation during this action-reaction cycle," said Duyeon Kim, a visiting senior fellow at the Korean Peninsula Future Forum, a think tank in Seoul.
She urged the sides to engage in direct talks on de-escalating the situation, saying "nuclear negotiations can wait."
North Korea's army singled out the U.S. territory, which is home to Andersen Air Force Base and a fleet of supersonic bombers, in a statement on its state-run news agency.
North Korea said its strategic force is "carefully examining the operational plan for making an enveloping fire at areas around Guam with medium-to-long range strategic ballistic missiles … in order to contain the major U.S. military bases on Guam."
The army statement also referred to recent remarks by national security adviser H.R. McMaster suggesting that a "preventive war" could be on the table.
"Will only the U.S. have the option called preventive war as claimed by it?" the Korean Central News Agency said. "It is a daydream for the U.S. to think that its mainland is an invulnerable heavenly kingdom."
It added the U.S. should "clearly face up to the fact that the [North's] ballistic rockets are now on constant standby, facing the Pacific Ocean." Guam reassurances
Guam's governor reassured residents that there was no imminent threat to the island and defenses are in place to protect it.
"My Homeland Security Advisor who is in communications with Homeland Security and Department of Defense notes that there is no change in threat level resulting from North Korea events," Gov. Eddie Baza Calvo said in a statement Wednesday.
He added that 200,000 Americans live in Guam and the nearby Northern Mariana Islands.
The North Korean army said the move is in response to a recent U.S. ICBM test.
The Air Force also sent a pair of Guam-based supersonic bombers over the Korean Peninsula Tuesday in a show of force. The B-1B Lancers flew from Guam to Japanese air space where they were joined by Japanese fighter jets, U.S. Pacific Command said.
They then flew to the divided peninsula, where they were joined by South Korean fighter jets and made a pass over the Pilsung military training range before returning to Andersen Air Force Base.
The 10-hour mission was the second such deployment this month. The Lancers conducted a similar flyover last week after North Korea conducted its second ICBM test.
No good optionsNorth Korea has alarmed the international community with dozens of missile tests over the past several months. It also has conducted five underground nuclear tests, including two last year.
U.S. intelligence analysts recently determined the North has produced a miniaturized nuclear warhead, according to The Washington Post. The newspaper cited unnamed intelligence officials as saying the Defense Intelligence Agency determined that in an analysis completed last month.
The Post also reported another intelligence assessment now estimates the North has as many as 60 nuclear bombs in its arsenal. Other assessments range from a dozen to 30 weapons.
Japan's Defense Ministry also said Tuesday in an annual report that "it is possible that North Korea has achieved the miniaturization of nuclear weapons and has developed nuclear warheads."
Experts say North Korean scientists still have much work to do, including mastering key re-entry technology. But the consensus is that it's a matter of when, not if, the country will succeed.
The Trump administration has insisted that military action is an option but only as a last resort after diplomatic efforts have been exhausted.
Over the weekend, the 15-nation U.N. Security Council unanimously approved a U.S.-drafted resolution tightening economic sanctions to punish the North for violating a ban on using ballistic-missile technology. It barred exports of coal, seafood and other products worth more than $1 billion, about a third of the North's total exports last year.
Robert Kelly, an associate professor of international relations at South Korea's Pusan National University, said he believes the remarks from North Korea and Trump were just bluster but could prove dangerous if misunderstood.
He noted North Korea knows it couldn't attack Guam or any other country without a fierce backlash that would mean the end of the regime.
"It's just two bullies in the schoolyard," he said. "If you want to get the North Koreans back to the table … then we can't go threatening like this. That's just like an open challenge."
Stars and Stripes reporter Yoo Kyong Chang contributed to this report.
gamel.kim@stripes.com Twitter: @kimgamel