N. Korea says it tested miniaturized, more powerful nuclear bomb
By
Ashley Rowland Jon Rabiroff rowlanda@pstripes.osd.mil rabiroffj@pstripes.osd.mil
February 11, 2013
---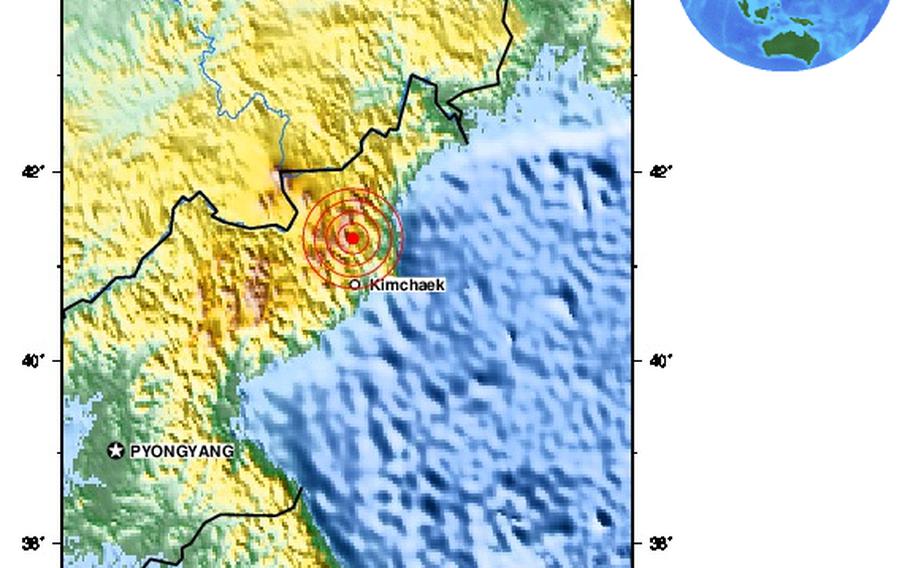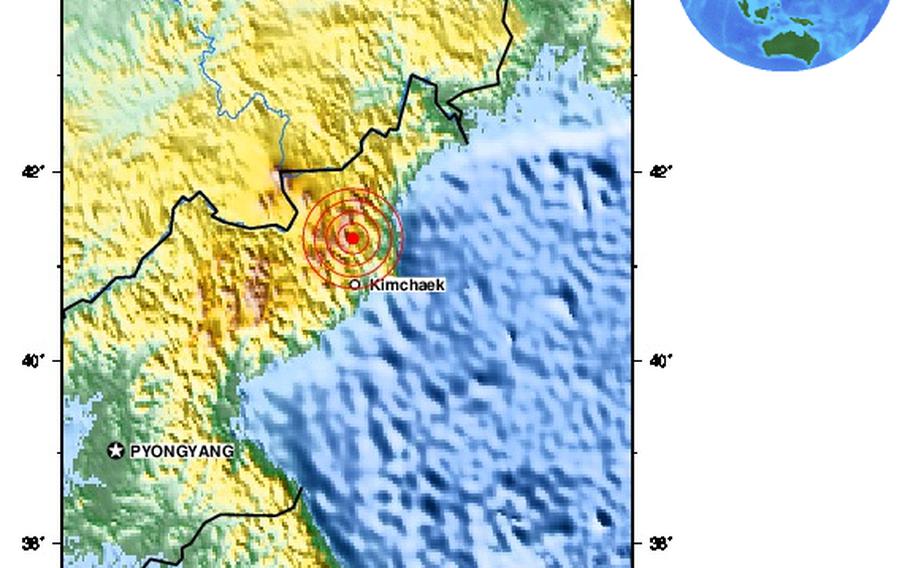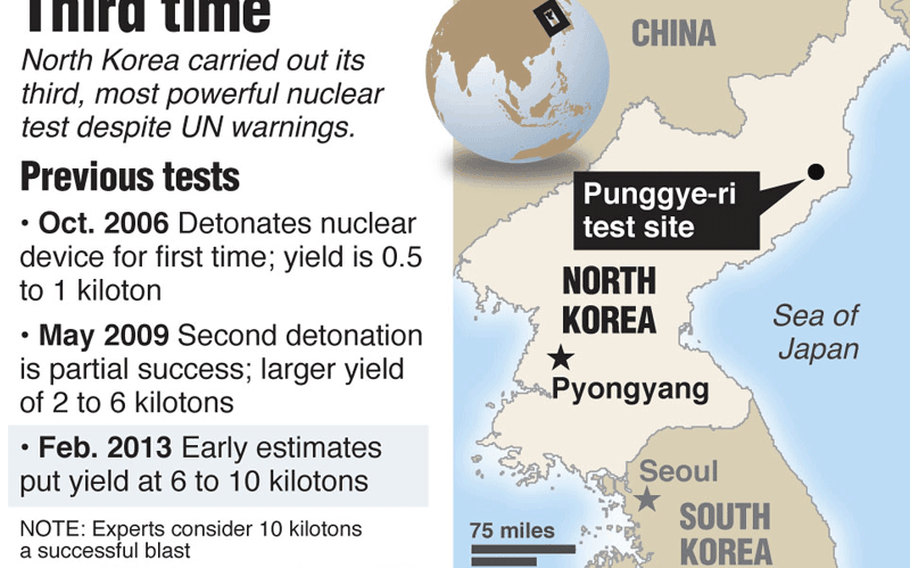 SEOUL — North Korea carried out its third — and most powerful — nuclear test Tuesday, ratcheting up concerns about technological advancements by a renegade country that has said it wants to be able to strike at the United States.
Pyongyang said this bomb was also its smallest and lightest, a claim that experts will be trying to verify. They have said the country would need to make advancements in miniaturization in order to fit a bomb atop a long-range ballistic missile — the type of rocket that it successfully tested two months ago when it put a satellite into orbit.
The North's official Korean Central News Agency said the test was aimed at coping with "outrageous" U.S. hostility that "violently" undermines the country's peaceful, sovereign right to launch satellites. It had been threatening to carry out the nuclear test for weeks.
Thumbing its nose at the international condemnation and sanctions that followed the rocket launch, the North appeared to time its latest provocation for maximum impact and exposure: Most South Koreans were still off work for a long weekend celebrating the lunar new year, and President Barack Obama will give his State of the Union address Tuesday night.
Obama called the blast a "highly provocative act" that threatens U.S. security and international peace.
The U.N. Security Council was expected to hold an emergency session Tuesday, though it was unclear how effective any fresh sanctions might be, given that the North has shrugged off their impact so far.
U.N. Secretary-General Ban Ki-moon issued a statement Tuesday saying he condemned the test as a "clear and grave violation of the relevant Security Council resolutions."
"It is deplorable that Pyongyang defied the strong and unequivocal call from the international community to refrain from any further provocative measures," the statement said. "The secretary-general had repeatedly called on the new leadership in Pyongyang to address international concerns and start building confidence with neighboring countries and the international community."
South Korea and Japan hastily convened their national security councils after the noon test, and Japan launched aircraft to monitor for radioactive material in the air. Japanese Prime Minister Shinzo Abe ordered ministries to gather and analyze information "with a sense of urgency" and cooperate with countries concerned, including the United States, South Korea, China and Russia.
Media reports said the South Korean and U.S. militaries went on higher alert. The U.S. military here had no immediate comment.
Monitoring stations around the world detected the blast at a depth of one kilometer — 0.6 mile — some 16 miles from Sungjibaegam, North Korea, where the reclusive country is believed to have an underground nuclear testing facility. The magnitude was estimated between 4.9 and 5.2, which would make it significantly stronger than tests in 2006 and 2009.
The blast was estimated at 6 to 7 kilotons, indicating Pyongyang now has an "advanced" nuclear program, a spokesman for South Korea's Ministry of National Defense said.
Another MND spokesman said the South Korean military was "reinforcing our security against a possible North Korean provocation," though he gave no details.
Speculation on the reasons for the North's rocket launch and nuclear test has focused on improving its bargaining position and Kim Jong Un trying to consolidate power and appease the influential military — the world's largest in manpower — a year after he took over the country following the death of his father, Kim Jong Il.
"The nuclear test will greatly encourage the army and people of (North Korea) in their efforts to build a thriving nation with the same spirit and mettle as displayed in conquering space, and offer an important occasion in ensuring peace and stability in the Korean Peninsula and the region," KCNA reported.
Long been adept at using brinksmanship to wring concessions and aid from the West, the North is finding that tactic increasingly complicated. China, its main ally, has shown signs of impatience with Pyongyang's ongoing provocations and continued commitment to its military and weapons development even as its people starve and its tentative forays into economic reform stagnate.
Experts are all but unanimous in the belief that China has a major interest in the continuing viability of the North Korean regime for a variety of reasons, including maintaining a buffer between its border and the U.S.-South Korean alliance and fears that a collapse of the government there would lead to a mass exodus of starving North Koreans into China.
However, in the weeks leading up to Tuesday's nuclear test, Chinese officials and government-run media outlets were uncharacteristically aggressive in condemning the potential provocation while walking a tightrope between the North and its opponents.
"China's role and position are clear when discussing (the) North Korea issue in the UN Security Council," said a Global Times opinion piece recently posted on The People's Daily website. "If North Korea engages in further nuclear tests, China will not hesitate to reduce its assistance to North Korea. If the US, Japan and South Korea promote extreme UN sanctions on North Korea, China will resolutely stop them and force them to amend these draft resolutions.
"Just let North Korea be 'angry,' " the posting said. "Just let the US, Japan and South Korea grumble about China. We have no obligation to soothe their feelings."
Stars and Stripes staffers Yoo Kyong Chang, Hana Kusumoto and Chiyomi Sumida contributed to this report.
---
---
---
---