N. Korea puts Guam plan on hold as sides move to de-escalate crisis
by
Kim Gamel
August 15, 2017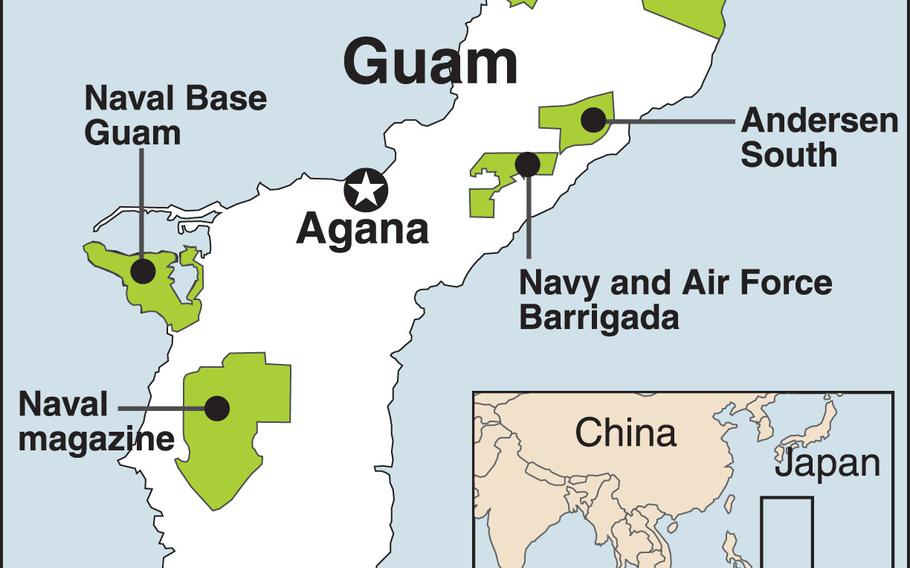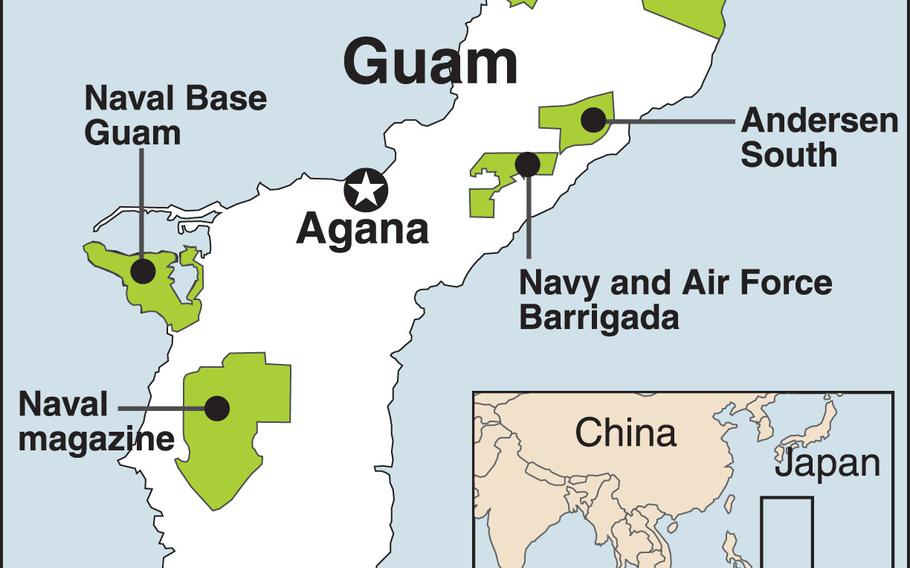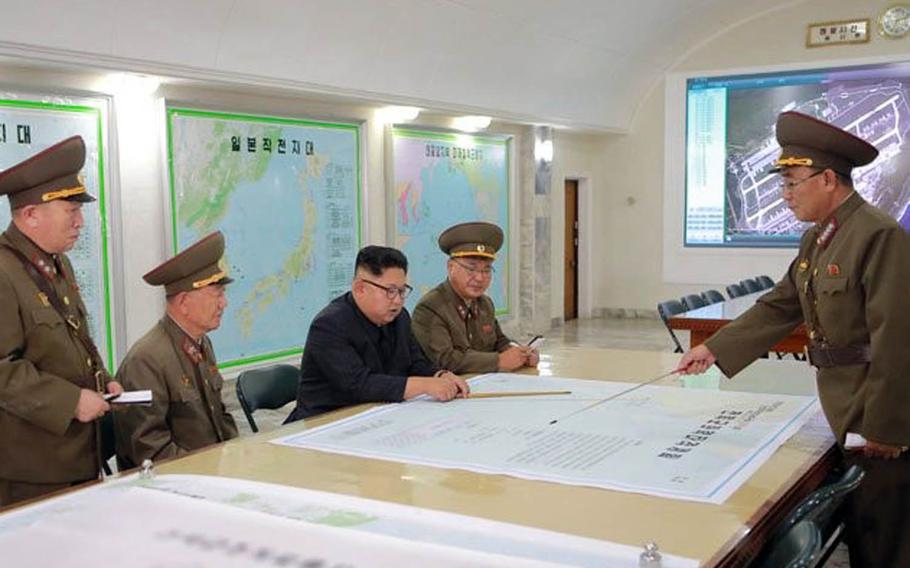 SEOUL, South Korea — North Korea's leader put on hold a plan to fire missiles near Guam as all sides expressed a desire to pull back from the brink in the worst crisis to face the divided peninsula in years.
Kim Jong Un's carefully worded statement came hours after Defense Secretary Jim Mattis expressed hope that peaceful measures would work but warned the U.S. will "take out" any North Korean missile considered a threat to U.S. territories, including Guam.
"If they shoot at the United States, I'm assuming they've hit the United States," Mattis told reporters at the Pentagon. "If they do that, then it's game on."
South Korean President Moon Jae-in, meanwhile, vowed to prevent a new war from breaking out on the peninsula, which was devastated during the brutal 1950-53 conflict.
The statements capped more than a week of escalating tensions as North Korea and President Donald Trump traded threats following a report that U.S. intelligence analysts believe the North has miniaturized a nuclear warhead that could fit on a missile.
In unusually bellicose rhetoric, Trump has warned he would unleash "fire and fury" if the North continues to threaten the United States.
North Korea's army subsequently promised to finalize a plan to fire four missiles into waters near Guam, a Pacific island home to a major U.S. military presence and a fleet of supersonic bombers.
Plan on hold
The state-run Korean Central News Agency reported Tuesday that the army had finalized the blueprint and presented it to North Korean leader Kim Jong Un as he inspected his Strategic Force command the day before.
"He examined the plan for a long time and discussed it with the commanding officers in real earnest," KCNA said, adding that Kim offered praise for the "close and careful plan."
The leader reportedly said "he would watch a little more the foolish and stupid conduct of the Yankees," as the North calls the Americans, and warned that he may "make an important decision as it already declared" if the conduct persists. KCNA quoted Kim as saying "that if the planned fire of power demonstration is carried out as the U.S. is going more reckless, it will be the most delightful historic moment when the Hwasong artillerymen will wring the windpipes of the Yankees and point daggers at their necks."
Kim said the U.S. "should stop at once arrogant provocations against [North Korea] and unilateral demands and not provoke it any longer," the agency said. Analysts said Kim was trying to tamp down skyrocketing tensions that have generated the most serious crisis on the divided peninsula in years. But they also warned he left the door open to launch a missile if he feels provoked. "By North Korean signaling it's a clear de-escalation, and it's also an ask for the de-escalation from the American side," said John Delury, an Asia expert at Yonsei University in Seoul.
"We've got to be careful," Delury added. "He didn't say 'great plan and we're not going to do it.' He said 'great plan but we're not gonna do this now and let's see what the Americans have to say and to do.'"
Delury said one action that could tip the scales would be the deployment of Guam-based B-1B bombers as part of joint U.S.-South Korean war games known an Ulchi Freedom Guardian, which are slated to begin on Monday.
"At a minimum I would say it would be unnecessarily provocative to bring a strategic bomber up from Guam at this point," he said. "You're provoking Kim Jong Un after he made a de-escalatory move."
The Lancers have flown over the peninsula several times this year in a show of force, frequently following past North Korean missile tests. Pyongyang sees such drills as well as the annual military exercises as a threat the U.S. is preparing for an invasion, although Washington usually stresses they're defensive in nature. Kim Yeon Chul, a North Korean expert at Inje University in Gimhae, also said the North was sending a signal for calm.
"The key point of what North Korea is saying is that if Washington shows they have no intention or will for pre-emptive attacks on North Korea, then North Korea has no intention or will to attack," he said.
Fears have been heightened by the fact that the North has made rapid progress toward its stated goal of developing a nuclear-tipped missile that could target the U.S. mainland.
Pursuing dialogue
South Korea's liberal president, who took office on May 10 promising to pursue peaceful dialogue with the North, said only Seoul could decide on military action.
"When it comes to matters related to the Korean Peninsula, our country has to take the initiative in resolving them," Moon said Tuesday in a televised speech to mark the anniversary of the country's liberation from Japanese rule in 1945.
"The government will do all it can to prevent a war from breaking out," he said. "No matter what turns and twists we undergo, the North Korean nuclear problem must be addressed in a peaceful manner."
The United States maintains about 28,500 servicemembers in the South after the previous conflict ended in an armistice instead of a peace treaty.
U.S. military officials have said the preferred option is to rely on punishing economic sanctions and diplomatic pressure but they are preparing options in case deterrence doesn't work.
Mattis told reporters at the Pentagon that the U.S. will shoot down any North Korean-launched missile that appears likely to hit Guam.
But he didn't say what actions the U.S. would take if the North fired a missile into the waters near the Pacific island.
"I can't make all those kinds of decisions in advance," the defense secretary said. "I need a certain amount of ambiguity on this because I'm not going to tell them what I'm going to do in each case."
He stressed that Trump would ultimately have to decide whether a military response was warranted.
Trump has taken a hardline since vowing last week to respond to North Korea's threatening behavior with "fire and fury like the world has never seen." The president also said U.S. military plans for the North were "locked and loaded" if Kim's regime didn't alter its behavior.
Senior administration officials have moved to lower the temperature in recent days.
Mattis and Secretary of State Rex Tillerson said in a Wall Street Journal op-ed published Sunday that Washington was making a shift from ex-President Barack Obama's policy of "strategic patience" toward "strategic accountability."
They insisted the U.S. was looking for neither "regime change or accelerated reunification of Korea," nor an excuse to station more of its troops along the North Korean borders.
Delury said such statements probably helped cause Kim to stand down, at least for the time being.
"At the end of the day it's a security dilemma," he said. "But even if we've averted the kind of Guam dilemma … the underlying problem is still there."
Stars and Stripes reporter Yoo Kyong Chang contributed to this report.
gamel.kim@stripes.comTwitter: @kimgamel