Analysis
N. Korea may see US troop withdrawal as end game in denuclearization talks
by
Kim Gamel
April 15, 2018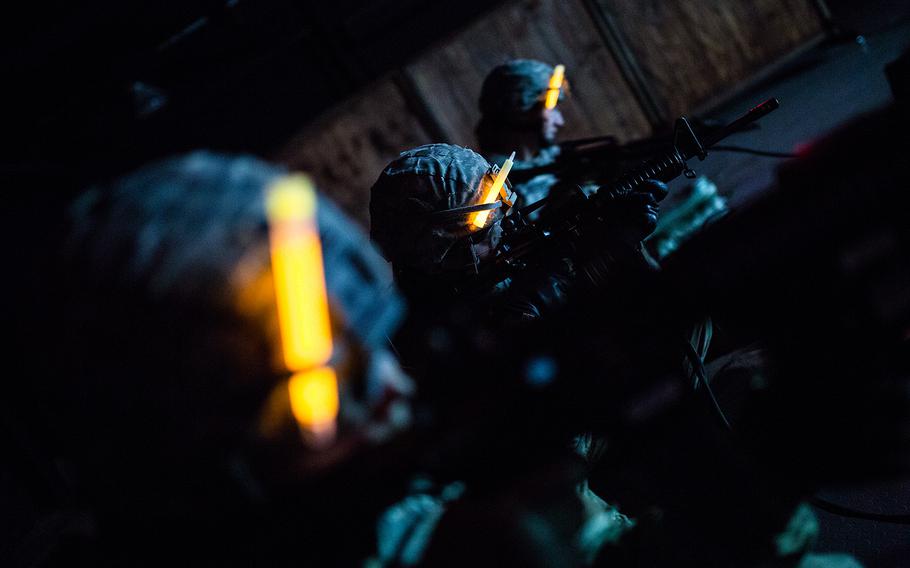 SEOUL, South Korea – Denuclearization may have been the magic word that helped persuade President Donald Trump to agree to a summit with North Korean leader Kim Jong Un.
However, concerns about what Kim's regime means by that term have cast a shadow over the historic meeting.
In extending the invitation for talks, North Korea expressed a will to denuclearize in exchange for security guarantees, according to the South Korean envoys who met with Kim in Pyongyang.
That traditionally has meant the withdrawal of U.S. troops and an end to Washington's longstanding agreement to use its nuclear assets to protect the South if necessary.
U.S. and South Korean officials, meanwhile, insist their alliance is stronger than ever and the ultimate objective is the complete, verifiable and irreversible dismantling of the North's nuclear weapons program.
Steep priceExperts say Pyongyang is likely to demand a steep price after demonstrating rapid progress in its weapons program with dozens of missile tests and two underground nuclear explosions last year.
"Those who have negotiated nuclear matters with Pyongyang know that Kim's words were a familiar North Korean demand to end the 'threat' posed by the U.S.-South Korea alliance, the presence of U.S. troops in Korea, and the nuclear umbrella that defends South Korea and Japan," Evans Revere, a former senior State Department official for East Asia, wrote in a recent commentary.
The presence of some 28,500 U.S. servicemembers in South Korea is the cornerstone of the alliance that was forged in the 1950-53 Korean War, which ended in an armistice instead of a peace treaty.
It's also one of the key reasons China maintains support for its defiant communist protégé, fearing a collapse of the North Korean regime would bring the Americans closer to its doorstep.
Beijing has denounced the North's nuclear program and signed onto punishing U.N. economic sanctions aimed at stopping it. But President Xi Jinping met with Kim last month in his first trip abroad since taking power in 2011.
Trump thanked China for its help Thursday, saying "they've been really terrific at helping us get to some kind of settlement."
But China is probably still trying to counter U.S. influence in the region despite the overtures, said Oriana Skylar Mastro, a security expert at the American Enterprise Institute.
"Beijing could demand that the United States soothe North Korea's security concerns by ceasing U.S.–South Korean military exercises, reducing the U.S. military presence in South Korea and normalizing relations with Pyongyang," she said in an article for Foreign Affairs magazine.
Kim told the Chinese during his visit to Beijing that the issue of denuclearization can be resolved if South Korea and the United States "create an atmosphere of peace and stability while taking progressive and synchronous measures for the realization of peace," the official Xinhua news agency reported.
It didn't elaborate, but the South Korean envoys who relayed the summit invitation said the North made clear it wouldn't need nuclear weapons "as long as military threats to the North are eliminated and the regime's security is guaranteed."
Open agendaNeither side has outlined an agenda for the first-ever U.S.-North Korean summit, which Trump has said will occur in May or June.
"If such 'measures' are, for example, to include withdrawal of U.S. forces and denouncing U.S.-[South Korea's] alliance, that would be clearly unacceptable," Georgy Toloraya, a former Russian diplomat who spent many years in North Korea, said in an article posted Friday on the 38North blog.
With so little time to prepare, pundits say it's unlikely that the meeting will produce a breakthrough agreement, although the sides could put forward confidence-building measures.
"The United States and North Korea can reach incremental but significant agreements based on verifiable and irreversible mutual concessions, though falling short of complete denuclearization," Toloraya wrote.
Critics say the North already has made gains after the allies agreed to delay joint war games to facilitate its participation in the Olympics and ease rising tensions. The military exercises resumed earlier this month at a lower profile and shorter duration than in past years.
The summit itself also could be considered a victory of sorts since North Korea has long sought a seat at the table with a sitting U.S. president.
Mike Pompeo, Trump's nominee for secretary of state, said Thursday that the U.S. would not relax sanctions or offer other concessions until the North agrees to dismantle its nuclear program.
"It is the intention of the president and the administration not to do that this time, to make sure that ... before we provide rewards, we get the outcome permanently, irreversibly, that it is that we hope to achieve," he said during his Senate confirmation hearing. "It is a tall order, but I am hopeful that President Trump can achieve that through sound diplomacy."
The issue of the U.S. presence on the peninsula has been central in previous talks with the North that collapsed in 2009.
Trump has raised the stakes by hinting he may be open to withdrawing American troops as part of trade negotiations with the South.
"We lose money on trade, and we lose money on the military. We have right now 32,000 soldiers between North and South Korea. Let's see what happens," he was quoted by the Washington Post as saying during a fundraising speech last month.
While analysts said it was likely a negotiating tactic, the president made similar threats on the campaign trail, raising concern in Seoul about his commitment to the alliance.
Victor Cha, a former adviser on North Korean affairs under President George W. Bush's administration, warned the stakes are high.
"If this summit fails, it could take us a step closer to armed conflict," he said Thursday during a House Foreign Affairs Committee hearing.
Twitter: @kimgamel