GALLERY
N. Korea claims to have tested ICBM as US celebrates Independence Day
By
Yoo Kyong Chang Kim Gamel
July 4, 2017
---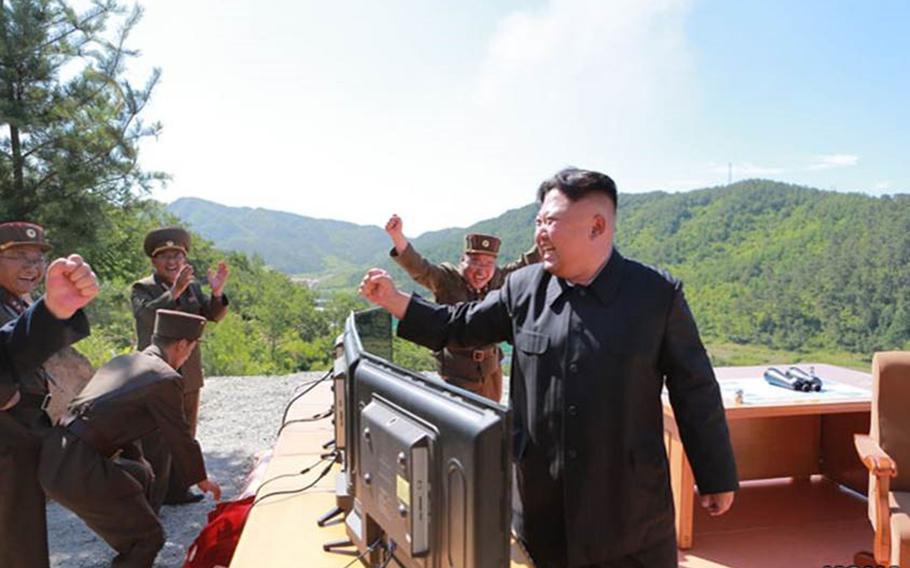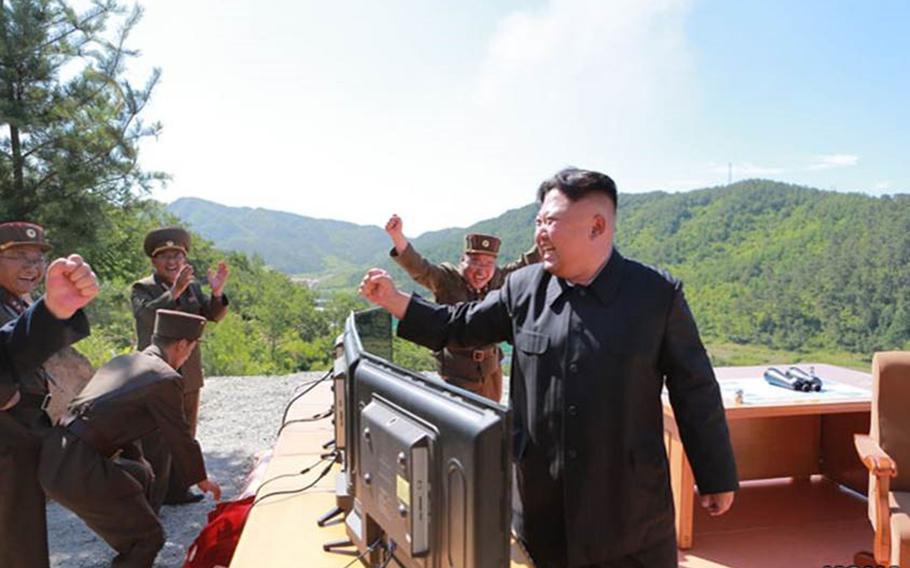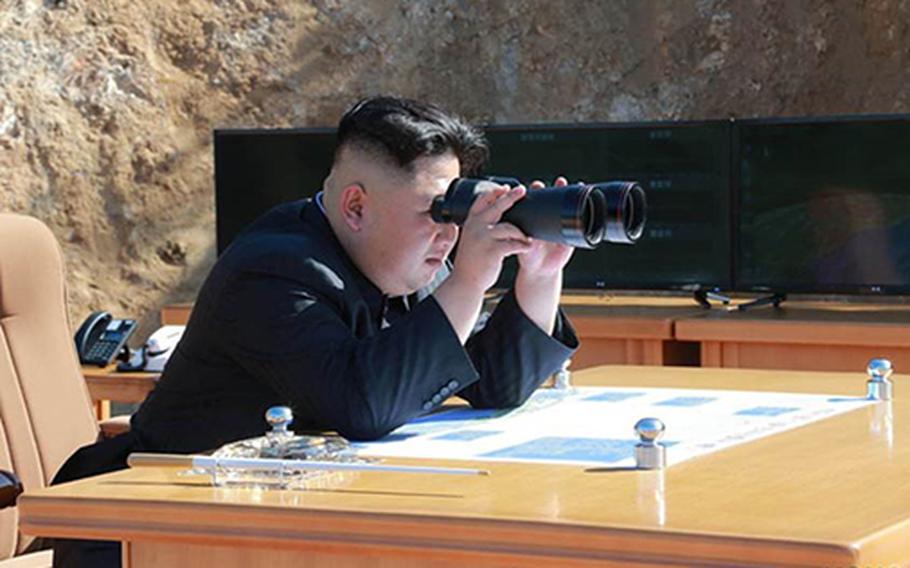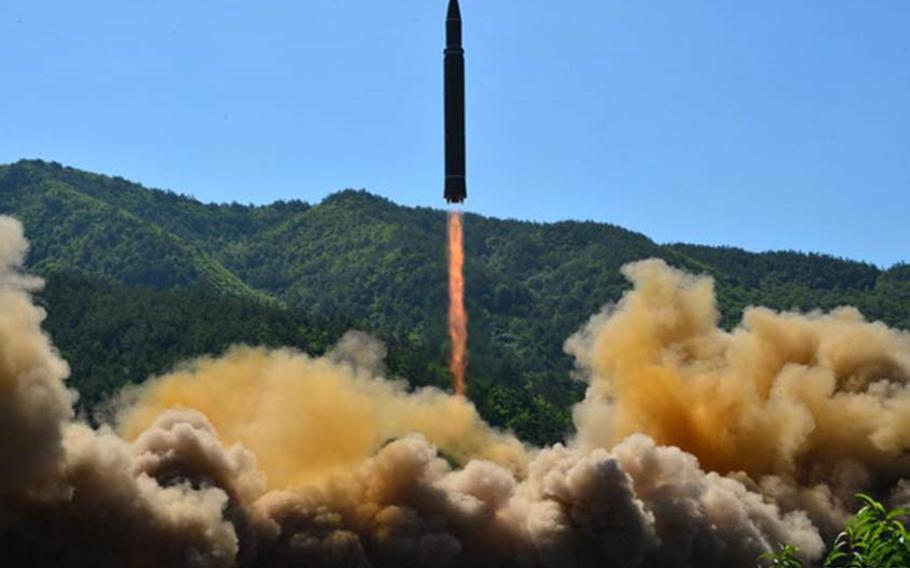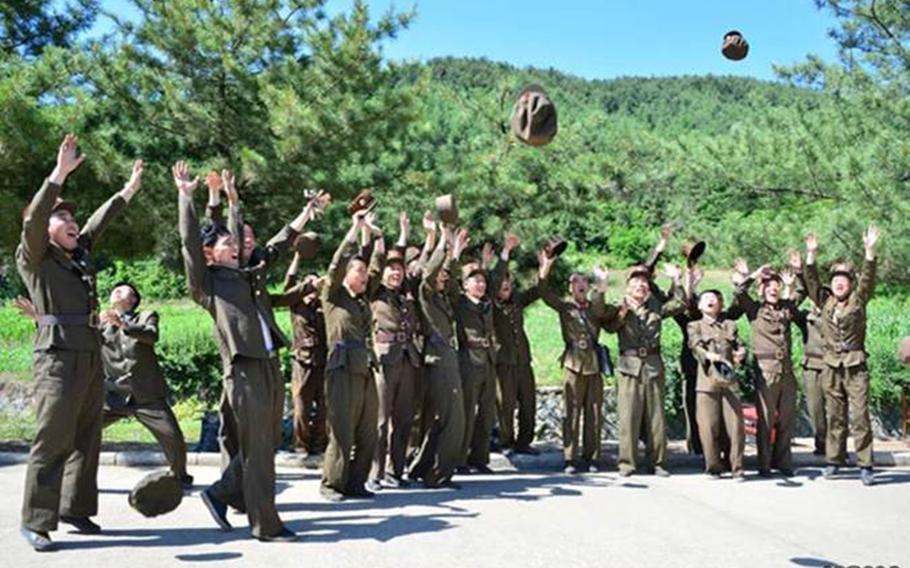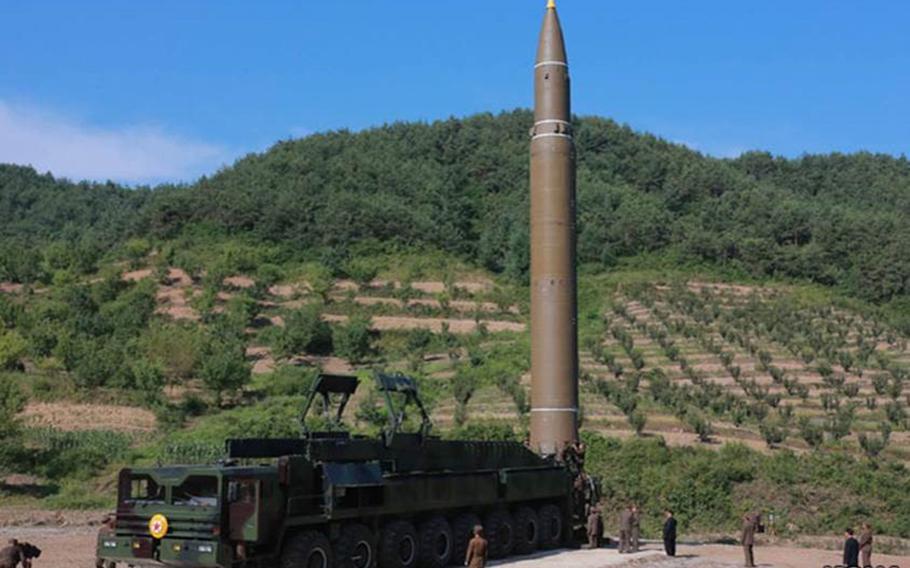 SEOUL, South Korea – North Korea claimed it test-fired its first intercontinental ballistic missile Tuesday following a launch that drew condemnation from President Donald Trump and sharply raised the stakes in the standoff over the communist state's nuclear weapons program.
The missile test – the first in nearly a month – sent a powerful political message as it occurred on the eve of Independence Day in the United States and days after a U.S.-South Korean summit that focused on measures to stop the growing threat from the North.
If confirmed it was an ICBM, the launch would mark the communist state's most successful in a series of missile tests as it continues to make progress in its efforts to develop a nuclear-tipped missile that could reach the U.S. mainland.
The North's defiance also has tested the new South Korean President Moon Jae-in's hopes to pursue engagement and dialogue with the North, as evident in his strong reaction on Tuesday.
"If North Korea crosses a red line, we don't know how we will react," Moon said after meeting with former British Prime Minister David Cameron in Seoul, according to a transcript. "I hope North Korea will not cross the point of no return."
GAME CHANGER
North Korea's state-run media claimed the missile was an ICBM, which Trump suggested would be a game changer after Kim Jong Un said in his New Year's address that the country was on the verge of testing one. At the time, Trump tweeted, "It won't happen!"
The missile, called the Hwasong-14, was fired while Kim watched, according to the Korean Central News Agency. It flew for 39 minutes and reached an altitude of more than 1,740 miles before splashing in the sea 580 miles from its starting point, KCNA added.
"The success of the ICBM launch at its first trial is the final gateway to completing our nuclear force," it said. "It marked a phenomenal event in our history as we are pursuing the dual-track policy of nuclear and economic development."
The reported distances were in line with those provided by U.S., South Korean and Japanese officials, although the U.S. Pacific Command said it had detected a "land-based, intermediate-range ballistic missile."
South Korea's military said the missile was fired from a point near the northwestern Banghyon airfield and flew some 580 miles and reached an altitude of 1,430 miles.
Japan's Defense Ministry said the missile "greatly exceeded" an altitude of 1,560 miles, according to the Reuters news agency. Japan's government said earlier the missile was believed to have landed off the coast in its territorial waters, but no damage to ships or aircraft was reported.
David Wright, co-director of the Union of Concerned Scientists, said that if the reports of the time and distance are correct, the missile could have a possible maximum range of 4,160 miles if fired on a standard trajectory.
"That range would not be enough to reach the lower 48 states or the large islands of Hawaii, but would allow it to reach all of Alaska," Wright wrote on the group's blog.
The advance comes after a steady stream of missile and engine tests from North Korea that accelerated after the country conducted its fourth nuclear test in January 2016. That was followed by a fifth test in September, and researchers have warned it is prepared for a sixth.
But experts also caution it still has to overcome hurdles such as miniaturizing a warhead that would fit on the missile and perfecting the technology to allow it to re-enter the atmosphere en route to its target.
Jeffrey Lewis, director of the East Asia Nonproliferation Program at the Middlebury Institute of International Studies in California, also said the missile was an ICBM based on the reported altitude and flight time.
"It's not months or years away, it's here," he said in an email. "North Korea wants nuclear-armed ICBMs to hold the U.S. at risk so it can credibly threaten to use theater nuclear weapons against U.S. forces in Korea and Japan early in a conflict."
PRESSURING CHINA
Trump denounced Tuesday's missile test in two tweets – combined below – that took aim at North Korea's leader and the isolated country's main ally China.
"North Korea has just launched another missile. Does this guy have anything better to do with his life?" Trump wrote. "Hard to believe that South Korea and Japan will put up with this much longer. Perhaps China will put a heavy move on North Korea and end this nonsense once and for all!"
Moon, who took office on May 10 after his predecessor was ousted by an influence-peddling and corruption scandal, convened an emergency session of his National Security Council to discuss the launch.
He said the military would prepare for the possibility the missile was an ICBM, although he noted officials believed it had an intermediate range.
Japan's Prime Minister Shinzo Abe added his condemnation, saying it "clearly showed that the threat is growing." Abe, who spoke to Trump Monday on the phone, said the issue will be a major topic at the G20 summit of the world's richest economies this weekend in Germany.
The missile test was a major blow to the new South Korean leader's hopes to pursue a softer approach in dealing with Pyongyang.
In his talks with Trump last week, he secured support for his push to improve inter-Korean relations and the allies agreed to leave the door open for dialogue with the communist state while continuing to impose sanctions.
North Korea, however, has rejected Moon's overtures and insisted it will continue with its nuclear weapons program, which has the stated goal of developing a nuclear-tipped missile that could reach the U.S. mainland.
Moon's administration widely considered the first summit between the two leaders held Friday in Washington a success because they agreed to try to persuade North Korea to return to the negotiating table.
The North has test fired more than a dozen missiles so far this year despite tightened U.N. sanctions aimed at punishing it for defying resolutions that ban it from using ballistic-missile technology. Most recently it launched four surface-to-ship cruise missiles on June 8.
Trump has signaled he may favor a more hard-line approach toward North Korea after decades of sanctions and diplomatic pressure have failed to curb its nuclear ambitions. He also has shown increasing impatience with China's inability or unwillingness to do more to rein in its defiant ally.
Beijing, North Korea's economic lifeline and only major ally, opposes its nuclear program but also fears any moves against the regime could prompt instability in the region and possibly bring U.S. forces to its doorstep.
The United States maintains about 28,500 servicemembers in South Korea, which remains technically at war with the North after their 1950-53 conflict ended in a peace treaty instead of an armistice.
Trump warned Chinese President Xi Jinping in a phone call Monday that the United States is prepared to act on its own to solve the problem, according to a New York Times report that cited anonymous administration officials.
That followed other U.S. actions that have upset Beijing, including a decision to sell weapons to Taiwan, the blacklisting of a Chinese bank over its business ties with the North and human trafficking allegations against China.
chang.kyong@stripes.comgamel.kim@stripes.com Twitter: @kimgamel
---
---
---
---