N. Korea carries out missile test days after South's new leader takes office
by
Kim Gamel
May 13, 2017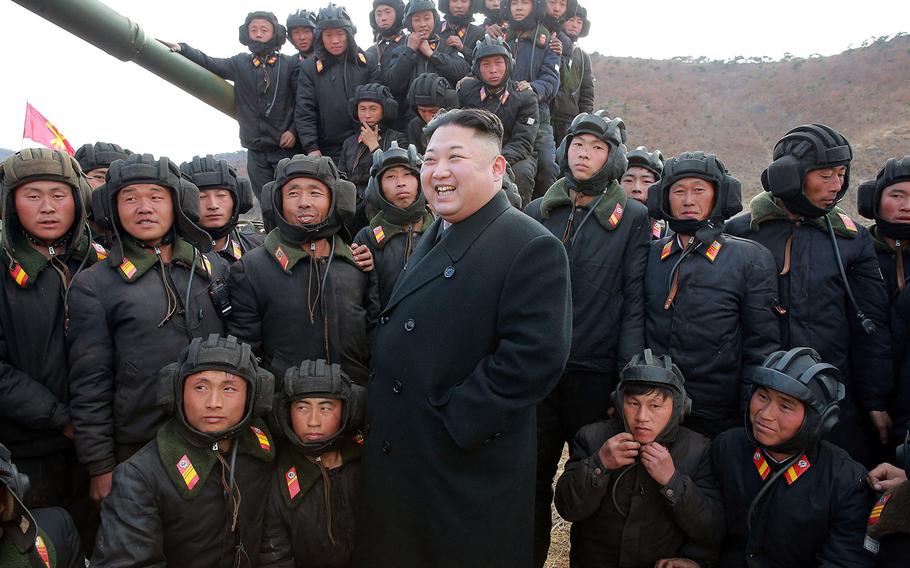 SEOUL, South Korea — North Korea fired a missile into the sea Sunday, slapping South Korea's new president with a major security challenge four days after he took office with a call for dialogue in dealing with the communist state.
The missile - launched from a western area north of the capital Pyongyang - flew for about 30 minutes and reached an altitude of 1,240 miles before splashing into the sea east of the divided peninsula, Japanese officials said. South Korea's military said the missile traveled about 435 miles.
Japanese Defense Minister Tomomi Inada said the altitude and duration of the flight indicate it may have been a "new type of missile" but more analysis was needed.
U.S. Pacific Command said "the flight is not consistent with an intercontinental ballistic missile." The United States and its allies have been on alert for the North to test an ICBM, which would have the range to reach the U.S. mainland, since leader Kim Jong Un said his country was on the verge of being able to do so.
The launch poses the first test for South Korean President Moon Jae-in, who has said he would pursue a dual-track approach of engagement and pressure to try to persuade Pyongyang to give up its nuclear weapons program.
Moon strongly condemned the launch – calling it a "reckless provocation" - during an emergency meeting of his national security council. He also warned North Korea not to test his resolve.
"The president said we are leaving open the possibility of dialogue with North Korea, but we should sternly deal with a provocation to prevent North Korea from miscalculating," the president's spokesman, Yoon Young-chan, told reporters. He said Moon told officials that dialogue would be possible only if "North Korea changes its attitude."
Moon and President Donald Trump have vowed to work together to rein in the North, and Trump invited the South Korean leader to the White House for a summit. No date has been set, but a U.S. delegation planned to meet with South Korean officials Monday in Seoul to lay the groundwork for the meeting, according to the Yonhap news agency.
The White House issued an unusual statement that said Sunday's missile landed closer to Russia than Japan. "The president cannot imagine that Russia is pleased," it said
"North Korea has been a flagrant menace for too long," the statement added, calling on all nations to implement stronger sanctions against the isolated country.
The timing of the launch also was a blow to North Korea's main ally China, which began a two-day summit to promote a global trade infrastructure project dubbed the "one belt, one road initiative," on Sunday.
Beijing also denounced the missile test, which violated U.N. Security Council resolutions banning North Korea from using ballistic-missile technology. "All relevant parties should exercise restraint and refrain from further aggravating tensions in the region," the foreign ministry said.
China is under pressure to take stronger measures to persuade its communist ally to abandon its nuclear ambitions.
It was North Korea's seventh missile test since Trump took office on Jan. 20, although most of the others were considered failures.
Analysts have said the North learns something from each effort and appears to be making faster-than-anticipated progress toward its stated goal of developing a nuclear-tipped weapon that could target the U.S. mainland.
David Wright, co-director of the Washington, D.C.-based Union of Concerned Scientists, said that if confirmed, the data would mean the missile launched Sunday had a maximum range of nearly 2,800 miles. That would put it in reach of the U.S. territory of Guam.
"A 30 minute flight time would instead require a missile that was highly lofted," he said in an emailed statement, adding it may have been one of the new missiles displayed in North Korea's massive military parade on April 15.
Kim Jong Un has stepped up the pace of the weapons program since taking over in 2011 after his father, Kim Jong Il, died of a heart attack. North Korea also has conducted three of five underground nuclear tests under the younger Kim's regime.
"With this launch appearing to be successful, Kim Jong Un's overall missile test record is 59 successful, 17 failures. A .776 batting average," Shea Cotton, a research associate at the James Martin Center for Nonproliferation Studies in California, said in a tweet.
The Trump administration has given mixed signals about his approach to the North, vowing to keep the possibility of military action on the table and deploying several warships in the region, while pledging to pursue a more diplomatic policy of "maximum pressure and engagement."
Trump also said earlier this month he would be "honored" to meet with Kim under appropriate circumstances, although the White House quickly walked that back to stress the current conditions were not right.
North Korea, which has a history of conducting provocations in a bid to boost its leverage, has agreed in the past to suspend its nuclear program in exchange for aid and diplomatic rewards. Six-party talks involving the North, the U.S., South Korea, Russia, China and Japan broke down in 2009. But there have been low-level contacts.
Yonhap also reported that delegations from North and South Korea met on the sidelines of the Beijing forum.
Rep. Park Byeong-seug of South Korea's ruling Democratic Party said he had a short conversation with Kim Yong-jae, Pyongyang's minister of external economic relations.
The lawmaker reportedly said he strongly condemned the missile launch but added that he had "the impression that Pyongyang is looking forward to having a summit with Seoul."
gamel.kim@stripes.comTwitter: @kimgamel