Mystery deepens over North Korea leader's whereabouts as health rumors swirl
---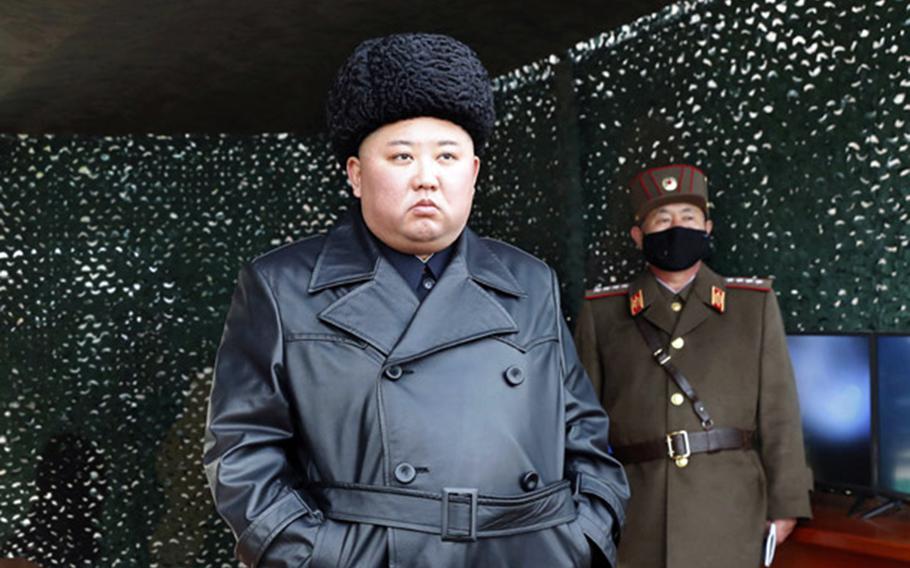 SEOUL, South Korea — The mystery over Kim Jong Un's whereabouts deepened this weekend as satellite images showed a train probably belonging to the North Korean leader at his coastal compound amid speculation about his health.
The images, which were released by the monitoring website 38 North, showed the 820-foot-long train has been at the compound near the eastern city of Wonsan since April 21.
The website stressed the train's presence doesn't confirm the 36-year-old leader's location nor indicate anything about his health, "but it does lend weight to reports that Kim is staying at an elite area on the country's eastern coast."
The train wasn't at the Leadership railway station, which services the Wonsan compound, on April 15 but was there on April 21 and April 23, according to the analysis published Saturday by experts Martyn Williams, Peter Makowsky and Jenny Town.
"Imagery indicates the train arrived sometime before April 21 and was still present on April 23, when it appeared to be repositioned for departure. However, there was no indication when that departure might take place," it added.
The Wonsan compound has been described as a palatial playground for Kim by past visitor former Chicago Bulls star Dennis Rodman.
It includes a large main building, nine large guesthouses, a recreation center, a horse-riding track and a covered dock that is believed to be for his yacht, according to 38 North.
The report was the latest piece of the puzzle surrounding Kim's prolonged absence from the public eye, heightened by his failure to appear at celebrations marking the April 15 birthday of his late grandfather and the country's founder, Kim Il Sung.
Reuters, citing three people familiar with the situation, also reported this weekend that China has dispatched a team of doctors and officials to advise on Kim, although it provided few details.
The delegation led by a senior member of the Chinese Communist Party's international liaison department left Beijing for North Korea on Thursday, Reuters said, adding it was unable to determine what the trip signaled in terms of Kim's health.
South Korean officials have insisted that no unusual signs have been detected to indicate that Kim is seriously ill.
President Donald Trump also has dismissed unconfirmed reports that Kim had been incapacitated after cardiovascular surgery.
"I think the report was incorrect, let me just put it that way," Trump said Thursday in response to a question about Kim's condition. "I hear the report was an incorrect report. I hope it was an incorrect report."
But concern has intensified as thinly sourced media reports and rumors ranging from claims that Kim is in a vegetative state or already is dead circulate on social media.
The third-generation leader also was a no-show for Saturday's anniversary of the founding of the nation's military.
The most recent photos of him on state-run media were of him as he reportedly chaired an April 11 meeting of the ruling Workers' Party's political bureau.
He discussed efforts to prevent the spread of the coronavirus and appointed his sister, Kim Yo Jong, as an alternate member of the political bureau, according to the Korean Central News Agency.
He also was shown inspecting an air defense unit that weekend.
KCNA reported that Kim sent separate messages to the leaders of Syria and Cuba last week but released no photos.
Experts have urged caution because it's virtually impossible to confirm information about the North Korean leader's health, which has long been a topic of concern because of his weight, a heavy smoking habit and a family history of heart disease.
The world did not learn Kim's father, Kim Jong Il, had died of a heart attack in 2011 until it was announced publicly two days later.
Kim Jong Un, who assumed power after his father died, also disappeared once before in 2014 but reappeared with a cane after about six weeks. South Korea's intelligence agency said he had a cyst removed from his ankle.
The stakes are high as the Kim family has ruled the nuclear-armed nation since it was founded in 1948. While the regime has been accused of widespread human rights abuses, many fear an abrupt change in leadership could spark chaos in the region.
It also raises questions about what would happen to already stalled nuclear talks with the U.S., which have depended largely on Kim's relationship with Trump.
"While I am skeptical of reports on Kim Jong Un's death, or incapacitation right now because we have seen this before, it would represent another unprecedented crisis for the president of the United States and the president of South Korea to handle in addition to the coronavirus," said Matthew Schmidt, a security and political science associate professor at the University of New Haven.
"It would force both of the presidents to consider their contingency plans to do things like move into the north to secure nuclear sites and population movement as well as being concerned about the tens of thousands of artillery pieces aimed at Seoul," he added in an emailed commentary. "We have never done this before and to do this in addition to the virus would be extraordinary."
gamel.kim@stripes.com Twitter: @kimgamel
---
---
---
---