Most South Koreans support alliance with US but not sharp increase in cost-sharing, poll shows
by
Yoo Kyong Chang Kim Gamel
Stars and Stripes
December 17, 2019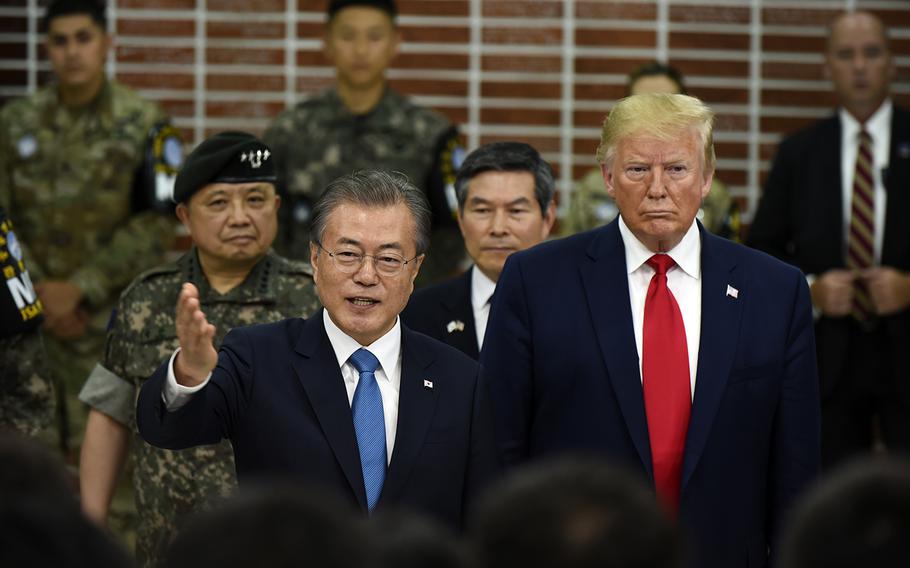 SEOUL, South Korea — The United States and South Korea began a fourth round of defense cost-sharing talks on Tuesday, two weeks before the current contract is due to expire.
A new poll showed that most South Koreans support the alliance with the United States but reject U.S. demands for a fivefold increase in spending.
Negotiators are struggling to bridge the gap. The South balks at U.S. demands for nearly $5 billion annually in return for stationing some 28,500 troops on the divided peninsula. Last year Seoul paid about $920 million.
The rare public dispute has raised concerns about a rift in the longstanding U.S.-South Korean alliance. Meanwhile, tensions over North Korea's nuclear weapons program are rising amid a breakdown in diplomatic efforts on that front.
The talks in Seoul were scheduled to end Wednesday. Any agreement must be ratified by South Korea's National Assembly.
Many experts predicted a repeat of last year, when the two sides failed to meet the Dec. 31 deadline but continued talks and reached a retroactive agreement.
"If the two countries don't reach an agreement in the defense cost-sharing talks, we can't rule out the possibility of the reduction of U.S. forces in Korea, or their complete withdrawal," James Kim, a researcher at South Korea's Asian Institute for Policy Studies, said Tuesday at a conference in Seoul.
Still, 92% of South Koreans polled last week by the Chicago Council on Global Affairs said they support the alliance, and 74% said they support the long-term stationing of U.S. soldiers in South Korea.
The poll, which was conducted Dec. 9-11 in South Korea, however, showed a clear rejection of President Donald Trump's demands for the South to sharply increase spending.
The think tank said 68% of those polled said "South Korea should negotiate a lower cost than the $4.7 billion request made by the United States." Among those respondents, 60% said the amount should remain below $1.7 billion.
The survey, which was conducted by Hankook Research in South Korea and funded by a grant from the Korea Foundation, polled a representative national sample of 1,000 South Korean adults and had a margin of error of plus or minus 3.1%.
The U.S. has not confirmed the $4.7 billion figure, but South Korean officials have released the amount and said Washington wants to justify it by reconfiguring the Special Measures Agreement, as the contract is known, to include indirect costs such as the deployment of warships, planes and preparations for joint military exercises.
Last month U.S. negotiators led by State Department official James DeHart walked out of a meeting, saying the South Korean proposals "were not responsive to our request for fair and equitable burden sharing."
South Korean anti-American activists also have stepped up protests, accusing the Americans of "extortion" and of monetizing the alliance, which long has been considered a linchpin of regional security again threats from North Korea and China.
South Korea has helped pay for U.S. troops under the agreement since 1991, with most of the funds used for local labor providing food, administrative and logistical support, as well as construction costs.
Under a separate agreement, Seoul also paid more than 90% of the $11 billion-plus construction costs for expanding Camp Humphreys, the U.S. military's new headquarters base south of Seoul.
Talks on renewing the Special Measures Agreement, which were usually held every five years, have always been contentious. The two sides missed the Dec. 31 deadline in 2013 but reached a deal a few weeks later, with South Korea increasing its contribution by 5.8%.
But this time Trump has brought to the table his "America First" policy and general insistence that U.S. allies need to pay more for their own defense.
A former commander of U.S. Forces Korea, retired Gen. Walter Sharp, said the calculations in determining the increase were traditionally based on inflation and the need for South Korea paying nearly half of the non-personnel costs for U.S. troops.
Sharp argued that South Korea's overall contribution to U.S. interests should be taken into consideration, including the fact that it sent troops to Iraq and Afghanistan, is a major trading partner and has dedicated about 2.8% of its gross domestic product to defense.
"On the one hand President Trump says countries should be standing up to defend themselves; well, South Korea is clearly, clearly doing that," he said at a recent Korea Economic Institute forum in Washington, D.C.
"I firmly believe … don't give up the alliance for a couple dollars," he said. "Because at the end of the day North Korea will end up doing what North Korea does; China will end up doing what they're going to do, but the alliance has got to stay strong."