More civilians barred from bases in South Korea over coronavirus violations
by
Kim Gamel
April 23, 2020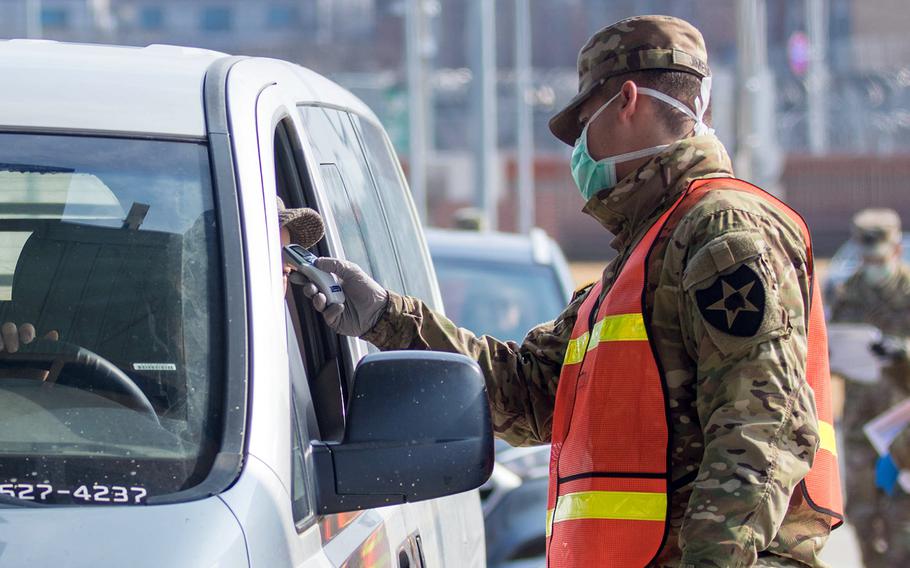 Stars and Stripes is making stories on the coronavirus pandemic available free of charge. See other free reports here. Sign up for our daily coronavirus newsletter here. Please support our journalism with a subscription.
SEOUL, South Korea — Three American civilian employees and two spouses were barred from U.S. bases in South Korea for two years violating anti-coronavirus measures, including going out to eat at local restaurants, the military said Friday.
The notices were posted on social media as Gen. Robert Abrams, commander of U.S. Forces Korea, formally extended until May 23 a public health emergency that gives him the authority to punish civilians with base access as well as service members.
USKF has stepped up pressure on its 58,000-strong community to comply with restrictions on nonessential travel and off-base social activities aimed at preventing the spread of the coronavirus pandemic.
A USFK contractor who works at Camp Humphreys also was banned for two years for going on base despite being quarantined because of possible exposure to the virus, the command said.
"The individual chose to non-comply with the directive and visited Camp Humphreys on March 30 and March 31," it said without providing more details.
The other two cases included a Department of Defense Education Activity employee who works at Camp Humphreys and dined at an off-base restaurant with their spouse on April 5, USFK said.
A USFK employee who works at Yongsan Garrison in Seoul also was barred from base for eating at a local restaurant with their spouse on April 11, the command said.
The bans all took effect on Tuesday, USFK said, stressing that measures in place to fight the coronavirus must be obeyed by everyone seeking access to its installations.
The U.S. military has restricted base access and implemented health checks at the gates and other measures shortly after a coronavirus outbreak began in late February in South Korea.
The country has seen a sharp decline in the daily number of infections in recent weeks, with only six new cases logged on Thursday for a total of 10,708, with 240 deaths.
Only two American soldiers have tested positive on the peninsula, but USFK has reported 23 other cases among military dependents, contractors and other U.S. and South Korean civilian employees.
Abrams declared the initial public health emergency after several contractors working at Camp Humphreys were confirmed to have the virus, raising concern that some civilians were not following the rules.
"A vast majority of the USFK community -- 99.9% -- has done a phenomenal job in successfully following USFK's health protection measures," USFK spokesman Col. Lee Peters said in an email. "This low infection rate stands as a testament to USFK's aggressive preventive control measures to stop the virus' spread within USFK as it maintains a 'Fight Tonight' readiness posture."
"USFK reminds every member of our community they have an individual responsibility to squash the curve, protect the force and kill the virus by keeping up their guard to protect the force to protect the mission," he said.
Several soldiers also have received nonjudicial punishment for sneaking off-base to go to bars or other locations.
Three members of a military police battalion at Camp Walker were demoted and docked pay for going out, then returning to base through a hole in the fence, the military said Wednesday.
Some 28,500 American troops are stationed in South Korea, which remains technically at war with the North after their 1950-53 conflict ended in an armistice instead of a peace treaty.
gamel.kim@stripes.com Twitter: @kimgamel