GALLERY
Moon and Kim discuss denuclearization at historic summit
by
Kim Gamel
April 27, 2018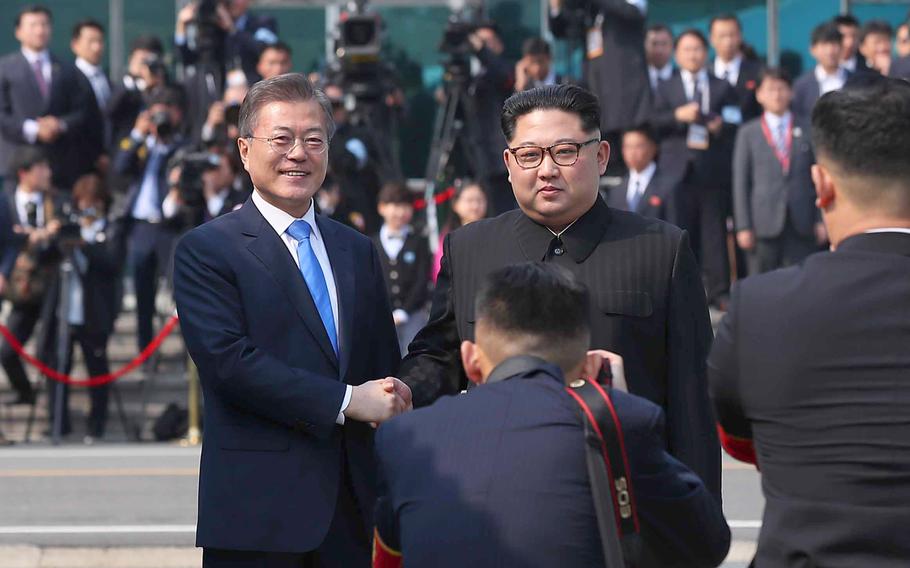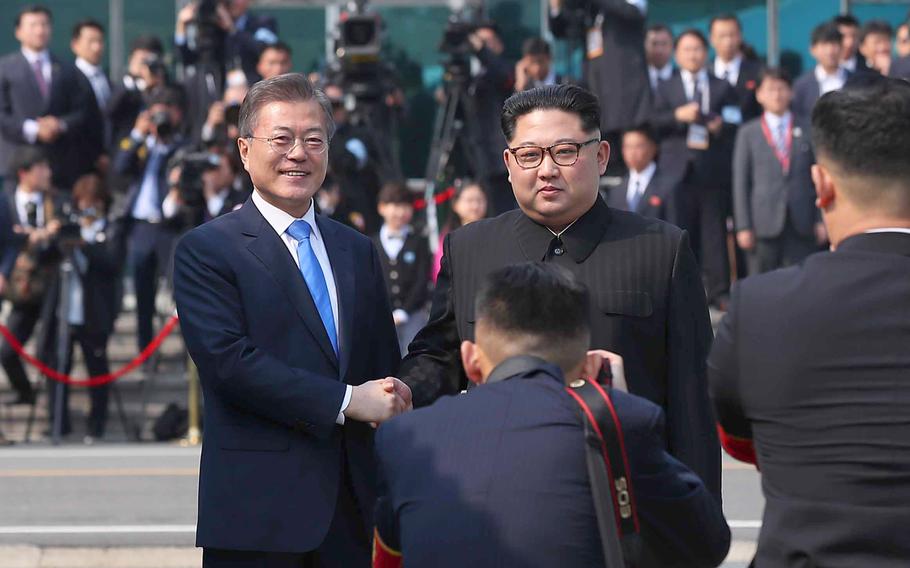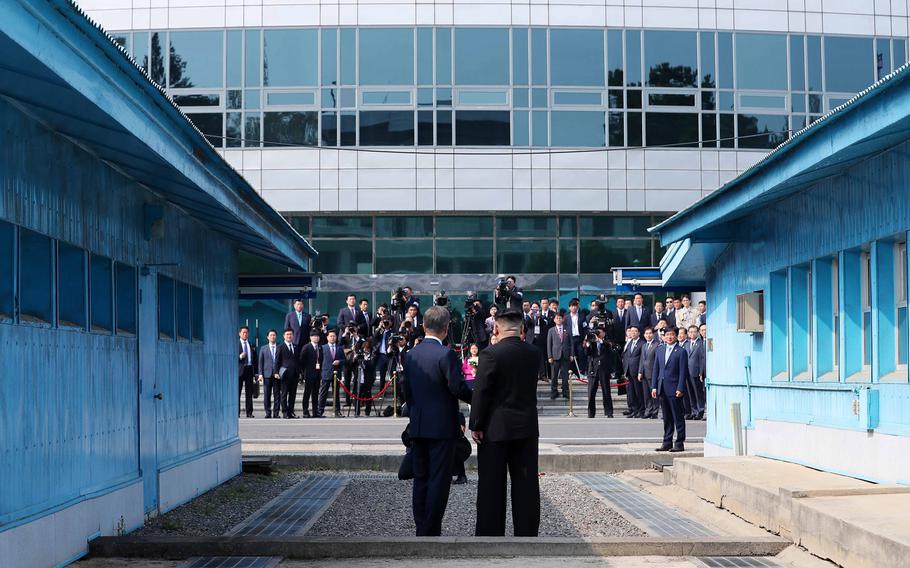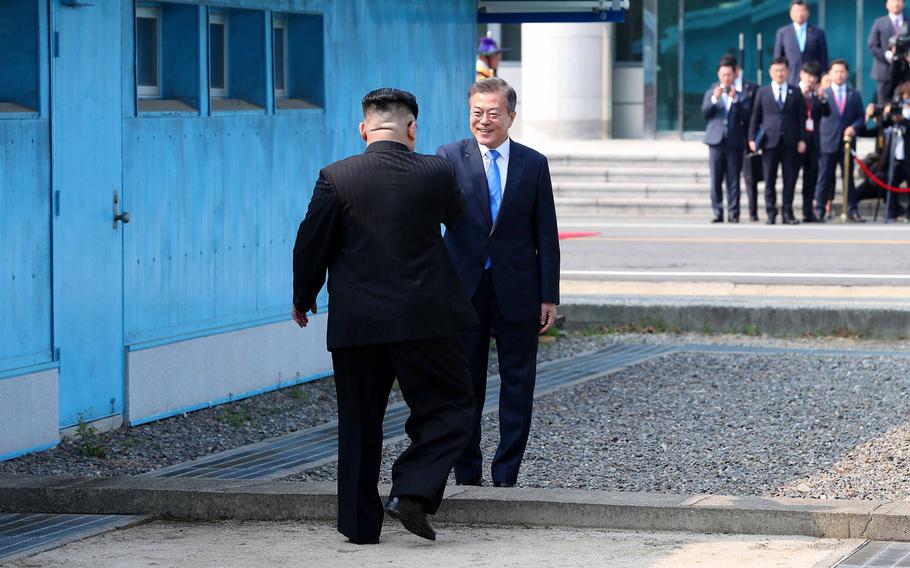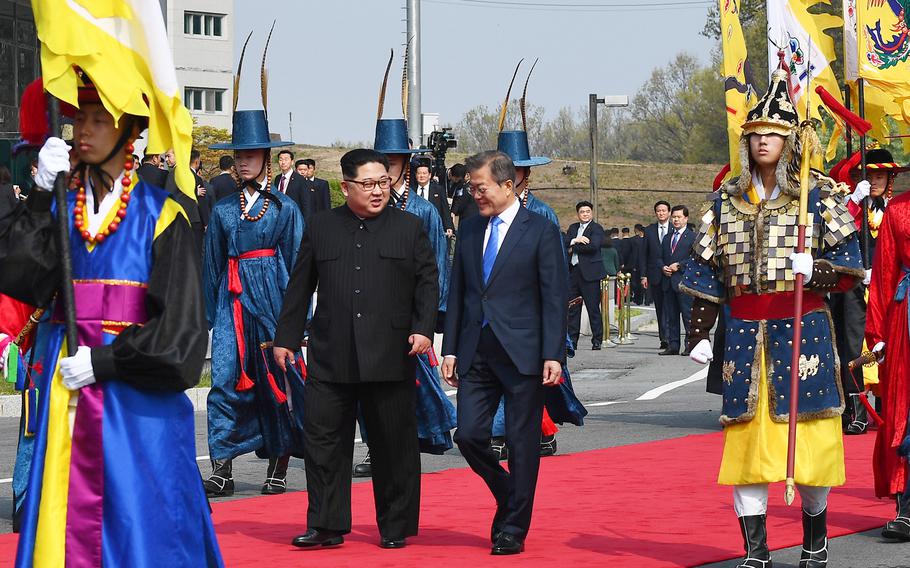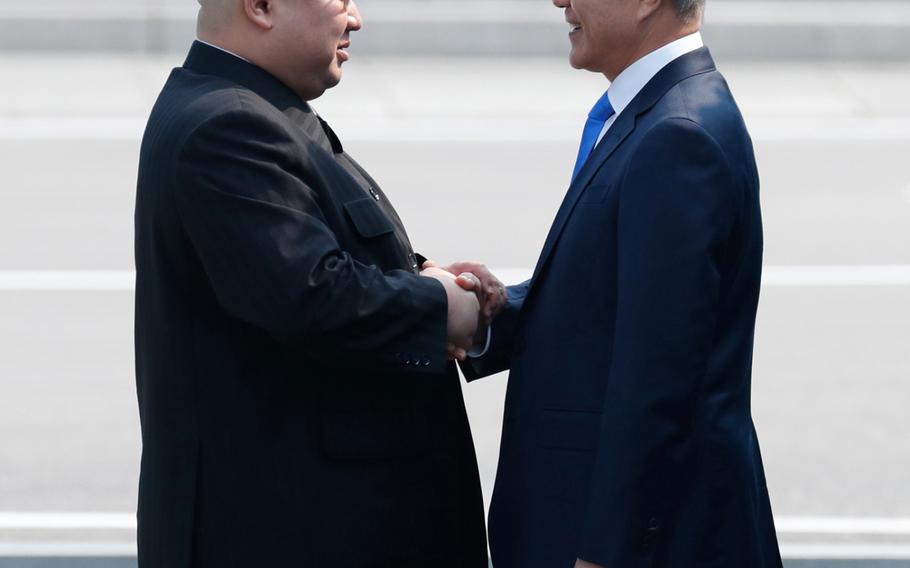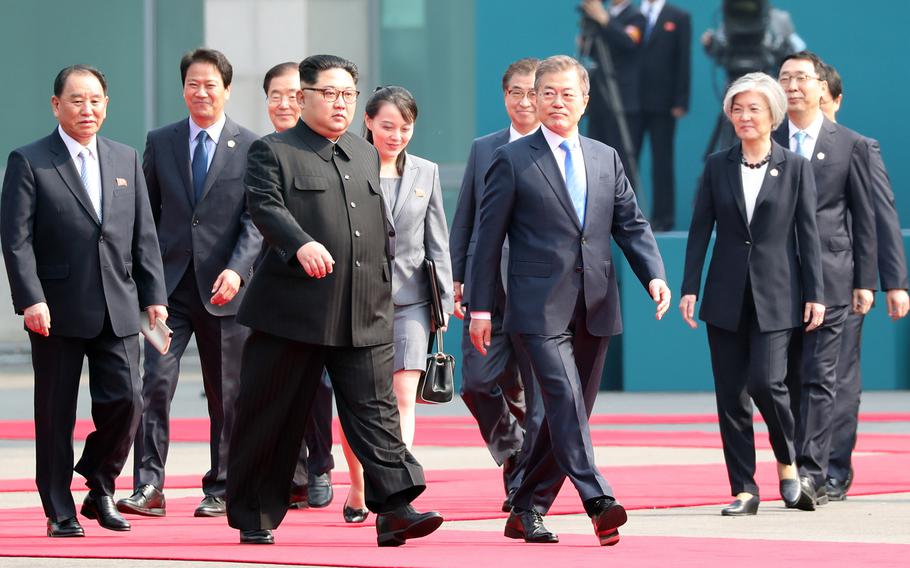 GOYANG, South Korea – With a historic handshake, the North and South Korean leaders launched a high-stakes summit expressing hope that they could succeed where others had failed in the decades-old standoff over the communist state's nuclear weapons program.
The heavily choreographed inter-Korean summit capped a whirlwind of extraordinary diplomacy that has eased tensions after months of saber-rattling and threats between the North and the United States that raised fears of a nuclear war.
The talks between North Korean leader Kim Jong Un and South Korean President Moon Jae-in were closely watched as a dress rehearsal for a subsequent meeting between Kim and President Donald Trump expected to be held in May or early June.
Kim, wearing a black, Mao-style suit and surrounded by an entourage, walked down the stairs of a North Korean building in the truce village of Panmunjom to meet Moon, stepping across the concrete slab marking the line that officially divides the peninsula.
The 34-year-old leader — third in a family dynasty that has ruled the country since it was founded in 1948 — said he felt a flood of emotion walking the short distance across the border.
"I feel like I'm firing a flare at the starting line of … writing a new history in North-South relations, peace and prosperity," Kim said in opening remarks before beginning formal talks. "Let's get everything off our minds here and get good results."
But he hinted at the challenges ahead, referring to past agreements that collapsed.
"I wish for it to be a chance for us to walk forward hand-in-hand while looking toward the future with a determination, instead of outcomes like those in the past that could not be implemented," he told Moon.
Moon, a 65-year-old former human rights lawyer and the son of North Korean refugees, responded that they had "a huge responsibility" to produce an agreement that will be a "big gift to the entire Korean nation and every peace loving person in the world."
He also congratulated Kim for making a "courageous and bold decision" to engage. "The moment Chairman Kim crossed the Military Demarcation Line, Panmunjom became a symbol of peace, not a symbol of division," he said.
HISTORIC HANDSHAKEThe two men began the day with warm greetings, exchanging words and smiles while posing for photos between the blue conference buildings that straddle the border in the truce village of Panmunjom.
Kim took Moon's hand and led him briefly across to the North before the men walked on a red carpet into South Korea — making Kim the first North Korean leader to do so since the 1950-53 Korean War ended in an armistice instead of a peace treaty.
It was also only the second time the reclusive leader is known to have left his country since he took power in 2011 after his father died of a heart attack. The first was a recent train trip to Beijing to meet with President Xi Jinping, reaffirming China's influence over its fellow communist state.
Two fifth-grade students from Taesong-dong Elementary School — the only South Korean school within the DMZ — welcomed the leaders, who inspected an honor guard before entering the so-called Peace House to begin the formal meeting.
After morning talks ended, Kim was ushered into a waiting black Mercedes that carried him back to North Korea for a lunch break, with 12 bodyguards wearing suits running alongside the vehicle.
"The two leaders talked about denuclearization of the Korean Peninsula, permanent peace and ways to improve relations," presidential spokesman Youn Young-chan told reporters. "It's been a very sincere and honest exchange of opinions between the two sides."
He didn't give more details, saying officials were still working on the language of a final joint declaration to be issued after a final round of talks.
The leaders planned to meet again for an afternoon full of symbolism. They will plant a pine tree on the border using a mixture of soil and water from mountains and rivers in both countries, with a stone plaque for engraved with the phrase "peace and prosperity are planted" as well as the leaders' signatures.
Moon and Kim then were to stroll together to a footbridge before convening again at the conference table, designed to be exactly 2,018 millimeters in honor of the year the summit was held.
The meeting was to be followed by a joint agreement and a lavish banquet that will include Swiss dishes inspired by the fact that the North Korean leader was educated in Switzerland.
North Korea also was bringing "naengmyeon," or cold buckwheat noodles — a beloved dish in both countries.
AMBITIOUS AGENDASouth Korean officials have said denuclearization and reduced military tensions will top the agenda, followed by closer economic and social ties. Expectations for a breakthrough are low, but the meeting is expected to lay the groundwork for the first-ever U.S.-North Korean summit.
The White House said it was "hopeful that talks will achieve progress toward a future of peace and prosperity for the entire Korean Peninsula" and it "looks forward to continuing robust discussions in preparation for the planned meeting" between Trump and Kim in coming weeks.
Friday's meeting is only the third inter-Korean summit and the first in more than a decade. Moon's liberal predecessors the late Kim Dae-jung and Roh Moo-hyun met with Kim's father in 2000 and 2007, respectively.
The world is watching for signs that Kim is willing to give up his nuclear weapons after the North demonstrated rapid progress by test-firing three intercontinental ballistic missiles and conducting its sixth and most powerful nuclear test last year.
Kim has announced a moratorium on ICBM tests and said the North will close its northeastern nuclear testing site.
Skeptics noted that Kim could resume missile tests at any time. A group of Chinese scientists also has said it believes the mountain covering the nuclear testing site has collapsed.
Trump has welcomed the overtures from the North, a sharp reversal of his previous tone in which he mocked Kim as "little rocket man" and threatened to "totally destroy North Korea" if forced to defend the U.S. and its allies.
The president said Thursday that Pyongyang has already made concessions and insisted the U.S. hasn't given up anything.
"I'm saying to myself wait a minute, all of these things he's given up and we haven't even really that much asked them," Trump said on "Fox & Friends." "We would have asked them, but they gave it up before I even asked."
Trump acknowledged the bellicose rhetoric that both leaders used over the past year. "This is a much more dangerous ballgame now, but I will tell you it's going very well," he said during his call into the show.
The U.S. and South Korean militaries, meanwhile, suspended joint war games Friday in a nod to the North, which considers the military exercises a rehearsal for an invasion.
That followed an agreement to postpone the start of the annual drills as Moon lobbied the North to join the Winter Olympics, putting the diplomatic process in motion.
A summit with Trump also would be a major gain for Kim, as a meeting with a sitting U.S. president has been a longtime goal for the regime.
The United States has some 28,500 servicemembers stationed in South Korea.
gamel.kim@stripes.com Twitter: @kimgamel