Modified AP exams mean some overseas DODEA students must take tests when they should be sleeping
by
Kent Harris Dave Ornauer
April 11, 2020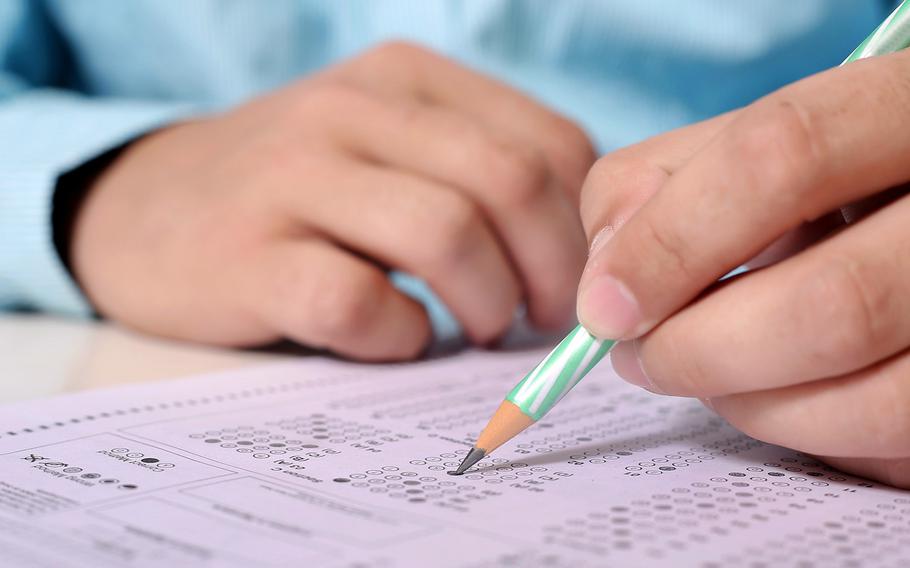 Stars and Stripes is making stories on the coronavirus pandemic available free of charge. See other free reports here. Sign up for our daily coronavirus newsletter here. Please support our journalism with a subscription.
CAMP FOSTER, Okinawa — Cameron Murray is enrolled in seven Advanced Placement courses, all of them online thanks to the coronavirus pandemic, which has closed Defense Department schools worldwide.
Now, Murray, a senior at Kubasaki High School on Okinawa, faces another challenge — taking the AP finals in the middle of the night, according to new requirements from the College Board, which administers the exams.
Normally three hours long and administered in classrooms with a proctor, the next AP tests, slated for May 12-23, must be done at home, have been shortened to 45 minutes and one essay each. They also must be taken at the same time worldwide, College Board officials said this week.
The main reason for the change: keeping the tests secure, said Trevor Packer, senior vice president of Advanced Placement and Instruction at the New York-based College Board, via Twitter message.
"To help ensure exam security, we need all students taking a particular exam to test simultaneously," he said.
While stateside students can take the exams by light of day, simultaneous testing worldwide means Department of Defense Education Activity-Pacifc students must take them at 1, 3 and 5 a.m. in Japan and South Korea and one hour later on Guam.
For students in Europe, the tests commence at 6, 8 and 10 p.m., prime-time evening hours.
The time change has DODEA students and teachers in both Europe and the Pacific concerned.
"If they're going to make the exams online and at home, they might as well accommodate international time zones as well," said Murray, who takes AP calculus, physics, mechanics, statistics, literature, U.S. government and biology.
Europe's start times are "not as bad as 2 or 3 in the morning, but still, it's outside their normal school-day routines," said Mary VanDeventer, an AP literature and language teacher at Germany's Vilseck High School.
"I think all our kids are being put at a disadvantage," she said.
In a world without coronavirus, AP tests in each theater would have taken place May 4-7 and May 11-13 during daylight hours at DODEA high schools.
Normally, the three-hour tests include one hour of multiple-choice questions and two hours to write three essays. That's now 45 minutes and one essay and the subject matter will not be known until the tests begin, VanDeventer said.
It's not just seniors taking the tests, but students of all high school grades who seek credit on their grade point averages.
"This is their chance to prove a year's worth, two years' worth of learning, to save some money at college," VanDeventer said.
The wee hours of the morning are "not an optimal time" for taking the tests, said Mark Lange, who teaches AP literature at DODEA's Matthew C. Perry High School in Japan. "But circumstances are dictating the way we operate and live, unfortunately," he said.
Packer said he understands the concerns of students, parents and teachers regarding the time zone differences.
"Unfortunately, this will be a reality for some AP students, depending where they are on AP exam days," Packer said via Twitter. "We understand that this could be inconvenient and hope that families and schools will plan accordingly."
The issue has been raised at DODEA headquarters in Alexandria, Va., according to DODEA spokesman Will Griffin.
"We understand that the time blocks offered for students to take AP exams at home are not ideal," he said. "DODEA has contacted College Board and expressed our concerns regarding the current testing schedule."
VanDeventer said she was hoping to get "base commanders and parents involved" in efforts to get the start times changed.
Reaction to the decision by students and teachers has also been negative.
"It's unreasonable to expect them to test in the middle of the night, especially a test that determines if they earn college credit," said Molly Austinson, who teaches AP human geography at Humphreys High School in South Korea.
A junior at Daegu Middle/High School in South Korea, Bethani Newbold, said students need their share of sleep, at least four to six hours, to be functional, and the time spent in online instruction these days normally doesn't permit that.
"Virtual school is very stressful, and I feel that they should look at all the students, not just the ones in the States," said Newbold, who takes AP U.S. history and biology.
Murray, the senior on Okinawa, has accepted the change. "It's a hard situation, and we have to make the best of it," she said.
As for the issue of security and preventing impersonators or others from taking tests for students, Packer said the College Board is "implementing a comprehensive, end-to-end security approach to accurately identify students" and ensure their work is their own.
"Student responses will be evaluated using a range of digital security tools and techniques, including plagiarism detection software and post-administration analytics," Packer said.
ornauer.dave@stripes.com Twitter: @DaveOrnauer
harris.kent@stripes.com Twitter: @KentHar0878083