Marines say Palau mission proves deployments are possible without bringing coronavirus along for the ride
by
Seth Robson
September 3, 2020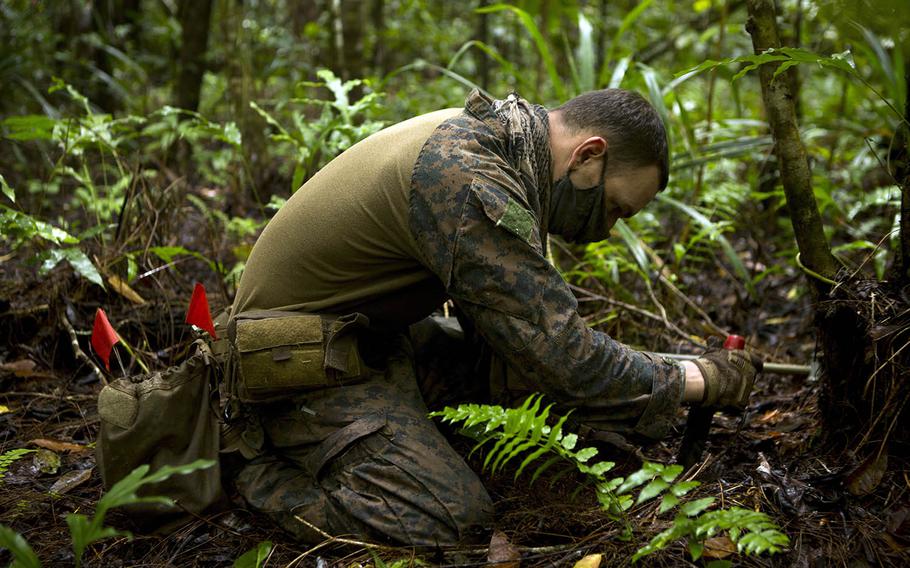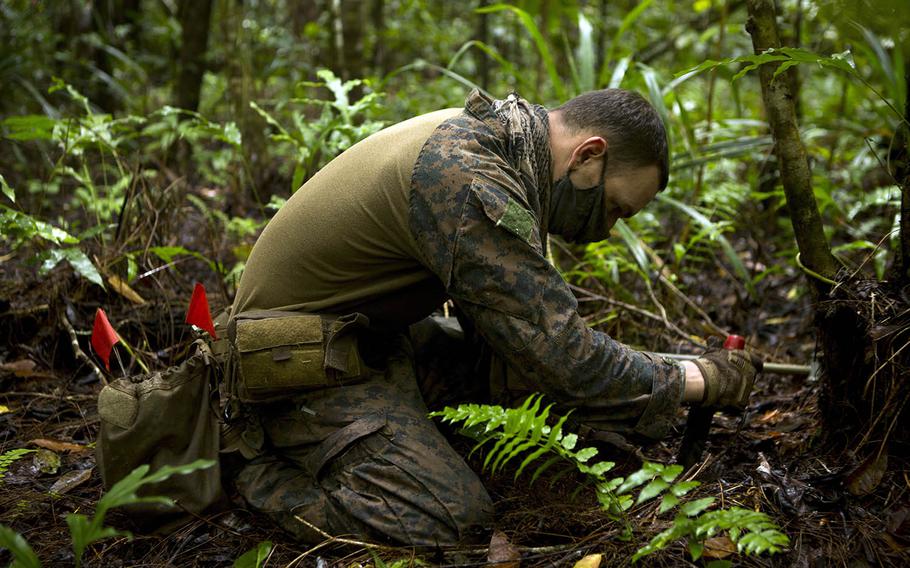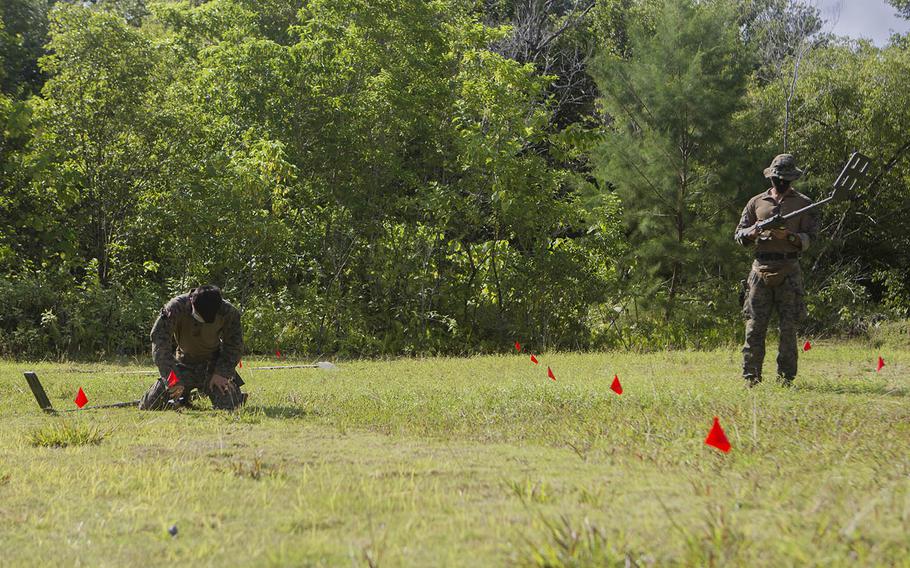 Stars and Stripes is making stories on the coronavirus pandemic available free of charge. See other free reports here. Sign up for our daily coronavirus newsletter here. Please support our journalism with a subscription.
Marine Corps efforts to dispose of unexploded bombs on Palau in recent weeks could serve as a blueprint for exercises in other parts of the Pacific during the coronavirus pandemic, according to a spokesman for the service.
One hundred Marines and sailors from Task Force Koa Moana of the I Marine Expeditionary Force conducted the bomb disposal along with medical engagements and airfield expansion on the islands of Peleliu and Angaur last month, task force spokesman 1st Lt. Oscar Castro, 29, of Pomona, Calif., said in a telephone interview from Guam on Thursday.
The Marines made extraordinary efforts to avoid bringing the coronavirus to Palau, which has yet to report a case of the disease, he said.
Those involved in the mission, which ended Aug. 28, were quarantined for three weeks before leaving California on July 21 on the USNS City of Bismarck, an expeditionary fast transport. They spent another two weeks in quarantine on arrival in Palau and were tested several times for the disease, Castro said.
"It's really great that we were able to abide by all the strict measures that were implemented," he said. "That's why we were successful."
The work on Palau went ahead at a time when other military engagements around the region, such as the Balikatan exercise in the Philippines, have been canceled and other training efforts curtailed. For example, this summer's multinational Rim of the Pacific drills were limited to activities at sea near Hawaii and a six-month Marine Corps training rotation to Australia has fewer than half as many troops as planned.
The work in Palau shows that other Marines can safely deploy in the midst of the pandemic, Castro said.
"It just proves that the Marine Corps can maneuver through any type of environment," he said.
The task force in Palau included a new type of Marine detachment charged with "littoral explosive ordnance disposal," or dealing with underwater bombs, Castro said.
The Navy contributed a medical team that included a physician, planner, environmental officer and corpsmen. There were also engineers who cleared airfields on Peleliu and Angaur, he said.
The task force cleared 14 unexploded World War II-era munitions, including six submerged munitions, Castro said.
Defense Secretary Mark Esper, who visited Palau on Aug. 27, thanked the task force for its work, after the boat he was riding on pulled up to the City of Bismarck, Castro added.
The Marines' visit boosted a local economy that relies on tourism and has been hit hard by the pandemic, he said.
During the visit, the Marines and sailors also visited historical sites that are hallowed ground for the Marines, such as Orange Beach and Bloody Ridge, where their predecessors fought fierce battles to wrest the island from Japanese occupiers in 1944.
robson.seth@stripes.com Twitter: @SethRobson1