Marines report a new coronavirus patient in Japan as infection numbers continue to fall
by
Joseph Ditzler
September 23, 2020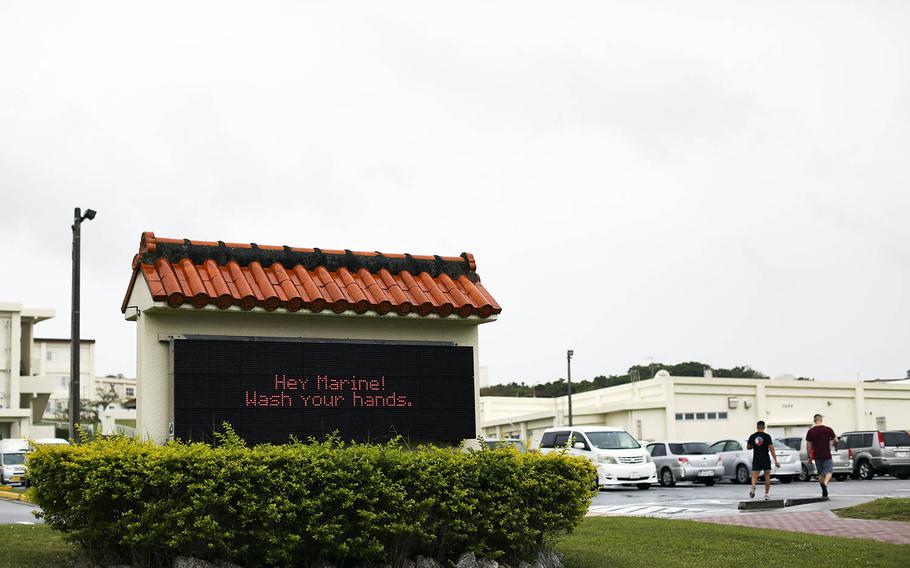 Stars and Stripes is making stories on the coronavirus pandemic available free of charge. See other free reports here. Sign up for our daily coronavirus newsletter here. Please support our journalism with a subscription.
TOKYO — The U.S. military in Japan reported one new patient infected with the coronavirus as of 6 p.m. Wednesday, an individual affiliated with the Marine Corps on Okinawa.
That person tested positive while still in the mandatory quarantine period required of new arrivals to Japan or returning from travel abroad, according to a post on Facebook by Marine Corps Installations Pacific.
The Marines reported two new cases on Okinawa on Tuesday, both individuals in quarantine.
U.S. Forces Japan requires all U.S. military personnel arriving in Japan to spend two weeks in quarantine and test free of the virus before being released. Most of the military's new coronavirus cases now are discovered in quarantine among returning travelers and new arrivals rather than in personnel already in Japan, according to recent military accounts.
The U.S. military in Japan reports new case numbers but does not typically identify the patient as a service member, Defense Department civilian employee or family member.
Also Wednesday, the commander of Yokota Air Base in western Tokyo lifted a ban on public transportation during peak commuting hours. Now anyone affiliated with the base may ride local buses and trains at any time. However, the order by Col. Andrew Campbell stipulates travelers must wear masks and if a train is too crowded, wait for another.
Campbell on Sept. 10 permitted Yokota personnel to travel on planes, trains and buses within Japan but not during the morning and evening periods when Japanese commuters pack trains and buses to standing room only.
Yokota has the widest permissible travel area of the U.S. military bases in Japan. Campbell on Sept. 10 opened all of the country, except Okinawa and central Tokyo, for off-duty travel by base personnel. Traveling shinkansen, or bullet train, is also permitted and people may ride local trains into central Tokyo to board them.
Yokota last reported a new coronavirus case on Sept. 17, an individual that tested positive at Haneda International Airport.
In Tokyo, the number of new cases reported daily fell a fifth day in a row to 59 on Wednesday, according to public broadcaster NHK, which cited the Tokyo Metropolitan Government.
From 220 new coronavirus patients reported Friday, case numbers in Tokyo fell steadily to 88 on Tuesday, according to metro government data.
Numbers of new cases also waned on Okinawa, home to the largest concentration of U.S. troops in Japan.
Okinawa prefecture reported 13 infections Wednesday, a public health official told Stars and Stripes by phone. The prefecture recorded 42 new cases over "Silver Week," the recently concluded four-day Japanese holiday, according to the prefectural website. As recently as August, Okinawa reported as many as 159 new patients in a day.
The prefecture, where 45 have died of coronavirus complications, has reported no deaths linked to the virus in 10 days.
Stars and Stripes reporter Aya Ichihashi contributed to this report.
ditzler.joseph@stripes.com Twitter: @JosephDitzler