Marines receive more Ospreys in Japan as Air Force considers its own
by
Wyatt Olson olson.wyatt@stripes.com
July 31, 2013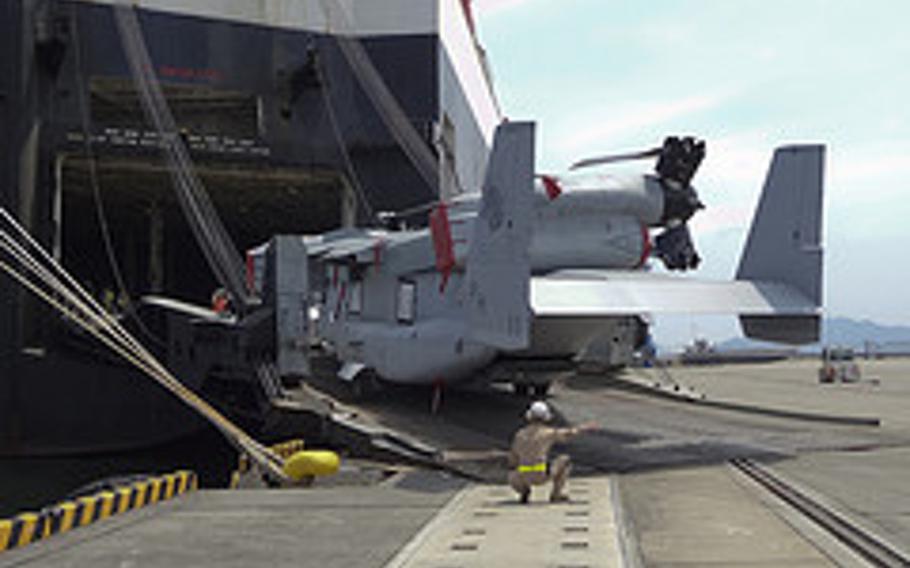 YOKOTA AIR BASE, Japan — Twelve MV-22 aircraft arrived in Japan on Tuesday, just as a top Pacific commander revealed this week that one of two Air Force bases here could make room for Ospreys by 2015.
"We firmly plan on having CV-22s in the Pacific," Pacific Air Force Commander Herbert Carlisle told a news conference Monday in Washington, D.C.
Carlisle said the Air Force was expecting to base Ospreys at either Kadena Air Base on Okinawa or Yokota Air Base in western Tokyo.
Yokota is the headquarters for U.S. Forces Japan and is also home to the 374th Airlift Wing.
The 12 new Ospreys, which arrived at Iwakuni on a commercial cargo ship, will be inspected before they go in early August to Marine Corps Air Station Futenma on Okinawa. They will join the 12 that are already in use there.
Some Okinawans have opposed the use of Ospreys on the southern Japanese island, claiming the aircraft has unresolved safety issues.
The tilt-rotor Ospreys, which land and take off vertically but fly in fixed-wing fashion, are replacing the aging CH-46E helicopters. An Osprey can fly twice as fast, carry three times as much weight, and fly four times the distance as the CH-46E, according to a Marine Corps statement.
There has generally been less opposition to the U.S. military in mainland Japan as compared to the southwestern island prefecture of Okinawa.
Carlisle said a final choice on Air Force basing hadn't been made but that he hoped for a decision by early next year, with Ospreys arriving in 2015.
"We're still working through it with the Japanese government," Carlisle said.
In an emailed statement to Stars and Stripes on Wednesday, U.S. Forces Japan noted that the Pentagon was considering "multiple locations in the Asia-Pacific region."
"While Gen Carlisle personally believes locations such as Yokota and Kadena Air Bases are ideal given their infrastructure and assets already in place, such basing is pre-decisional," statement said.
"Any deployment of the Air Force CV-22 to the Asia-Pacific region is years away."
Stars and Stripes reporter Megan McCloskey contributed to this report.