Marines on Okinawa help 360 Japanese complete officer training
---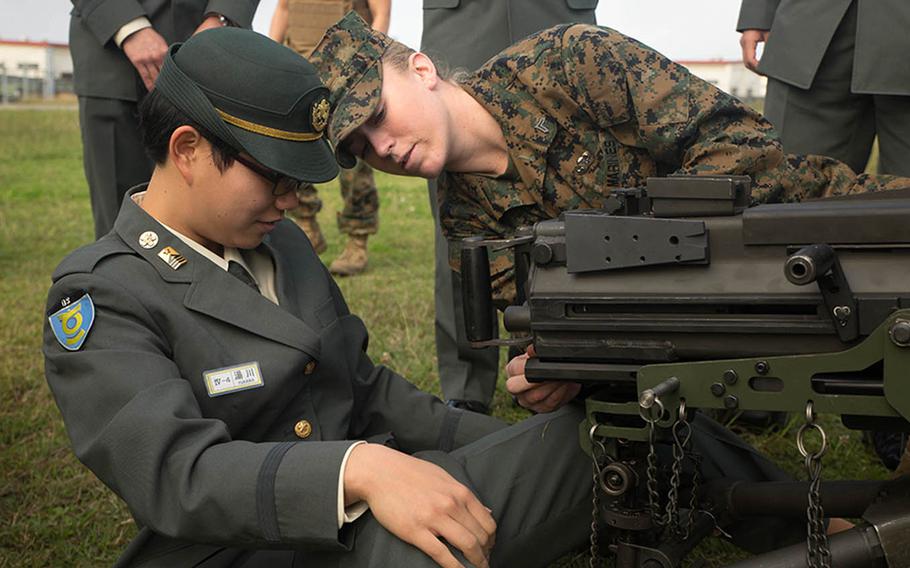 YOKOTA AIR BASE, Japan — U.S. Marines helped 360 Japanese soldiers complete part of their officer training on Okinawa.
The Japan Ground Self-Defense Force officer candidates attended a presentation Friday at Camp Kinser on Marine Corps weapons, vehicles and martial arts to "better understand the force they may work with in the future," a Marine Corps statement said.
"These events give us the opportunity to share one another's knowledge and experiences between our different, yet alike forces," Lance Cpl. Jerry Tolenoa, a motor transport operator with Combat Logistics Regiment 35, 3rd Marine Logistic Group, III Marine Expeditionary Force, said in the statement.
U.S. and Japanese forces are no strangers to training together in the Asia-Pacific region. In September, Marines worked hand-in-hand with JGSDF soldiers during a semiannual combat-training drill called Forest Light. On Saturday, the nations will kick off Keen Edge 16, an annual computer-simulation exercise used to prepare them to effectively defend Japan or respond to a regional crisis.
"Being here at an event like this has given me a better feel about what Marines do," JGSDF officer candidate Shunsuke Kikuchi said in the statement. "For many of the Japanese candidates, this event has been their first time on a Marine Corps installation. Today helped me understand a little bit more about the Marines Corps, especially by the size of the base compared to our tiny school."
Kikuchi said he's looking forward to working with the Marines more in the future, especially now that the JGSDF is putting more emphasis on amphibious operations.
"Next month, I will start my training to become an infantry officer, so I really look forward to training with and learning from Marines," he said.
---
---
---
---