Marines on Okinawa bid farewell to Combat Logistics Regiment 35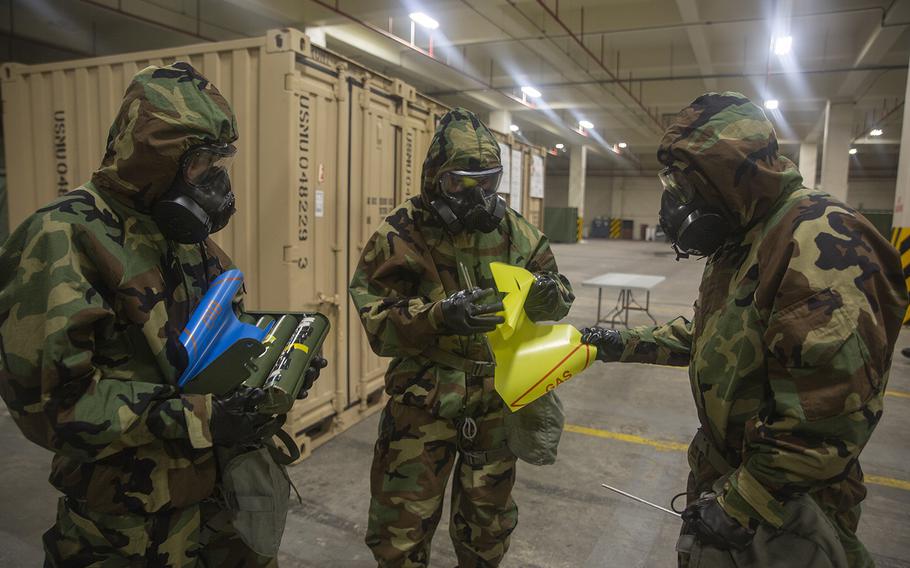 CAMP FOSTER, Okinawa — The Marines on Okinawa deactivated the first of three combat logistics regiments slated for elimination in a move meant to streamline the fighting force.
The colors for Combat Logistics Regiment 35 were cased for the final time Friday aboard Camp Kinser in front of an audience of just three due to the coronavirus, said a Marine Corps statement released Sunday evening.
Combat Logistics Regiment 35, 3rd Marine Logistics Group, had served as the headquarters unit for 3rd Maintenance Battalion and 3rd Supply Battalion for 14 years. Those battalions will now serve III Marine Expeditionary Force independently, under the 3rd Marine Logistics Group staff structure.
The move is expected to afford more flexibility in "organizing, training and equipping" the force, the statement said.
"While it may seem counter-intuitive, deactivation of regimental headquarters can be seen as a small part of the larger, institutional effort to align to the Commandant's Planning Guidance," Combat Logistics Regiment 35 commander Col. Joon Um said in the statement. "This is part of the Marine Corps getting lighter, faster and more lethal."
The Okinawa-based logistics regiment will be joined in retirement later this year by Combat Logistics Regiment 15 at Camp Pendleton, Calif., and Combat Logistics Regiment 25 at Camp Lejeune, N.C., the statement said.
news@stripes.com Twitter: @starsandstripes