Marines on Okinawa assemble a 3D printing juggernaut in fight against coronavirus
---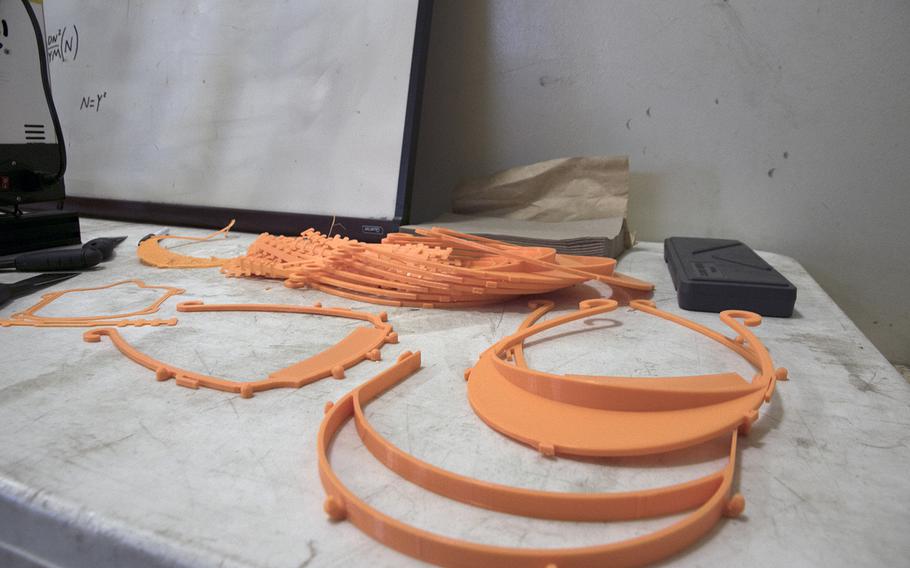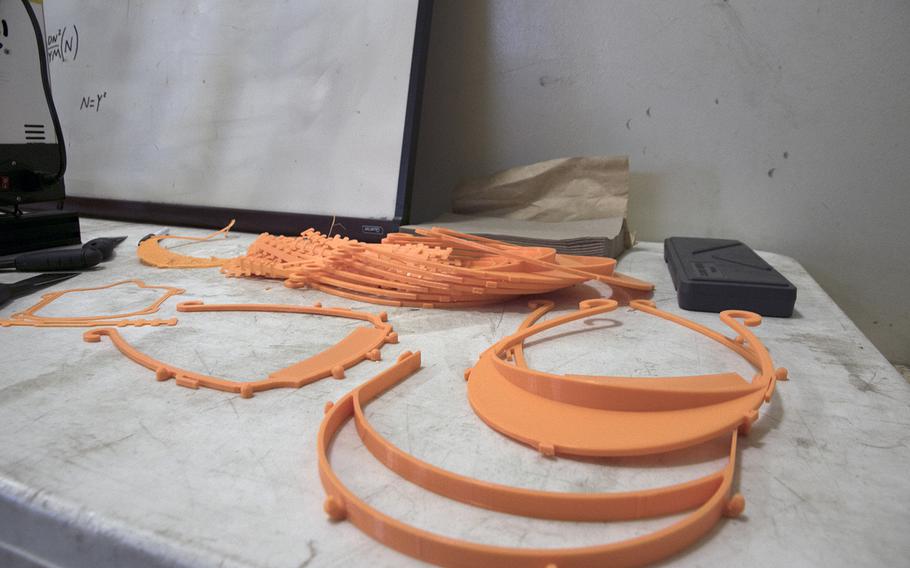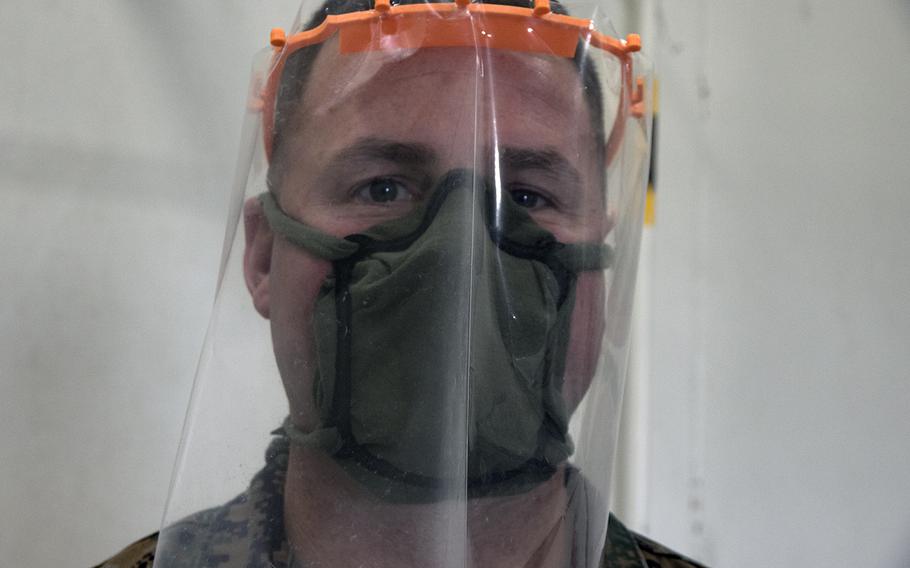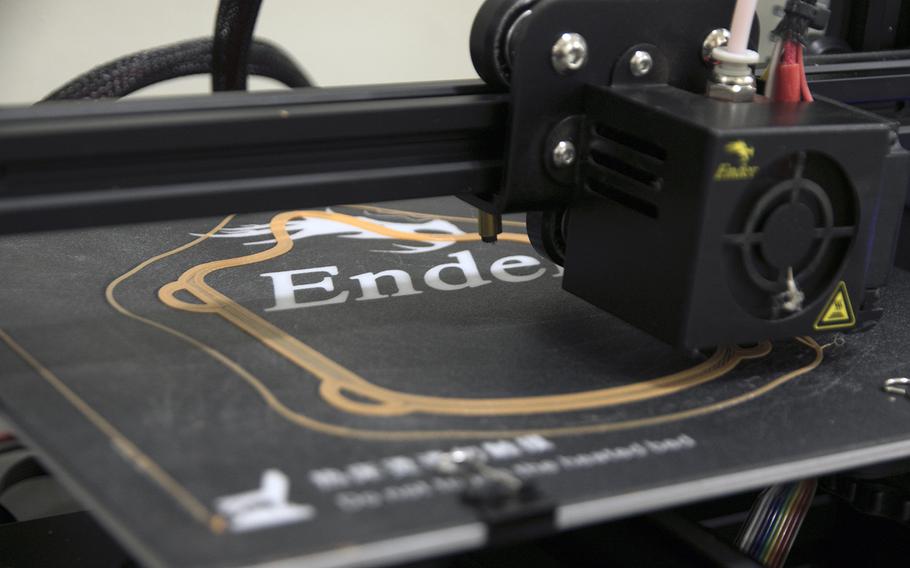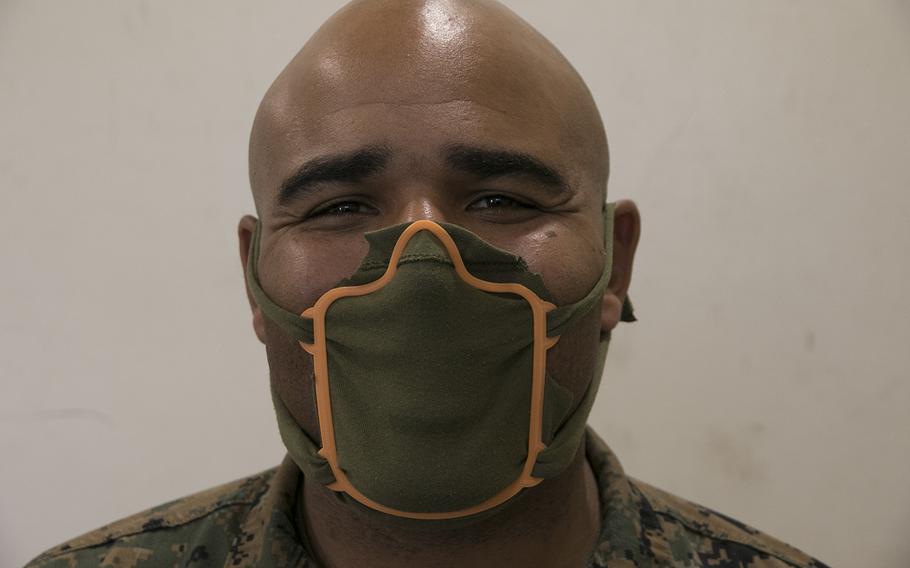 Stars and Stripes is making stories on the coronavirus pandemic available free of charge. See other free reports here. Sign up for our daily coronavirus newsletter here. Please support our journalism with a subscription.
CAMP KINSER, Okinawa — Armed with a cache of warehoused 3D printers and spools of orange thermoplastic, Marines have waged war against the coronavirus by turning out thousands of frames for face masks and face shields for use on Okinawa.
The III Marine Expeditionary Force's 3rd Maintenance Battalion has 17 3D printers in a Camp Kinser warehouse "factory" running 24 hours per day to provide medical personnel with vital supplies and alleviate pressure on the supply chain as the virus gains a foothold on Okinawa.
As of Wednesday, the island had 40 confirmed cases of coronavirus, not including three at Kadena Air Base, according to the Okinawa Times newspaper.
Since March 30, the Marines have printed 5,000 face mask frames as well as 800 face shield frames for medical personnel at Naval Hospital Okinawa and guards taking the temperatures of motorists as they approach the gates at Okinawa's military installations.
"This is what we train for no matter what the enemy is," Chief Warrant Officer 4 Sean Flores said at the Kinser warehouse Wednesday. Flores is the III MEF utilities and innovation officer.
"Everyone is stepping up," he said. "It's infectious to see others around you making a difference and knowing that you're contributing to the fight no matter what your roles or responsibilities are. I think the importance of training and thinking outside the box has led us to this, and it's truly paid dividends."
Marine officials on Okinawa began discussing the need for personal protective equipment 48 hours before they started printing on March 30 — a week before Defense Secretary Mark Esper ordered masks be worn on military installations around the world — Flores said. They began looking at available designs online and talking to Marines in the 3D printing community.
"We were actually able to be a little bit proactive on this whole deal because we could see the trends stateside and saw there was going to be a shortage," said battalion shop foreman Staff Sgt. Quincy Reynolds. "A whole bunch of us got together and we said, 'Hey, what can we do? How can we attack this?'"
The Marines at Kinser were about to kick off a series of technology courses that involved 3D printing with Building Momentum, a Virginia-based, veteran-owned small business that specializes in technology training programs. Their "Innovation Boot Camp" was canceled due to the coronavirus, but Marines like Reynolds saw the potential in the 24 Creality Ender 3 Pro 3D printers stacked unopened against the warehouse wall.
"We were lucky enough to have the printers on hand," he said.
With the blessing of Building Momentum, the battalion put its LulzBot TAZ 6 3D printers to the side and opened the Ender 3 printers, as well as spool after spool of orange polylactic acid filament, Reynolds said.
After six Marines built the printers in a marathon session, they kept 17 at Kinser and deployed the other seven around the island, including the Marine Corps' second "factory" with Marine Aviation Logistics Squadron 36 at Marine Corps Air Station Futenma.
The maintenance battalion was charged initially with making the face masks and the logistics squadron was tasked with the face shields, Flores said.
Two Marines from 3rd Maintenance Battalion have worked around the clock in six-hour shifts for more than a week now keeping the printers humming, said shift supervisor Sgt. Craig Hill.
The face shields were made in several varieties and head sizes. The one-size-fits-all face mask frames can be combined with any cloth to make a functioning face mask.
The Marines also produced face mask clips that alleviate pressure on the ears of first responders.
Hundreds of face mask frames are already in use by Naval Hospital Okinawa staff.
"The naval hospital is ecstatic," Flores said. "They're nervous about resources, trying to hold on to what they have. They're on the front line of this problem, so [we'll do] whatever we can to support them."
The Marines are already looking to procure a softer material for the face shield frames and to produce other in-demand medical supplies. They will work until they have exhausted all 180 rolls of filament.
Flores said it was amazing to see the military community on the island coming together to combat the virus.
"It never ceases to amaze me how a crisis brings Marines and innovators and individuals together, everybody collaborating and feeling like they're doing something, which is critical," he said. "Against any adversary we can come together and get after the root of the problem and try to fix problems upstream."
burke.matt@stripes.com
Twitter: @MatthewMBurke1
---
---
---
---