Marines lead rescue efforts of mariners stranded off Chuuk Island
---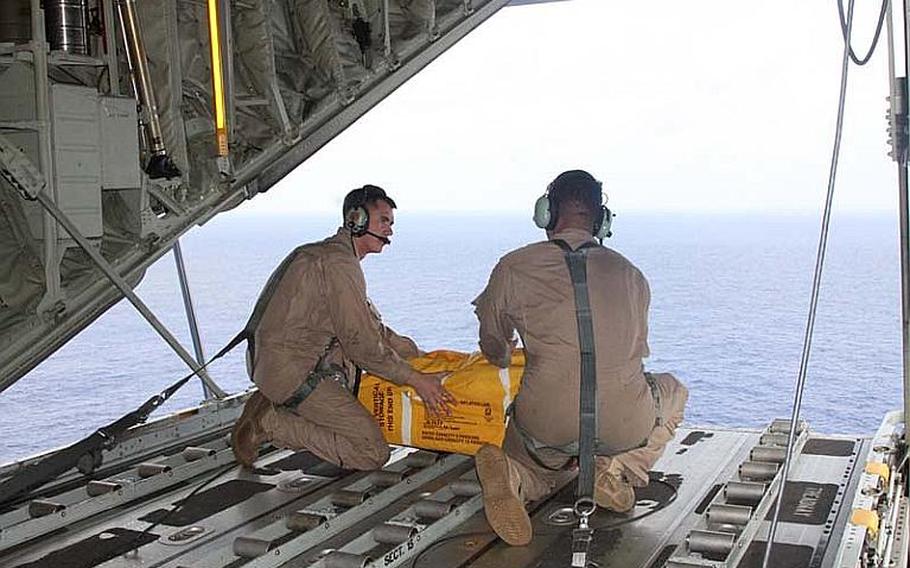 SASEBO NAVAL BASE, Japan — A group of Marines piloting a KC-130J Hercules aircraft on Wednesday found two missing mariners approximately 60 nautical miles northwest of Chuuk Island, a part of the Federated States of Micronesia, according to Marine and Coast Guard news releases.
The Marines from Marine Aerial Refueler Transport Squadron 152, Marine Aircraft Group 36, were in Guam participating in Exercise Geiger Fury when they volunteered to aid in the search for the men, the releases said.
The mariners and their 23-foot skiff were reported missing to Coast Guard Sector Guam Tuesday afternoon by the Federated States of Micronesia, the releases said.
The men had been trying to reach Weno, Chuuk Island from Nomwin Atoll and were a couple of days overdue. They had departed Sunday and expected to complete the 69-mile journey later that evening.
The reporting party said they were without signaling devices and safety gear, the Coast Guard release said. Officials from U.S. Coast Guard Sector Guam requested support from Marine aircraft in the area in addition to dispatching a Coast Guard aircraft from Hawaii.
At 2 p.m. Wednesday, the Marine Corps KC-130J spotted the missing mariners and dropped a life raft containing an aviation radio, food, water, flares and signaling devices, according to the Marine Corps release.
They then stewarded in another vessel they had spotted, Maritime Vessel Solar Africa, a 623-foot bulk carrier out of Liberia, to pick the men up. The men were later transferred onto a Chuukese fishing vessel and delivered to their destination.
From staff reports
---
---
---
---