Marines in quarantine on Okinawa served moldy sandwiches and other 'unacceptable' fare
by
Matthew M. Burke
August 18, 2020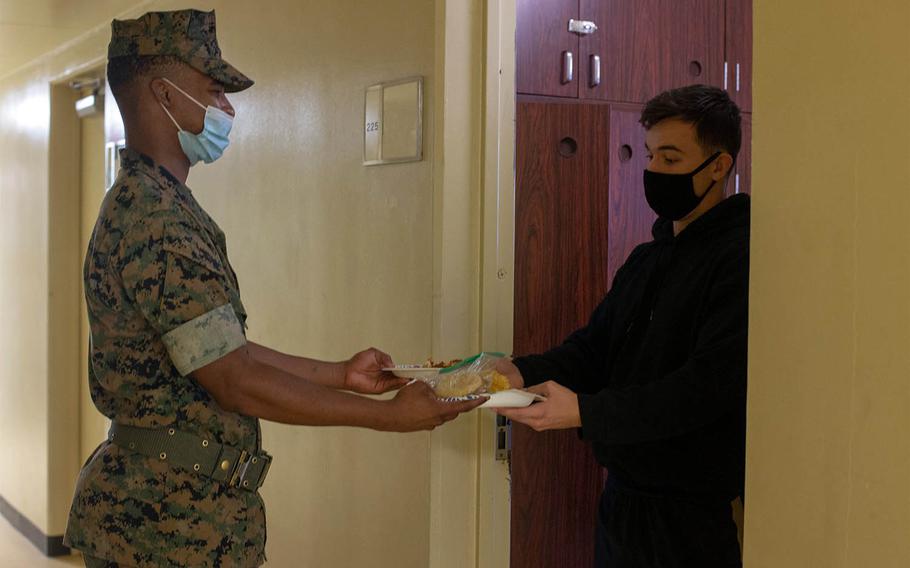 Stars and Stripes is making stories on the coronavirus pandemic available free of charge. See other free reports here. Sign up for our daily coronavirus newsletter here. Please support our journalism with a subscription.
CAMP FOSTER, Okinawa — Marines take their chow seriously, particularly while dining in quarantine when the menu may be the highlight of the day.
So, higher-ups acted quickly Monday when Marines of 1st Battalion, 2nd Marine Regiment, at Camp Schwab, Okinawa, mistakenly received moldy sandwiches and prepackaged meals slated for disposal, according to a spokesman for Marine Corps Installations Pacific.
The battalion Marines "identified unacceptable quality issues with prepackaged meals," according to an email Tuesday from Marine spokesman Maj. Ken Kunze. The Marines recently arrived on the island and are in a mandatory 14-day quarantine.
In addition to being moldy, the meals lacked protein, he wrote.
"These reports were taken very seriously and acted upon immediately by leadership at the battalion, 3rd Marine Division and Marine Corps Installations Pacific," Kunze wrote.
According to its website, the battalion, a rotational unit from the 2nd Marine Division at Camp Lejeune, N.C., is led by Lt. Col. Gabriel L. Diana, with Sgt. Maj. Michael Youngblood the senior enlisted Marine.
The meals were mistakenly served to the battalion, Kunze said. "This is not typical of the exceptional service that has been provided to Marines and families" in quarantine, he said.
Word of the subpar dining experience found its way onto Facebook, where some readers offered donations. Marine leadership "at all levels" was alerted, Kunze wrote.
They found meals for the battalion at another base starting Monday night, Kunze said in his email. The USO and Marine Corps Community Services are also providing additional snack and meals, he wrote.
The food service officer-in-charge inspected all the remaining meals and "initiated training to increase the portions of protein in each sandwich," Kunze wrote.
"Taking care of our own is fundamental to leadership in the Marine Corps," Kunze said.
burke.matt@stripes.com Twitter: @MatthewMBurke1