Marines high on 120 mm mortar after test
---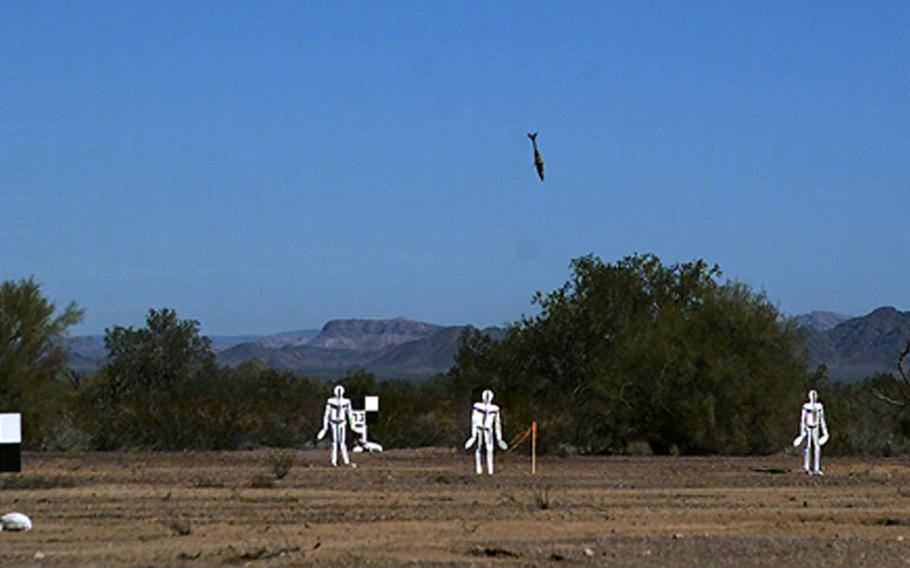 The Marine Corps has high hopes for a new GPS-guided 120 mm mortar round with dramatically increased range, accuracy and lethality.
Called PERM for precision extended range munition, it was designed and made by Raytheon Co. Missile Systems for the Marines' expeditionary fire support system, or EFSS, Marine officials said.
EFSS features the heavy mortar towed by a light vehicle for quick insertion and maneuverability. The system is deployable from naval platforms to the battlefield via the MV-22 Osprey tilt-rotor aircraft.
With initial tests successful, the round now goes for qualification testing over the next 17 months before full-scale production can begin.
Raytheon is expected to provide approximately 4,300 rounds as part of its $98 million contract. The rounds should reach the inventory of Camp Lejeune- and Pendleton-based mortar units in mid-2018.
"We don't see any issues going through qualification" because PERM already has surpassed expectations in initial tests, said Joe McPherson, product manager for Marine Corps Systems Command's Fire Support Systems. "It's a significant improvement in a number of areas."
PERM works like the current 120 mm mortar round, which was fielded in 2010, but is a bit lighter, McPherson said. The mortar system is towed to position, a face plate is placed on the ground and the rounds are dropped in from the muzzle end by Marines on a stand in front of the weapon.
Coordinates are entered into an onboard flight computer. Tail fins flare out at launch and forward guidance fins deploy at the munition's highest point to guide it to its target.
McPherson said PERM will more than double the range of the current 120 mm mortar to more than 10 miles and reduce the 80-meter median margin for error to within 10 meters. It also increases lethality by 250 percent by coming down near vertically as opposed to an angle.
And it came in at roughly 35 percent below projected costs.
The munition can be programmed to explode before, during or even after impact, adding further versatility and effectiveness, McPherson said. For instance, it could strike a specific corner of a building, penetrate the roof and detonate inside, eliminating a specific target.
Marines will be able to maneuver closer to a target while the mortar rounds fall, because there is less chance they will be hit. They will also be able to reduce collateral damage.
The Marine Corps is discussing sharing the technology with the Army, McPherson said.
---
---
---
---