Marines delay Osprey deployment to Okinawa following helicopter crash
By
Travis Tritten tritten.travis@stripes.com
August 6, 2013
---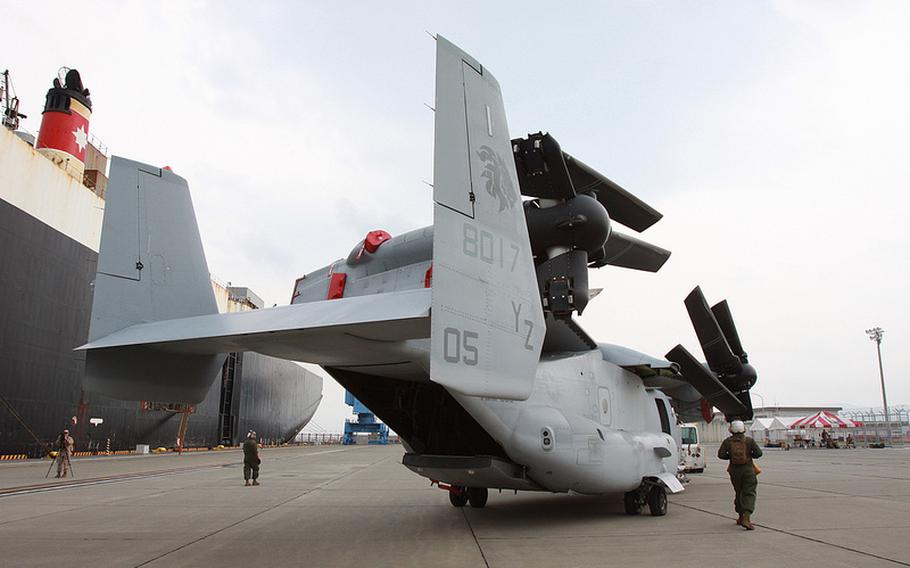 CAMP FOSTER, Okinawa – The Marine Corps said it will delay the deployment of an Osprey aircraft squadron to Okinawa following an Air Force helicopter crash in a military training area Monday.
The fiery crash of an HH-60 Pave Hawk sent plumes of smoke into the air near Camp Hansen in central Okinawa and left one crew member still missing early Tuesday.
The training incident occurred just as the Marine Corps was deploying a second squadron of MV-22 Ospreys from an air station on the mainland despite lingering safety concerns among Okinawans and a request by the prefectural government to halt the move.
Two of the 12 Ospreys arrived at Marine Corps Air Station Futenma over the weekend and the rest were scheduled to arrive from Iwakuni in the coming days.
"While the MV-22s are operationally ready to deploy to Okinawa, we will delay their departure out of respect for the desires of our Japanese partners and hosts," the Marine Corps public affairs office on Okinawa said in a prepared statement.
The Marine Corps said the hybrid tilt-rotor aircraft has an excellent safety record and the squadron will resume deployment in the near future.
However, the arrival of Ospreys at Futenma has caused public outcry on Okinawa, where the 2004 crash of a Marine Corps helicopter onto the campus of Okinawa International University near the base still causes safety concerns.
The deployment of an initial squadron to Futenma last year sparked public protests that nearly shut down the air station. This summer, Okinawa Gov. Hirokazu Nakaima petitioned Tokyo to stop the arrival of an additional 12 Ospreys.
A spokesman for the governor's office told reporters late Monday that the Air Force incident near Camp Hansen has heightened opposition to the Marine Corps aircraft.
"It is like pouring salt into the wound while Okinawa is protesting against deployment of additional Ospreys," said Susumu Matayoshi, executive director of the Governor Office. "People's anxiety about the Ospreys largely comes from the past aircraft accidents that they have experienced."
Stars and Stripes reporter Chiyomi Sumida contributed to this story.
Twitter: @Travis_Tritten
---
---
---
---